This is a very sensitive topic, discuss maturely. Don't carry your parang.
'Apa Lagi Cina Mahu?'
..was the headline of Utusan Malaysia, a newspaper cum toilet paper owned by BN/UMNO a day after the election. Of course, it was expected. The moment they are in power again, UMNO had started their racial politics and scare tactics. We've grown up in Malaysia carefully separated by the ideology that somehow we're all different. We study side by side with another Malaysian yet we have to identify ourselves as Indians, Chinese and the Malays.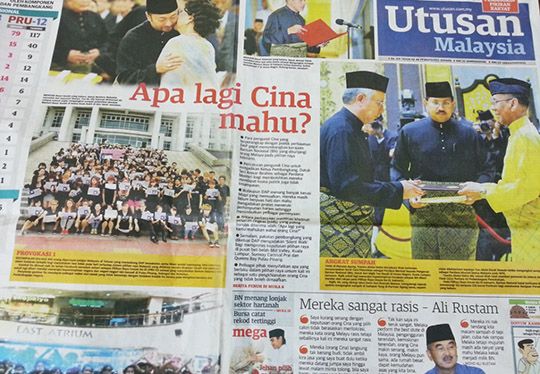 The funniest thing about Malaysia is the people who are linked to the Government spew so much shit onto the people yet none of them get arrested or even get warned.  When Najib was asked to comment about the headline of Utusan, he rebutted saying that the Chinese papers is equally wrong as well. That means Najib is encouraging such articles in our mainstream medias , isn't it? Hypocrites who will go down to do anything including playing drums and dressing up like a Chinese to beg votes, yet when he is rejected, he shows up his true color.
The moment you question them though, you will be told to fucking get lost. Continue Reading –>