On the way driving to work everyday which takes at least half an hour, I enjoy listening to music. Yes, just like the rest of you. Well, I do not listen to radio unless I'm driving early in the morning.
And well, something triggered my mind to write about this. I was listening to this THR Raaga channel when I started comparing it to our very prominent Minnal.fm. For those who needs translation, it's 'Thunder.fm'.*Smile.
From the day I ever start listening to radios which might be around 10 years ago, I've to tell you, I've never ever enjoyed listening to our Thunder.fm or formerly known as "Vanulli 6″.
Why? Well, that's what this post is all about.
Before I start off, let me forewarn you that I hold no grudge towards the radio deejays and so on. I'm just trying to showcase my points through my 'own blog, I repeat, 'my own blog', on why I do not personally prefer Thunder.fm.
I would personally prefer a radio show that has a lot of variety in it. You would definitely get tired of listening to the same old crap again and again.
See, deejays should know how to crack jokes. They should know how to make people laugh. The problem is, most of the jokes that is being told over Thunder.fm seem to be too lame. The deejays usually try to crack some jokes using excellent Tamil language command and what we call as 'suhthe Tamil'. Mind you, the previous word did not refer to 'ass'.
When they try to do these things, usually it ends up with a very lame ending. I've sometimes try to at least interpret their in between crack joke lines but just could not get the point on where they're heading to.
I end up looking stupid myself.
The only person laughing in the end would only be the deejay themselves. If you try to tell a joke and the only person laughing for it is you, then you know how it looks like.
Next comes the selection of songs. The worst in the world I would say the least. Most of the time, songs that I've never heard before would be playing. I do not really know where they pick these songs from but that really explains the real reason why people do not really turn on Thunder.fm for the purpose of listening to songs.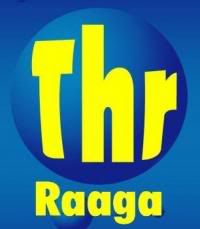 All the 'kuppe' songs would be playing and all would be exactly at the time everyone would be turning on to listen to radios. I mean peak hours. I remember once I was listening to Thunder.fm at 4 am in the morning, and they played quite a few 80's songs which was really soothing. But a few songs later, they returned to their 'kuppe' songs selection.
I do not really know why THR Raaga can play good and recognizable songs while the other can't do the same thing. I wonder if that would lead to copyright infringement for the songs. But how come Raaga able to do it?
Sometimes when I work the whole night, I listen to radios. Without any choice because THR Raaga is only for half a day, I've to tune in to Thunder.fm.
And the songs would really keep me awake the whole night. Mind you, because it adds up the stress level on you with the songs that is played. You would be cursing and wondering where they find these songs from.
See, it is not wrong to copy a concept from other radio stations and implement it in your own station. After all, if it is entertaining, why not? That's what I've seen THR Raaga is currently doing. Their daily morning program of making prank calls is almost similar to the one done by Hitz.fm.
That's where your creativity comes into picture. A deejay should be exploiting new ideas on how to entertain their listeners.
Let me tell what I usually hear:
Kalai mani mundre mupethe rende. Adethe padelei virimbe kepervegel, Muthu Mentakab, Saroja Johor Bahru ,Vimalan Kannan Karupayah Muthu kumaran Subang eh senthevergel,Seetha ,Meena, Mani, Jeeva Seremban ….
And the list of name and location goes on for another one minute…
After an excruciating few minutes, finally the song plays. You know what would the song would be, NO, you wouldn't! I bet that might be the first time in your life you would have heard that song!
Where do people have the patients to listen to all this name and location, enough deejays, your thunder is striking too hard.
Kamachi Meenachi Vantachi Poyachi Mayirachi ne sollikithe,cut it short, and even if you have to rap about all that before the song, put some quality songs ay. Something that is good, I don't even mind listening to MGR songs.
After midnight, if I'm not mistaken there is this program where listeners who cant' sleep can send in poems and so on. There will be few heartbroken young Indian schooling teenagers sending out SMS and do you know how fucking boring is that when you have to listen when the deejays read that out? Oh god.
And yes, simple, if I don't like, I should just turn it off right or switch to another right? Indeed. That's what I did.
What about you? Raaga va Minnal ah?