The news that I , Makkez, and Naga highlighted about the Amoi became a major issue.
I just came through this posting from Makkez blog.
Never expected this though . But then , she needs to face the co-sequences.
Read the full article in Makkez.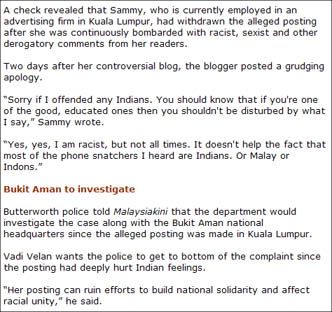 News clip adopted from Makkez.com
Update : Guys, she had updated her blog with another apology. This latest one seems to be very sincere.  No matter what , she is no politician, and she is young. She would regret this her whole life and it would be a good lesson to the rest of us.
Let us forgive and forget.
About the part of police action towards her, obviously she has to face it . What's wrong is wrong.
Read it here