Life had certainly been very interesting lately and things had been as exciting as ever to me. With a lot of tragedies and agenda's happening lately, I can't help but feel amused about it. Well, I would not share with you 'that certain things' as I would prefer waiting for it to happen and then sharing with you.
I've realized certain things. Perhaps you would experience this next.
One day when you wake up from sleep you would realize that happiness is all about how you lead your life. It's about how you take your life to certain extend to make it a wonderful thing. Although a lot of sufferings and miseries goes around you, you shouldn't let your guards down and should always think of a way to lead a happy life.
There is no such thing as continuous sadness. We ourselves tend to make things difficult in our life. We're the one who always seem to think that life sucks.
Think about it. How many times in your life have you been sad? How many times in your life people had come to advice you of certain things and cheer up your day? Remember, we have wonderful people around us all the time; it's just how we use them accordingly in our life so that it would work as an advantage for us.
Do not think that other people are making life difficult for you, go stand in front of the mirror and you can see for yourself who is making things difficult for you. Ask yourself, you would be surprised with the answers that you might gain from yourself.
That previous thing was a dedicated special advice to one of my reader who is down lately with problems.
Let's move on to something exciting.
I've written about Indian Machans earlier. Although what I might write here might provoke most of you, I would advice you earlier that this article is a targeted message and most probably you girls might fit in few criteria's that I've listed below. Read it with fun in mind and do not get serious about it.
This below criteria describes Indian Machis, in a more layman term, teenage girls who think Friendster is their world. Check out the criteria to be an Indian Machi.
1. Its ok if you do not have a boyfriend, but it is not ok if you do not have Friendster.
2. You' talk adult jokes amongst your girlfriends but when you hear guys talking about it, you think that guy is disgusting.
3. You let the whole world know you've been fucked by announcing it in Friendster shout out.
4. You post up like 30 surveys per day in Friendster.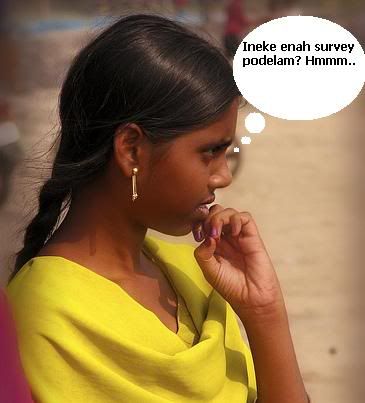 5. Again about survey, the only thing you know to do when you're bored is filling up survey forms. Although you've announced like 100 times before this that you like sperms, you announce it again through survey if you're bored.
6. You want your boyfriend to say 'I love you' via SMS like every other minute.
7. You think actor Vijay jumping 100 meters above the train is cool.
8. You don't like Shakeela.
9. You make up your Friendster page with heavy graphics and let your friends suffer through to get to see your page.
10. Out of 50 pictures in your Friendster, 25 would be of Trisha, 20 would be Vijay, the remaining 5 would be , 3 baby pictures, 1 dog, and 1 passport photo of yours.
11. Your parents do not allow you go out late at night and you think your parents sucks.
12. You lie to your parents that you're going for a cultural trip where as you end up in bed with your boyfriend.
13. Your mother shouts each time you wake up late.
14. You order and buy new Punjabi/Chuditars for each occasion.
15. You blog about how a guy cheated you in a relationship or of the exact opposite, how sweet your boyfriend is.
16. You stand straight posing in front of KLCC, and post up that picture in Friendster.
17. You dress up in something that looks like my towel, and then camwhore inside your room.
18. You hate Ragedindian.com and Makkez.com because we talk about 'you' girls.
I know most of the things that I've listed here is very true. Have fun and have a happy weekend!
Guys, you've got any thing to add?