This is going to be a very long post. I'll be away for a week. Read on.
As I have mentioned earlier in my previous post, you could expect this post to be about the charity that we had last Saturday on the 18th of October. This small charity event was initially suggested by Brother Kumaran a.k.a Grandmaster during a drinking session and was taken into serious consideration by my other best friends. See, alcohol does help sometimes.
This event was self-funded by us and the search for the unfortunate home began 1 month back. We decided to organize the charity in "Rumah Kanak Kanak Cacat Klang". There is no specific reason for choosing this home but perhaps we felt they deserve it better because there are rarely any events held there.
Without touching about the initial struggle to pull the funds together and other things, I would rather redirect you about how the party fared last Saturday. Yes, I would rather call it a party then charity, I'll tell you later why.
It all started in the morning around 11.30 am. Since we've also arranged for a clown, the plan was to have a clown show for around 1 hour and then proceed with the lunch. It was a smooth sailing and everything went out so well. Except that we only arrived there around 12 pm. We followed 'Indian' time.30 minutes off schedule but we were fortunate because the clown had started his show exactly at 11.30 am.
The moment we entered the home, there were all smiles and cheers by all the kids there. All in all they have around 80 unfortunate kids there. Almost 50-60 of them are down-syndrome kids, while the remaining has other kinds of disability. As far as I know, there is only one Indian girl in her 20's without any disabilities but she is actually an orphan. She grew up in that home because she was left there when she was a kid.
Back to our entry, I'll have to make this a point. While we living without any disabilities tend to ignore people around us (not being friendly), all of this Down syndrome kids actually have the courtesy to greet us and welcome us with a smile. These kids, some of them not even knowing what's happening, knows more about respect than some of us who tend to be so ignorant sometimes. To think about it, we're the one behaving like down-syndrome kids sometimes.
While Kumaran and Sri helped out preparing the food, the rest of us spend times interacting with the kids there.This kids are so happy to see us that some of them decided to tag along wherever we're going.
The only part where I personally felt a deep feeling of sadness was when I saw these few kids sleeping in a specially made bed inside the house. Around 5 of them, who could not be more than 5 years old, was sleeping not even knowing what's happening around them. I approached one of the boys, who could only stare at me. I just could feel that he wants to enjoy himself just like the other kids, but he can't just move. His movement was extremely slow and he was extremely thin. I handed him a balloon and slowly he reacted staring coldly at me and moved his hands towards the balloon, placing his hands on top of the balloon.
I do not really know about the sickness though. Another Indian boy was sleeping peacefully. He is only 5 years old but totally blind. I could not help but to feel sorry for this young boy.
Enough of my sentiment stories. I've taken some pictures for you to see.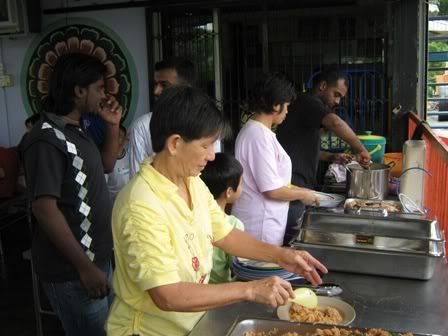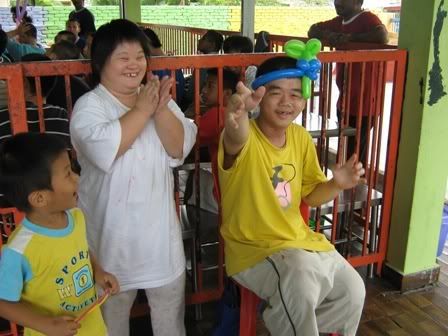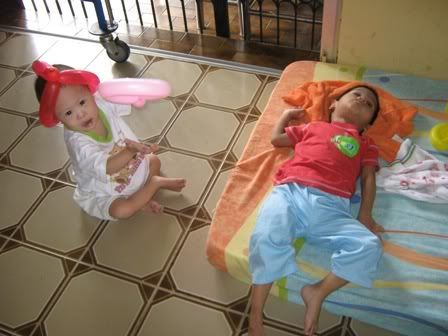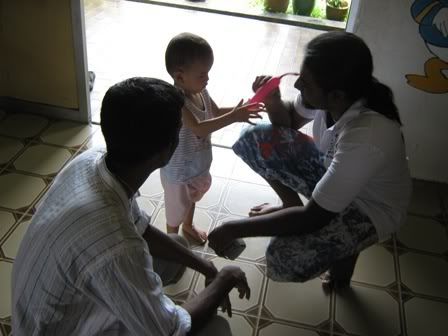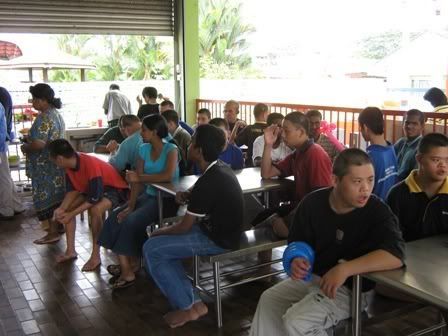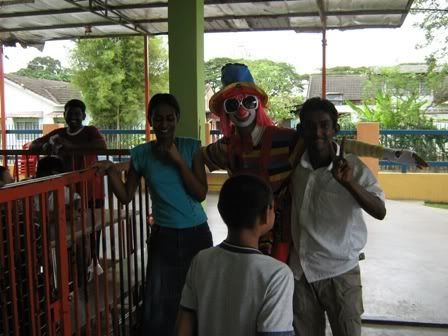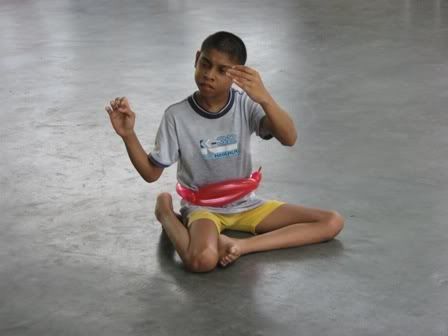 Please take note that we are not professional bodies or NGO's to host a big and massive charity program. We're just some average M1 Machanz. That's how much we could do, and we're planning to sponsor some school uniforms, hopefully everything works out well.
A big credit to my best of friends Kumaran a.k.a Grandmaster, Rajan a.k.a Lizard , Sri a.k.a Black Uncle, Sashi , Deva,and Annalakshmi for making this event possible. They've put much more effort than me in this charity.
Last but not least, remember, it's not how many clothes we purchase this Deepavali that makes it merrier, it's not about all those cookies and murukku's, and it's also not about all that ang-pow's you might be expecting to get.
See the happiness in the eyes of the unfortunate ones, and somehow, the happiness you might get is irreplaceable.
And another thing, remember, I've always believed, what ever you do, legal or illegal, good or bad, it should never pain others. Drink responsibly this Deepavali.
I wish all my reader here of RagedIndian.com, my dear friends, Hindus around the world, my partner in crime Makkez , all Malaysian Indian bloggers, Amois, Malayalees, Indian girls, 'people who are wishing me dead' , a very…
P.S : Wish me back also la…