I do not want to bore you out with another vacation posting of mine thus I would make this short and sweet.
A couple of days after Deepavali, together with few of my friends, we left to Penang for a vacation. It's been a year since I was in Penang and I just couldn't forget how wonderful the place was.
3 things that makes Penang best for teenagers:
1. Food heaven
For a body that might fly away because of strong winds, I had actually enjoyed food not for only the taste, but I was actually starving every few hours. The aroma of the food everywhere will just strengthen up your mood to eat every few hours.With food dinosaurs like my friend Lizard and Sashi, we spend much time tasting most of the food there.In summary, Penang food beats it all, except for one, Bak kut Teh.
It can never beat Klang I guess.
2. Indian chicks
All around you, Indian girls seems to be very friendly and wherever you're, heck even in a 'pasar pagi' you can spot a lot of girls.
It was truly inspirational. For our T.R.I.P
3. Spiritual things and temples
This is what I would like to talk about.
We were visiting the Kek Lok Si(If I got the spelling right) , and it took us almost 6-7 hours just to finish up our prayers there and I have to say, Buddhist temple there was extravaganza.
It is truly a place where you could get the peace of mind. The slow spiritual music that is played inside the temple was really relaxing. I'll show more in pictures.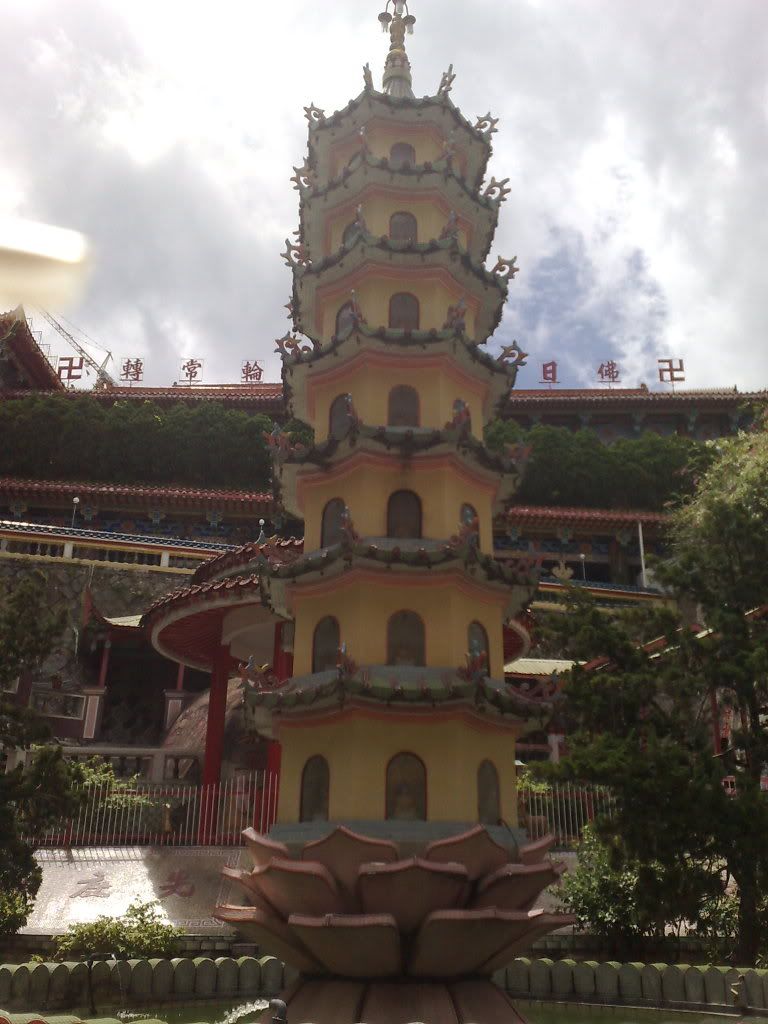 "Laughing Buddha,Magnum 4D kasi kena sikit.."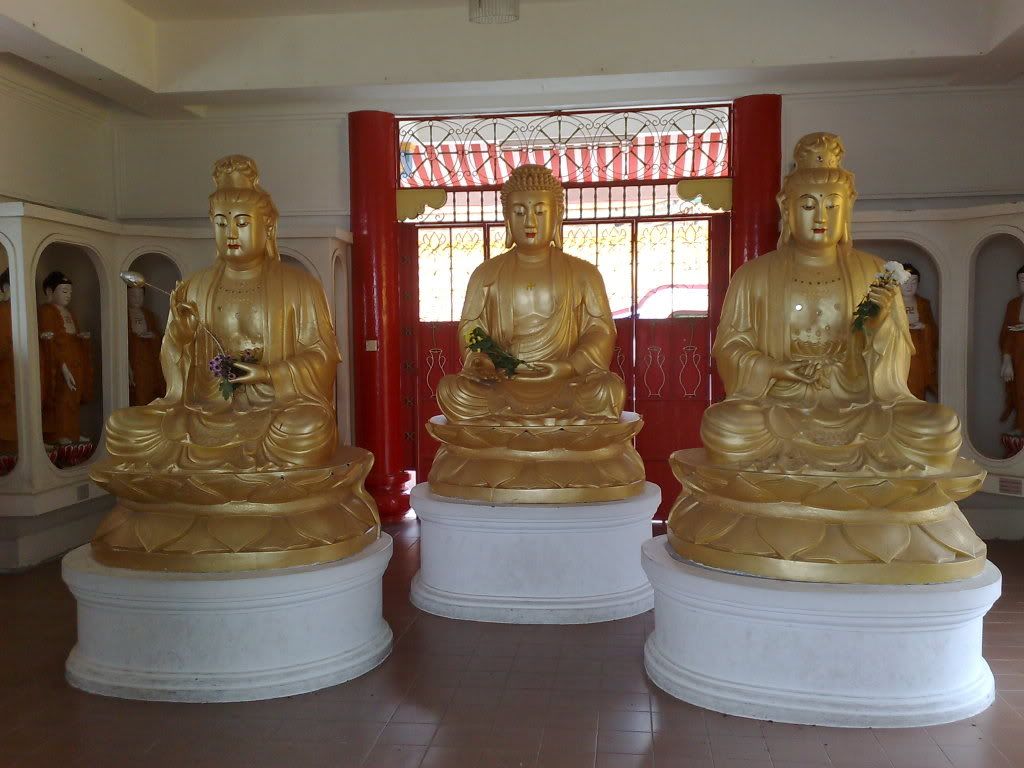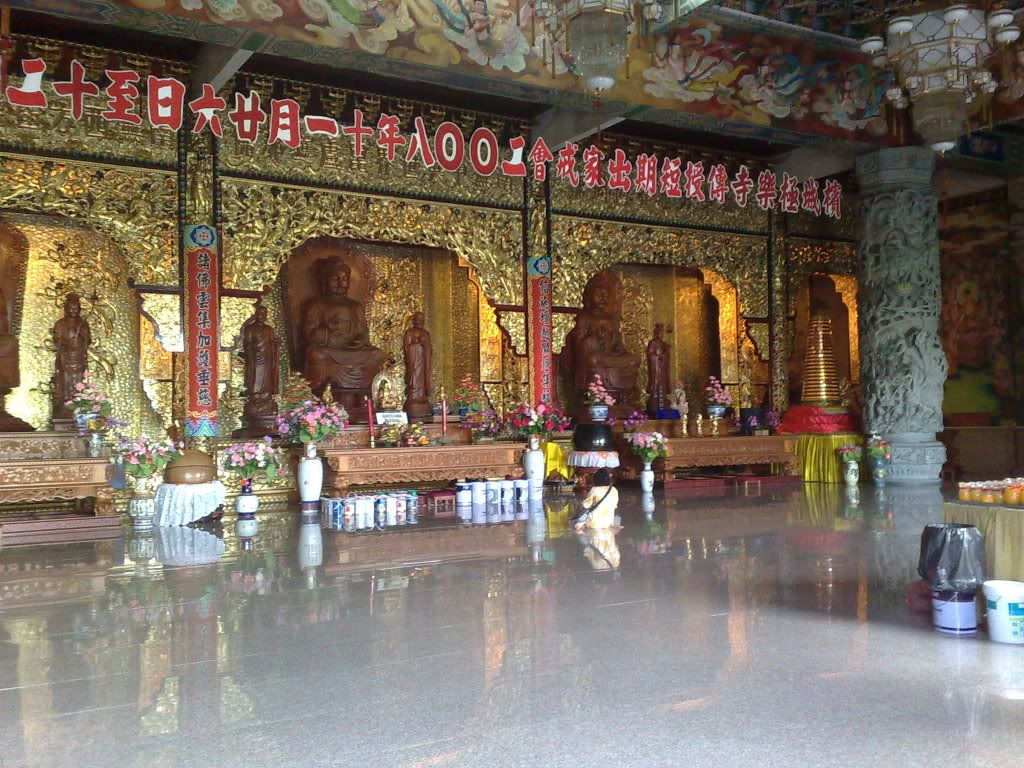 The main purpose of going Penang this time was to get our spiritual tattoo done by one of the Thailand masters there. For 3 days, we were going all over Penang in search for the Master because the one we actually intended to meet was out of town for a month.
On the third day, dragging ourselves from the previous night hangover, we left early in the morning to get to the place. Sure enough, we were disappointed once again when the 'sifu' told us that tattooing is not available on that day and redirected us to another shop.
We went to another shop, with a big amount of hope, and thank to God, the Master was there. We decided to go on tattooing and finishing up our prayers there as well.
They have so many statues of Buddhist and Hinduism there that makes that the shop-cum-temple looks quite eerie and scary. They sell to you things from 'minyak pengasih' downright to Toyol.
We decided not to get the 'toyol' to do things for us since our mothers already had one each (us).
The tattoo that we did was actually called as 'tokong', in which it consists of 8 buddha sitting in a ladder like design.
 

My tattoo
Tattoo of Brother Lizard
All 3 of us opt for that after much thinking and some advice from the Master. After the tattooing session, there was the usual manthra ritual ceremony where we were blessed by the Master and our tattoo's were given 'power'(or sort of like the Master told me).
There are few rules (pantang ) to be followed however, in which I would not be listing it here. And for the reason you might ask me why did we opt to tattoo something like this, I can't tell that either. Ask around and you might find out.
The shop-cum-temple also sells thousands and thousands of lucky amulets which ranges from fetus bones to penis. Yes, you heard me right, penis. It is believed penis attracts woman, seems funny, but they say it's true.
If any of you are interested with this stuff, contact me, make yourself free, let's go to Penang .