Wednesday December 3, 2008
DBKL flattens Hindu shrine
KUALA LUMPUR: City Hall has demolished a 15-year-old Hindu shrine in Taman Desa, Seputeh, at 10am yesterday, causing another round of outbursts from the Hindu community.
Apparently, Kuala Lumpur City Hall (DBKL) issued a notice indicating the actions it would take on Oct 23, but the message was pasted on the shrine's wall and not handed over to the management.
MIC president Datuk Seri S.Samy Vellu has asked DBKL to explain why it demolished the shrine that was located on a field.
He added that he would speak to Prime Minister Datuk Seri Abdullah Ahmad Badawi about the issue.
Deputy Federal Territories Minister Datuk M. Saravanan said he was upset over the demolition. "I have an understanding with the Federal Territories Minister that no existing temples would be demolished. If there was any development on the land, then the temple would be relocated," he said.
Saravanan said he would arrange for a meeting with the DBKL officers to get full details.
———————————————–
Another one down.
Just how many more have to be down and demolished to the ground while all our elected MP's keeps on 'speaking' , 'understanding' and arranging a meeting with the Government.
Why I do not read any news regarding any church, 'tokong' or a mosque being demolished ever so often? Why it has to be Hindu temples again and again?
I do not condone an act of demolishing a place of worship. Not that I'm saying I'm not feeling good because the rest of the place of worship for Islam , Chinese or any other religion is not demolished, but rather I'm feeling bad that only Hindu temples are being demolished.
I've always wanted to put forward my views regarding this. But since I know people do not like when I go against their view, made me rather keep mum over this issue.
Take an example in my area.
I've been staying here for nearly 2 decades and I've seen the growth of my housing area. Almost, nearly all of the places are covered by temples. See, we Indians tend to take some issue rather seriously without investigating the truth. When it comes to bulldozing a temple, we start blaming the authorities for not protecting our temple.
But then, tell me honestly, how many temples have you seen in your area that looks like these?
Or something like the below one?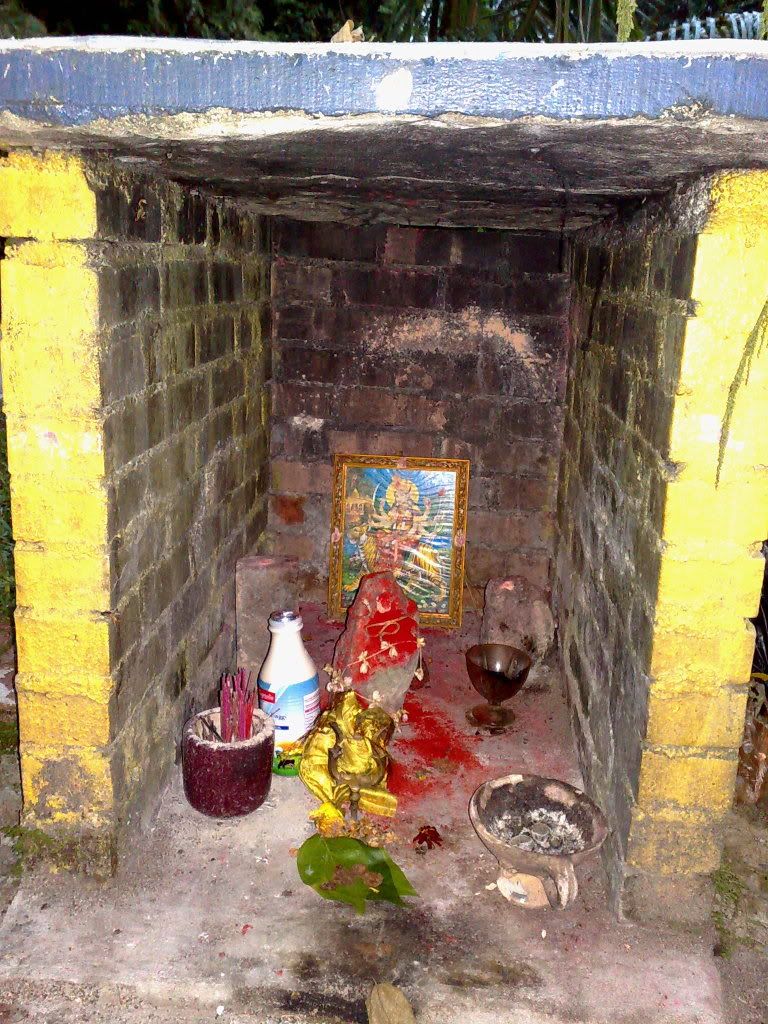 This self-made temple comes out of nowhere and mushrooms like nobody's business. Now, I wish not to provoke but to spark rationalism.
I've seen like more than dozens of this small temples growing out of nowhere. While today it is just an empty football field, the very next day I see small zinc materials are placed in shape of a small house. Next, a small statue or a building brick is placed inside. Few Hindus gathers, they buy up incense sticks and 'pooja vilakke'. They begin to pray there. A week will past by and I will see some construction workers placing up piles of bricks to build up the small temple. That must be sponsored by my fellow Indians whom I saw earlier.
And if there is a nearby tree beside the 'newly-build-temple', that's one of the biggest plus point. Immediately a saree will be tied up to the tree and I see people drawing up eyes and mouth portraying our God, to be precise, Amman.
That is one of the reason we're seeing these type of things being practiced as part of Hinduism today.
See, I believe in supernaturals. I believe in God. But I cannot digest the fact that every other things that surrounds us is being adjusted to portray our God. But how does it inter-relate with temple being demolished?
What's wrong is wrong. If you build a temple wherever you see up an empty land, then that is wrong.
And then there comes someone who says that even legally placed temples are being demolished. Yes, it had happened. Then, by no means shall we keep quiet. We should voice out. But then, how many of the temples are actually legal?
How many of these 'small-illegal' temples have you seen? Can you deny the fact that none of these temples wouldn't have gotten prior approval from anyone, heck even the land owner to build up the temple? Can I come today and build up a small temple in the empty lot in front of your house? Would you agree? No because the land belongs to you and of course you would not want anyone to build up anything on that.
Temples are not given prior approval by the Government.
Temple buildings are not being funded by the Government.
Above two reasons are legitimate reasons to fight for our rights. Yes, by all means go ahead. What I would like to argue in this article is:
Do we need to build up a temple for each and every tree we see out there? I'm not talking without facts. Spend a day with me; I can prove my words are not words alone.
Before everyone else gets the misconception that I'm actually supporting temple demolishing, let me stress out few points.
This article is not at all related to the above mentioned temple which was demolished. It stands out as a lone view of mine regarding building illegal temples. I do not know if the above mentioned temple is legal or not. As such, I stress out again that you read back my previous line before pointing your guns towards me of being pro-government supporter and so on. It is not pro- or anti- that matters over here, it is just about the illegal temples.
I would summarize by saying that this is an endless argument which leads to nowhere. But, being rational about this matter does help. Don't you think so?