I'm publishing this entry couple of days earlier than New Year because in few days time, most of you wouldn't be here anymore. All would be on break.The Machans would be with their bottles, the girls would be out for party too. And since I want most of you to read this entry before New Year, thus the early publishing. It's an advanced New Year post.
It's time of the year again when everyone takes out their wish list for the upcoming year. It's time everyone will try to forget all the mishaps that had happened and wants a great new year ahead. All around the world, the only celebration that unites the human race together, is the New Year celebration.
The first thing that comes to a person's mind when he thinks about New Year is resolution. Everyone has one. Or few perhaps. We would be jotting down this resolution in our diary or even try to stamp it to our mind so that the target is achieved. For the past I-cant-remember how many years, I've celebrated all my new years with my friends.
Typical Indians Machans style.Port Dickson, Alcohol, Smoke, 'Vette Thale'. Like we've got no other place to celebrate , every year we usually end up celebrating in Port Dickson. No, I love PD, just that I hate the water. Shit, few of my friends had experienced that. If you know what I mean.
Now, back to our resolution.
Just like how everyone sets their target each year about something and end up failing to achieve them even until the last day of the year, I've had like hundreds of resolutions that I'm still trying to achieve until now. So, I have decided;
My Plan for 2009 is to fulfill this year's resolution next year.*Grin
Or that was how I've actually set my resolution to be. Like how all of my friends once vowed exactly at 11 A.M on the 31st of December:
Machanz, this is the last year we should smoke and drink. After 12 o clock tonight, we MUST stop drinking and smoking. Promise.
*Cheers from the Machans crowd. Everyone seems excited with a beer can. All of us chorused at once:
Ok righhtttt! Machans, so everyone smoke and drink all you want. We got only 1 hour more.
6 hours after that.
*You see one Indian Machan hugging another Indian guy and saying
"Machan, we all brothers. Machan, eneke thanni sude.  You got any problem, you call me. You have my number. Namber iruka machan?"
*You see another Machan telling few friends  while smoking..
Machan, anthe p***** maveh ena emathirichi .Inthe pombelegeh ipedi than machan.
All will be massively drunk and their New Year resolution goes down the drain just like their piss.
Sounds familiar? If you're a typical Machan , then I expect you to have seen or experienced this type of things before. So, does resolution really work?
Is it all that important to have certain sets of targets each year and try to achieve it? Are we supposed to be bounded by this type of rules or target that we impose upon ourselves? See, again it's all down to the certain individual. Life without a target is lifeless. If we're not going to hunt for something or at least try to do it, what are we going to achieve in life? At the end of the day, its zero.
Take me for an instance, all I wanted to achieve in life is to stop my bad habits. But should I set a target as such?
1. Stop smoking
2. Stop drinking
3. Stop fucking 'round
4. Stop going out frequently at night
5. Stop insulting Malayalees and Indian girls.
All right, forget Number 5. Rather than this, I've decided to 'start' doing something this upcoming 2009.
1. Start doing more charity
2. Start recruiting more M1 bloggers ( Together with Makkez we will be planning something soon)
3. Start up my own business
4. Start writing more M1 articles
5. Start organizing something together with my readers and bloggers
6. Start finding more information about 'sak-yant' magic tattoos and exotic temples and educating you about these exciting things.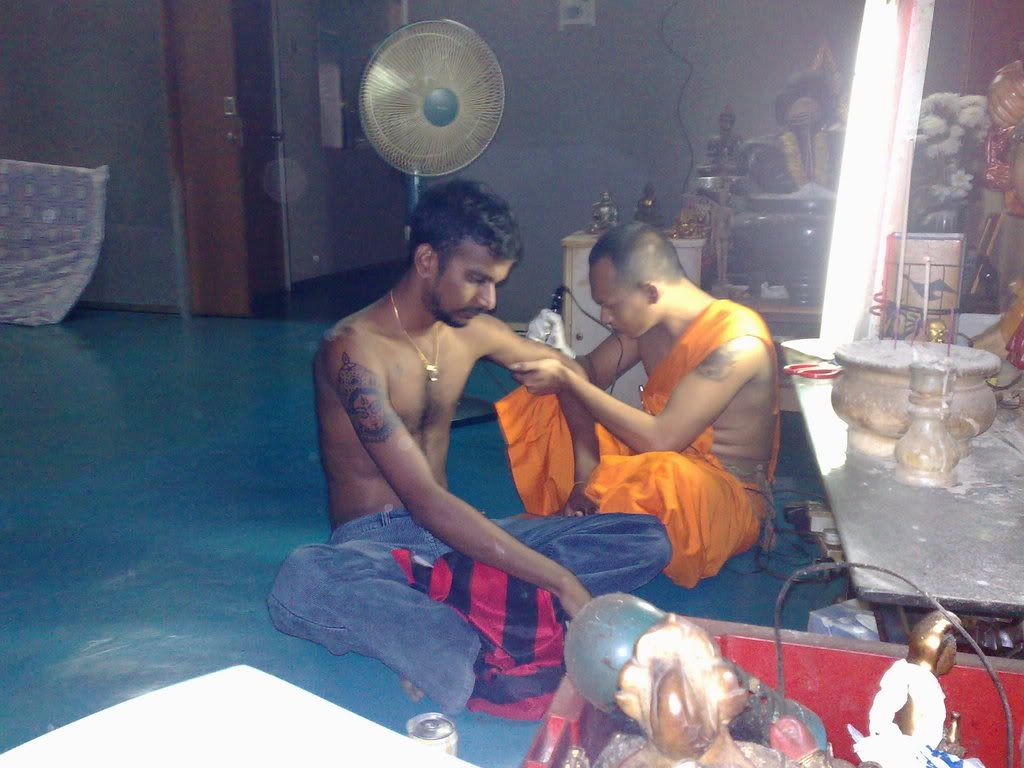 P.S: I'll keep you updated about these activities.
Perhaps by doing the above things I will feel far more satisfied about me rather than the things that I thought should stop doing. What about you, are you going to start or stop?
Dear All, 2009 should be exciting. Now; that's because I've got all of you.
Once again, my warmest wishes to my parents,Hindraf 5, Makkez, my lovely readers, friends, fellow bloggers, and every person in the world that cherish this moment. I love you'll.
I wish you a successful and superb…..
P.S 2: Wish me also la…