It's good to be back after quite some time. It's been a sober yet hectic week and I'm sure all of you had welcomed year 2009 with cheers. Once again, Happy New Year. My first post in 2009 , which as I've promised all of you, every one of them will be far more entertaining. I'm tight up with quite some external projects, thus allocating time for my blog had been a real though task. I might be parting some projects with Makkez- "cari makan sama-sama la".
This below situation happened last year on December.
————————————————-
Geers, Machan!!!
I was astonished and couldn't believe my eyes. I never knew we've progressed so much. I turned slowly towards my friend, and shook my head signaling major disappointment.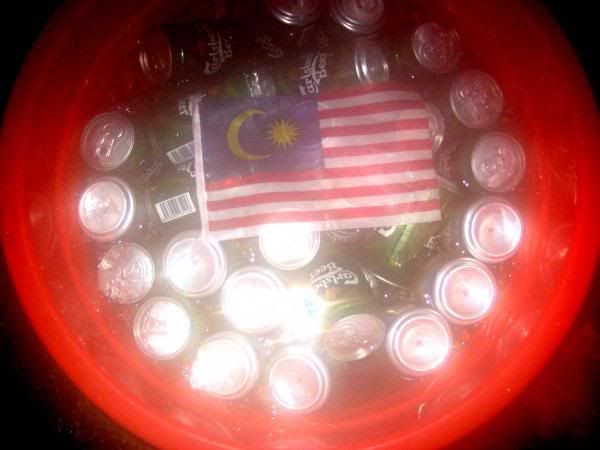 I was invited to a 'After-SPM' youth party by some of the young-guns in my place. I do not know what makes them think that I might be some sort of a big thug. The amount of respect and the invitation to attend the party was overwhelming, thus not disappointing and saving them the time of cursing me, I decided to just pay a visit.
By the time me and Brother Lizard arrived, it was already half past eleven. Immediately the youth crowd got somewhat excited and greeted us. Well, respect.
The actual plan was doing a BBQ party and drinking. These guys actually invited me telling me that there will be alcohol session and so on. See, not like I actually encourage youths drinking, but the fact is I can't stop any of them from doing so. So, let's say Abang Durai, being a nice and strict guy, tries to stop something that is actually being claimed as the destroyer of our society:
Durai
"Dei, thambi, thanni(alcohol) kudikathe. Ena thayiriyem uneke. Vayase ena avethe, athe kuleh thanni.Kelembe, arenjereh poren"
"Dei brother, no drinking please. How dare you? How old are you and now itself started drinking? Get lost before I slap you"
Youths
"Cheringge ne"
"Ok brother"
Youths walking away.
And do you know what the conversation will be?
"Pundeyah irepan polehiruke iven, iveneh kudipan, ithele nadipeh vereh"
"This guy must be a fucking pussy la. He himself drinks, and he is telling us not to"
No, seriously. That would definitely be the case. Why do I need that kind of cursing unnecessarily? Teenagers will never listen to the elders, they would be rebellious. That's part of the growing up years. After all, that's what I have done as well.
And then there comes someone who will come up and say, then Durai , don't be stupid, you set a good example for them. You don't drink. If you drink, you're going to set a bad example for the others. See, the thing is, I have my way of living my life. I'm not going around asking everyone to follow my style neither had I forced anyone to worship me as their idol. So, please do not say that I'm setting a bad example.
Although alcohol is claimed to be the major destroyer of Indian community, I personally do not think so. In fact, it all depends on how one consumes it. Alcohol in excessive will turn someone into a 'possessive' mood. Thus, he starts controlling things around him. This in return gets him whacked or killed by other Indians.*Grin
Back to the story, I was actually shocked about the cheers the beer part because the one that was doing that was only the height of my hip. Considering the fact that I'm one of the shortest Indians around, you should know roughly how tall the little boy was.
And immediately when I asked his age, he told me he was 8. Yes, a freaking 8! There we have an 8 year brought by his own brother to the party smashing his can against another 8 year old.
Indeed it's 2008.What a progress, I'm mesmerized.
Why and how a guy starts drinking?
Friends influence
Curiosity of trying it out
Meenachi cheated them in the name of love
See, the thing is drinking alcohol had become such a norm. If it is not, I wouldn't see an 8 year old drinking that day.
Was it the parents fault? It is not. I can never blame the parents for the misdeeds of their children's even though some of them do set a bad example .Like I've seen a father who puts up a cigarette on his 5 year old son mouth and start taking photographs of it. The father was laughing while the son blinks not knowing what is happening.
Do you really think alcohol is the one of the root cause of problems in our society today? I personally think it plays a minor role, but I believe people are exaggerating the issue by pointing it as the root cause for each problem that is haunting our society today.
Drinking is wrong when it is done the wrong way.
You do not have to agree with me. What do you think?