My heartiest condolences to the family of the late Kugan s/o Ananthan . May his soul rest in peace.
———————————————-
I was sitting and relaxing in my sofa enjoying the evening rain when my sister walked pass me. Before she could go any further, I ordered my regular cup of tea. The norm is for my mother to mix it but since my mother is nowhere to be seen that day, I thought why not.
So, she rushed into the kitchen without hesitating. Few minutes later, I'm sipping my tea and immediately I realized I'm drinking a glass of hot water. I can hardly smell the tea.
This is not the first occasion when I've tasted girls mixing drinks or cooking very badly. Let me take an example of how Indians were once living, at least in my family. See, Indian woman's is said to be always in the kitchen once upon a time,and it is a known fact that only around the past 50 years these woman's had started to come out from kitchen and seeking equal opportunities with man.
But then, how has it led how Indian woman lives today? How does it influence  us today? Even till today, it is a must in my family for all the girls to do the house chores and learn how to do the cooking. See, this might seem like a small task and does not influence the way we live now. Respect towards the guys in the family grows greater when a woman is thought about how to value our culture.
See, how I think woman should be will definitely contradict with your thoughts. It will definitely be the opposite of what you might have in mind about how our Indian girls should be. This article is not to point up that man are superior races thus girls should bow to them . No, that's not the point.
Even till now, do not get me wrong, I get angry when an Indian girl can't even mix up a good cup of tea. This is definitely the most basic thing a woman should know to do. Why are we ignoring all this now?
Ask the girls around you, heck, I will ask you, how many of you do know how to cook? At least how to make drinks? Yes, I'm all up for cultural preservation. At least for this matter. It is not like a thing that should be ignored.
Aiyo, no time la.
Or she will answer in the cutest way possible.
I know how to cook maggi.
I had indeed asked this to few girls and the above answer was one of the answer that I got. Don't fucking play around with me when I ask this type of questions.How are you going to bring up the children's if you do not even know how to cook ? How are you going to preserve our hundred of years of culture if you are not interested to learn about it? Heck, even I can cook some simple dishes. This is with the limited time I have. Why can't you?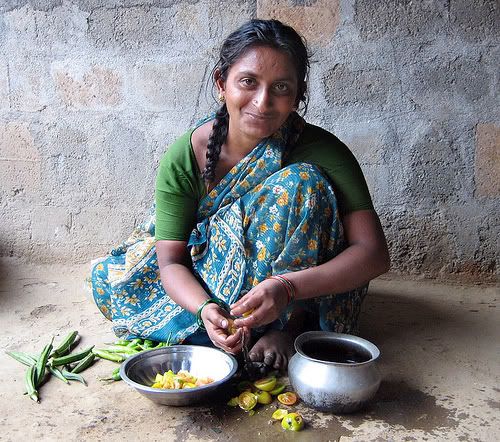 See, I know this article will affect most of you girls here. My point is not to pin point any of your flaws regarding this matter. I just feel like where we are heading to nowadays is more and more to disaster. True, girls now are not like girls how it has been 50 years ago.
I've always been an old time thinker. At least in some issues.
1. Cooking
2. Taking care of childrens
3. Regular prayers
(Here onwards is a targeted message)
If you can have all the time in the world to go clubbing and fucking around with your boyfriend , do not tell me you can't occupy some time to learn the trick of the trade from your mother. Let's say if you get married, are you going to eat out all your life? Are you going to be bringing your children's to eat out all the time?
I personally know one woman who regularly feeds her children with McD's and other fast foods each and every day. She do not know how to cook and hell no, not even coffee.  All she buys is cartons and cartons of juices , ready-made foods and other things for her children to eat. Isn't this a disgrace?
When I go around Friendster profiles, I regularly see this hardly-wearing-anything girls putting this under their Favourite Foods section:
Mother's cooking.

Vaiyeh sapderethe paikereh mathiri, kaiyeh samehkiretheke payingge chelenggelah…
The only regular thing I see Indian girls holding nowadays is a guys private part.Sigh. Mike pidikereh anah samehkireh karendi pidike mathikireyeh chelem….
What I wanted to bring up in this post is not only about cooking, its all about cultural preservation.True, cooking might not relate at all about culture, but that's how I think Indian culture differs from others. (Kai Pakevem) There is still a lot more things that you can do, tons of the other issues, but then , this are the basics. Never forget to learn the basics, it can make a lot of difference.
Girls, can I get a cup of tea?