Have you ever waked up in the wee hours of the morning because of a nightmare? Were you full of sweat even though you were sleeping inside a completely air conditioned room? I mean not because you've masturbated, but because of your nightmare. Have you often pondered and tried to interpret what the dream was about the previous night?
Chances are most of us would have had dreams in life. Unless you've never slept in your life, there is no way as a normal human being you've never had a dream. That is as far as I'm concerned. Now, different people react differently in their attempt to interpret their dream.
Many opts to look for advice on what best describes their dream. Usually they would seek the advice of the temple priest or 'feng shui' masters.
Some even look for people like below for advice.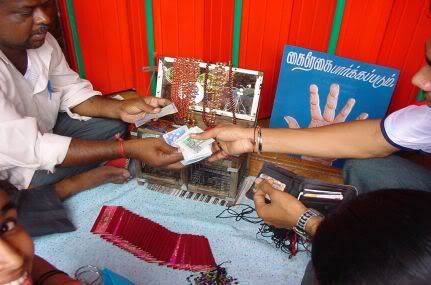 Depends on who you seek for advice, your dreams might be interpreted differently. For an example, if you dreamt about being involved in an accident and the end was fatal, you would be scared, wouldn't you? Or let's say you dreamed that your  'bird' got cut off in a fight, you will surely freak out won't you?
And so you go hunting for people to interpret your dream. A 'Killi-Josiyem' aka bird-fortune-telling guy tells you that this is a sign of upcoming disaster in your life and you should stay at home. Also you're prohibited from driving and even cycling is forbidden.
Ungge 'bird' kapetherethe kageh, innore bird kithe advice kepingge…
When you go and seek advice from the temple priest, they tell you this:
"Ambal ke ore archene pani, vara varem saniswaraneke ore veleke ethengge"
See, totally opposite dream interpretation. How would I interpret it? I do not really put high hopes on dreams. That is by far my opinion.
See, ever since I was small, I had this dreams of sleeping with Aiswarya Rai. Although many similar dreams come and go, I'm yet to sleep with her. And no, seriously, this is not just another fantasy; it was really a serious dream ay.
Look at how I'm smiling, looks pretty desperate ay...
Interpreting my dreams to sleep with Aiswarya goes like, perhaps I might get a lucky chance of sleeping with someone similar, but heck no, none. So, this clearly indicates that dreams cannot be true. At least for me.
Please do not get serious about the above example and think that I'm a sexual bastard.
What does Malaysian Indian Kamachis and Machans has to say about this:
Muthu : Punjoleh, yesterday I dream of you da.
Punjoleh : Ama va mama?
Muthu : True da.
Punjoleh : What dream mama?
Muthu : I dream we were happy with each other. I'm hugging you. We were both hugging each other. Very happy you know.
Dei, dei, dei, dei, etheke da inthe poiye?
Why do you have to lie to her? Most of the time in real life itself you'll be thinking how to fuck and get rid of her, moreover in the dreams you and her doing a duet? See, this type of typical pick up lines will lure the Indian girls. They get excited that the guy was dreaming about her the previous night. Unlike any other people, Indians tend to get extra-excited when they come to know that their partner had dreamt of them. I know most of you might have done that anyway. No, I'm not making assumptions, I can justify this with the amount of stories I hear about all this kadhala-kadhali dreams.
I can safely say, if each of you willing to share your experience, how many of you had dreams about you and your partner (girlfriend or boyfriend)? I can safely say that I can close the count using the fingers in my one hand. Rare.
How many of you had dreams about your girlfriend's friend that you met the previous night? Ala, the one you fantasize and 'do-something' before you sleep la. Come on, be honest. I do not have to tell more, your own conscience should reveal the truth.
Punjoleh comes the next week.
Mama, eneke ore dream last night.
What dream da?
I dream we were both hugging and I'm lying on your shoulder. It was so romantic.
Thui. Personally , I hate this kind of lame stories ay. But the truth is, I've seen and heard girls telling such a thing.
How many weeks you've to hug and lie in each other shoulder? For your information , this type of dreams is easy to interpret, even I can do it.  I interpret that in 3 months time the girl gets pregnant and the guys run away. How?
Let's get serious.
The moral of the story is; Trust that if something happens related to your dream last night, it might be a mere co-incidence. Dreams, when interpreted wrongly, can lead to a disastrous ending.  Like the case that Makkez wrote recently. But then, there are some people who think that sometimes dreams can be true.
Had it happened to you?