I pledge to write this review as honest as possible. It might offend the girls, but then if I do not do so, it will contradict with my writings all this while.
And so, I was in Thailand.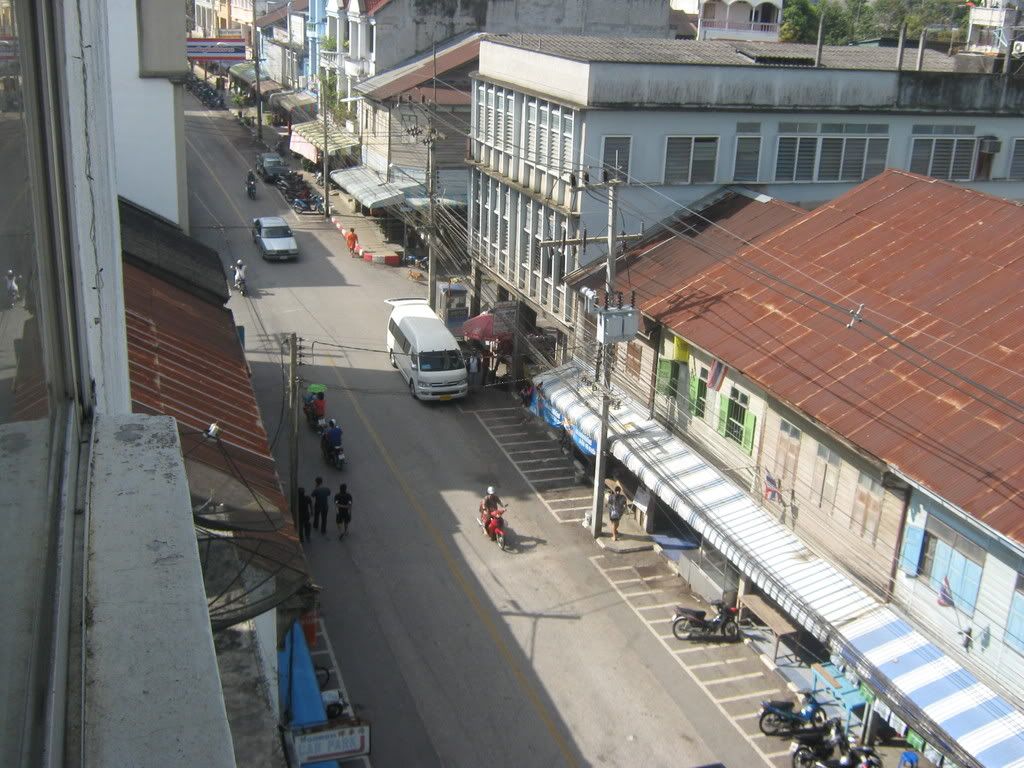 The whole thing started off with long time dream of Brother Lizard to visit Thailand to see what so much in it; that had drawn so much attention from everyone. Or I can say a lot of guys wanted to visit this place. See, I would tell it off simply, we simply just crossed the border of Thailand to a small town cum village; called as Betong.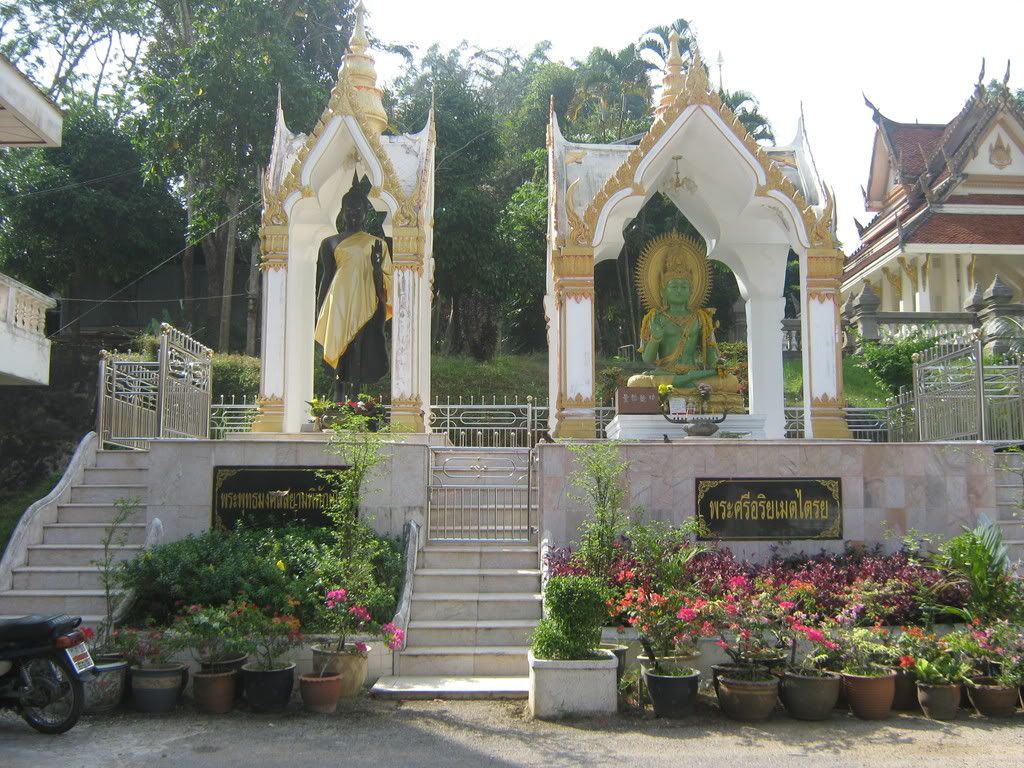 Little general information:
We drove all the way to Betong, we left around 12 pm and arrived in Betong at 6 am. Journey in Ford Escape was all too exciting and never tire us down. They were only four of us this time, Brother Lizard, Brother Vasu, Deva a.k.a Kuttali and me. Total money spend on this trip is RM 600 per person including everything from petrol to drinks. Let us start.
Betong is a district of Yala Province, situated in the southernmost province of Thailand in Sankalakhiri mountain range. With an are of 1,328 sq. km, it borders the Malaysian states of Kedah and Perak. Enough about statistics.
This place is home to the following few things:
0. Massage parlors
1. Escort or call girls
2. Cheap beers and foods
3. Temples and tattoos
4. Strip bars and pole dance
All those above five things would excite only guys. None will suit the word entertainment in any girl's dictionary. So, in summary, just like everyone had said it before, Thailand is heaven on earth for guys. Although in the wrong way I have to say.
0. Massage parlors
Massage parlors are everywhere you can see. If you enter the wrong one, you might end up in a red light area. So, be careful on where you are stepping into. Although my body can be massaged using only fingers, nevertheless I still opted to do the Thai massage, It cost you only RM 26 to do full body massage. Albeit the fact they should only charge me only half of that because of my body size, the massage was every penny worthy. It was wonderful, tremendous, extraordinary, mesmerizing, relaxing, Karpal Singh,Shebby Singh…..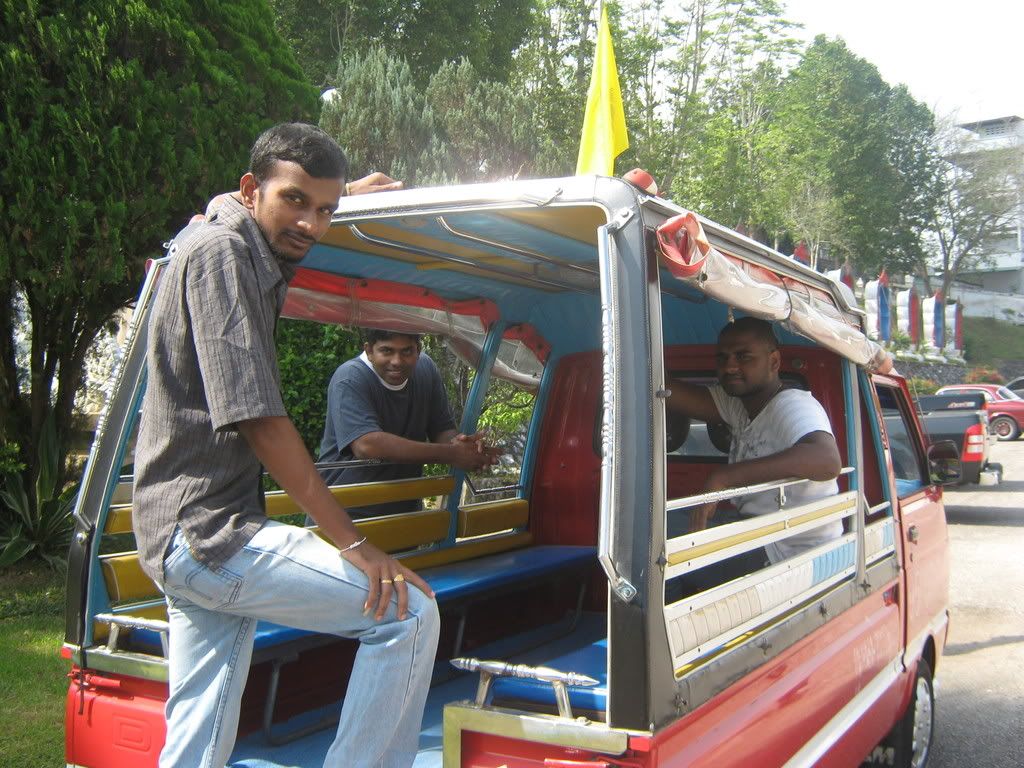 1. Escort or call girls
First thing that you see when you arrive in Betong, is hundreds and hundreds of Thailand escort girls. From what I can roughly interpret, the total percentage of young girls in Thailand might comprise of 80% call girls and the rest might be normal restaurant workers and so on. You don't have to go far for girls anyway, anywhere you walk, and these girls will hint you something. They're never without a smile, and sure enough, they're damn blady friendly! I should not forget to mention that they're extremely pretty too.*Smile
Almost 90% of the guys here work as pimp. Walk anywhere, even the hotel bellboy will offer you girls. See, it's their profession there. They do take it seriously. From the Tuk-Tuk drivers (It's a kind of taxi in Thailand) to a normal guy in the street, the only thing they will ask you when they knew you're a foreigner (we were not really foreigners, but black skin in Thai land seems foreign enough for them), this is the only thing they will ask:
Perempuan mau ka?
Sareke sudah ambik ka?
Escort girls it seems will cost you from RM 180 to RM 350 per day. The accuracy of the previous information is not certain though. It might be more, it might be less.
2. Cheap beers and foods
In Thailand, you're always a VIP wherever you go. Everyone in Thailand treats you real good, and takes good care of you. Imagine walking into 7-Eleven, I tell you, 7-Eleven and picking up a big bottle of Heineken beer for only 62 baht. That's only a freaking RM 6.20! The same beer here will cost you more than double of that amount!
With beers wherever you go, it is never a bad time. No wonder people of Thailand are very friendly; they might be sober all the time. We visited a hut-type village restaurant on the way to temple on our first day in Thailand. I will have to tell you this:
Rating for food: 10/10
Rating for customer service: 10/10
Rating for people who fear of God: 10/10
When we arrived at the restaurant, it was like an event. The aunties there were dancing and singing with karaoke and not forgetting, their own style of unique liquor mixture. The mixture seems to be weird though, it's mixed with a glass of Regency whisky plus this thing down here: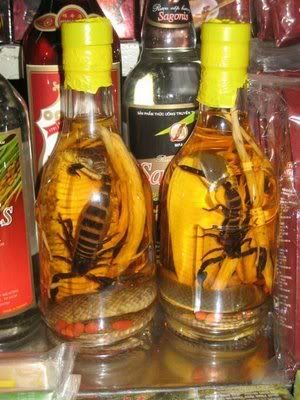 How do you think the taste would be? We did not try this out though. The people who served us were not even waiters in the restaurant; they were just regular patrons to the restaurant. Somehow they felt excited seeing us there in a remote village in Betong.
The food, I have to tell you again, is fantastic. There is nothing like Thailand Tom yam. You have to be there to taste it! I can't describe it by words. It's just, it's just, fantastic.
I also had the chance to eat frogs. Well, I'll have to say that too, tasted really good, very spicy and crunchy.
3. Temples and tattoos
Temples is aplenty in Betong Thailand. What I meant by temple is Buddhist temples. They're commonly known as Wat. This translates directly as temple in Thai language. As one of our top missions includes finding one of the rarest and best amulets around, we never missed the chance to do it. I did not opt for any tattoos though this time, because 'yant' tattoos is already occupying most of my body. Same goes for Brother Lizard.
The friendly Thailand aunty in the restaurant guided us all the way to the Wat Sonom Brom. We did go to the famous Wat Pudtathiwad which is located in the centre of Betong town previously but somehow the temple does not have any monks there.Wat Sonom Brom is located inside the jungles of Betong and it is quite hard to find out, unless you have any local guides showing you the way there. You can ask your way out too, as I said, Thai people are friendly. *Grin . She even refused to take any money despite forcing.
We bought quite a lot of amulets, particularly focusing on one amulet which is the most famous of the lot. Jathurkam Ramathep is one God Thailand people worship in craze nowadays. Directly interpreting God Jathurkam Ramathep in Hinduism, he is Mahavishnu .Mahavishnu and Jathurkam Ramathep is the same, but worshipped differently. I can't show my amulets here though, but I can show you similar pictures.
Jathurkam Ramathep :Above Phra Pitta : Below

I also bought Phra Pitta, another God of invading bad lucks. We proceeded straight with prayers and blessing by the ever-friendly monk, and we also nearly witnessed one of our guides being possessed by God Hanuman.We were lucky enough the chanting of the monk did not continue for a long time. Yes, you heard it right; the guy claimed it was Hanuman. Heaven yes, even his body is tattooed with Hanuman. Buddhism gods and Hinduism gods share a lot of things in common, lots and lots of things.
Thailand amulets are considered one of the most sacred and powerful pieces. It is from Thailand that amulets are brought and sold here in Malaysia, Singapore, and any other countries.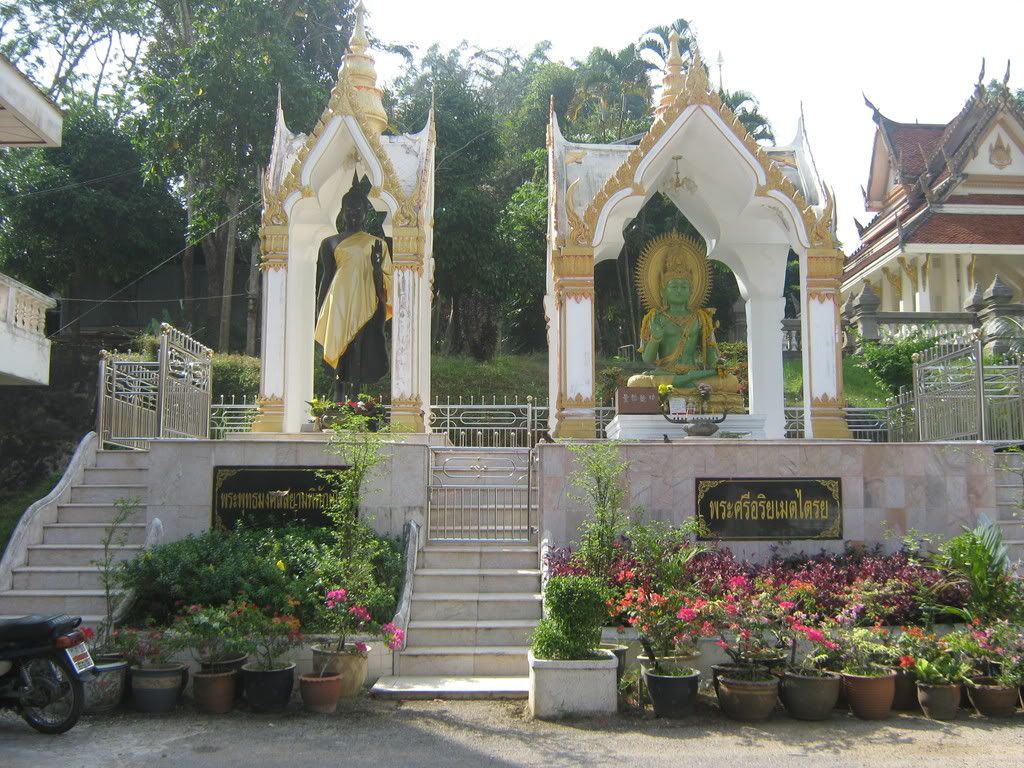 4. Strip bars and pole dance
We did not miss the chance to go to the above places. We went to a club called Kiss Me Pub which is a massive club in Betong . This is no ordinary club like those you see here in Malaysia, this are massive ones. I can safely say it can accommodate at least a crowd of 2000 at one point of time. It's huge, like a "Dewan Masyarakat" complete with a stage. For pole dance that is. Thailand girls and supermodels comes and does the pole dances on the stage, you just drink and dance. After maybe around 30 minutes, you will get tired of watching it. I can assure you that. The music is extremely, extremely loud.
We also went to a nearby strip bars where they will play you Indian songs! Yes, Indians are so famous in Betong that they even play Indian songs there. And you will see strip girls dancing for Dailamo Dailamo! Ena Kodumeh Ithe…The beers here were a bit more expensive, probably because of the strip show. It will set you back 800 baht for 5 big bottles of Heineken. After getting drunk, Deva and Brother Vasu decided to take the center stage, where they climbed the pole dance table and danced to the rhythm of Indian songs. The crowd did not enjoy the Indian half-nude males though.
All in All, although we were just after the border in Thailand, we enjoyed our journey to Betong Thailand and I have to say, Betong is a wonderful place despite the fact people are living in poverty there. Never had we seen any Thailand people staring at us, like those Indians here in Malaysia.
That is all about Betong Thailand.If you guys are planning anything after this, let me know. We might be able to arrange something.*Grin