This post contains 'graphic' images. Continue at your own risk.
And so I thought I should continue the next part of the previous article or you would get bored and think that I'm not keeping up with my words. Not that I always keep up with my words all the time, but the thing is , looking at how people had responded towards the previous post, made me feel, really touched.
I never know you would have this much love on me, and so bla, bla, bla, and I love you too. Let's get to business then.
See, before I proceed , I would like to let you know that I have a great upcoming plan that I will be organizing together with Brother Makkez since he is back now from his 'holidays'. I hope you would participate together to make it a success. It's a simple one, and a normal one, but your contribution might make a difference. It's not a normal charity program, but it will bring a difference in the field of education.
——————————————————-
This post had been edited profusely and I think it had deviated from the original message that I was trying to get across. I had also changed and edited this post . Very much. I can no longer see any reason for you to like this article. I myself getting a bit confused with what I wrote. However, read on.
——————————————————-
I do not know how on earth you land up with the idea that I was talking about a ghost story in the previous article. What I wanted to convey in the previous article (Signs of Death) was about what you think when you one day you face your own death. Facing your own death. Facing the face of death. Faces of death.
What I wanted to talk about in that article was about the number of Indians that is dying and directly contributing in the statistics of Indian population in our country. Don't be surprised, but it's actually a worrying issue looking at how things are going on recently. What I wanted to go in depth was about, moments before you die. What you might think before you die? What and how would your last thought be? What might be lurking around in your mind when you gasp for breath in your dying moments?
Bride to be and her father chopped, young insurance agent gunned down, 6 Indian Guys shot dead; and I do not want to go on. Even in the first liner, we have 8 Indians dead. No more in this world. No one will be talking about them, and I have not even mentioned about death in custody yet.
Have you seen the faces of death?
How do they look like when they die? How they would have felt moments before they die? How would they think gasping for breath moment before they die? See, the below pictures are the 6 Indians who were shot dead in the Kulim incident.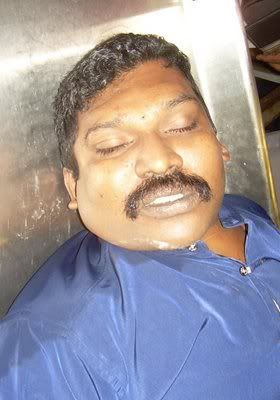 May their soul rest in peace. Allah Malik. (Picture was uploaded in Makkal.org)
I'm in no mean trying to portray or insult the deceased. If you've heard the live interview on what happened during the day of the incident, you would be much more horrified. The witness described shouting and multiple gunshots heard around his neighborhood. Can you imagine their last moments? What they would have felt? Can you imagine them hearing the screams of people who were actually being shot to death?
This above video clip is the witness description of the horrifying incident
The next thing the witness knows was all 6 of his neighbors' are dead.
Much like that, have you seen someone in their dying moments? Have you seen someone in their last minute of their life?
I'll show you one real video clip about faces of death. Please take note, I warn you, that this is no normal video clip. It is an actual footage in an emergency room. The guy struggling for his life in the emergency room is none other than the guy who was slashed to death in Bukit Tinggi,Klang recently. Viewer's discretion is advised.
Did you see that? Did you see the last moment of his death? Did you see he is struggling? What would have clouded his mind? What he would have seen? That mystery will remain unknown forever.
Have you thought that someone close to you would just pass by just like that? That is death. That's how it happens sometimes. Although I have explained about signs of death in the past, for us, for people who do not feel anything, we would feel that they have died in an instant. We would have just said hi to him the previous morning, and we would be attending his funeral the next morning.
That's how fast it happens. I believe it had happened to you. I do not really know if it happened to you, but it had happened to me once too many. See, I have these friends of mine whom I hardly meet for a quite a long time sometimes. They might be studying in country, or working somewhere around, but we might lose in touch with them. All of a sudden, one or two months later, you will hear news that they're dead.
This post will now deviate from point here onwards(climax).
Of course you will be shocked. There is a saying that goes that you should appreciate everyone, even your enemies, because they will be only around as long as they're alive. Wishing someone dead is not exactly a good idea. It only adds up to your sins. We're born sinned, at least that's how I believe. How we live or how long we live in this world is a question nobody could answer.
I have heard and experienced multiple stories of people dying at young age.
You tell me, a young guy at 16, perfectly healthy, do not have any bad habits and whatsoever, suddenly dying of heavy flu? What would cross your mind? This happened to one of my cousin last year. What does that reflects? Life can indeed be that instant.
Isn't that poor decision making by God Almighty up there? How could he have the heart to do that? Before blaming Him, thank and pray to Him, that you're still alive to talk about it. Prayers do not wash away sins, but it does bring comfort to you.
This post might be confusing to many of you. I talked about two things here. One is death, the other is sin. Why? I believe both are inter-related. Both are connected. Reasons are plenty.
See, our good and bad deeds in this world will be accounted once you're dead and your soul goes in front of Him. He will decide to put you where he wants. He will decide if you shall return to earth to serve, or you should stay in Hell to suffer. Please take note that the previous point of view is my own and I can't help it if it contradicts with what you have thought all this while. Our sins are extra-ordinary in amount, and during the brink of our death, we would think about it. We would think about all the bad things we might have done, and how are we going to face Him up there when He questions you.
Do good, be good. In the last minute before you die, you shall not be clouded with visions of miseries that you have caused others. On the other hand, you should be ushered in by the angels, for all the good things that you might have done. No matter how your life was taken away.
Faces of death. Once you're in front of it, there is no escaping. You're nothing in front of it. Humans are after all nothing, once you're dead; you're just a smelly and rotting body. Even keeping you a day or two, would need a strong injection of drugs.
Life is that short. Death can be that instant. Treat every second of your passing moments with joy. Never fail to enjoy everything, as long as it does not bring harm to others. Never fail to keep others around happy. Never fail to help the needy. Never fail to do your prayers. Never fail to fulfill your duties. Never fail; or you might fail in the test of God.
Will you or will you not?