And so 2-1 was the result. I was disgusted watching the live telecast of election show on RTM 1 yesterday. If you've seen it, I believe you would have felt the same thing too.
They were so obviously biased towards the Government. See, the live interview was conducted with the so-called Dr. Siva and another Malay guy whom I don't want to remember. They were supposed to be talking issues in general and put forward their opinions without siding any of the sides.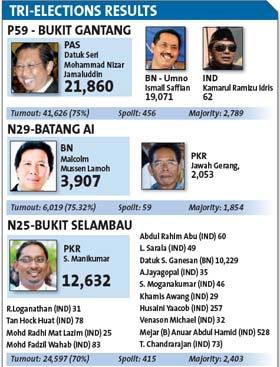 But obviously, that wasn't the case. I hated the way they were stressing the point that victory in Batang Ai was because the Ibans there wanted to see continuous development while the win the Bukit Gantang and Selambau was due to pathetic and sentiment votes.
What the hell? What a bunch of losers.
I no longer see any point of continuing to watch the live interview but out of curiosity, I just continued watching till the end where they conducted their own version of post-mortem about the issue.
Some important points to note:
1. DS Anwar had played sentiments and hot issues to stir up people's feeling
2. The victory in Batang Ai , was because Ibans had achieved what they wanted under BN and wants to continue enjoy that.
My father said people over here in the Peninsular have got everything in a 'click', while BN had kept the people in Sarawak out of loop from the technology world. And you're telling me that is continuous development? Fucking lot of crap ay. Even my father who does not use the Internet knows this.
Let's see:
Both the places PR had won is in Peninsular Malaysia. I had expected this.  It was a good win too, with voter's turnout of 41626 in Bukit Gantang and 24597 in Bukit Selambau. The winning majority totals to more than 5000 from both places.
Like how the Chinese Uncle in a shop told me:
Itu Batang Ai takpala. Kasi sedekah sama BN. Kita tolak tolak BN , dia boleh menang kat hutan saja. Simananjung Malaysia kita konkekkonker, sabah sarawak kasi sama diaolang.
And BN is going to conduct the post-mortem today using independent inquiry it seems.
Oh Yes, they should.