Let us stop talking about politics and take our eyes off towards something far more interesting. I've never bothered much about politics as you know, but it does get a space in my blog sometimes. That is also for some of the biggest highlights and something that I think deserves attention. Take example of A. Kugan case; since our Government had found out that his death is not due to foul play, I think the case is pretty much closed, as what we had expected. Did we expect something different? No. Anyway, don't worry guys, MIC is chasing up the case, well, at least they're pursuing something rather than doing nothing. But you know how it will end up anyway, the reports will be send out to Aussie and it will be back; in my dreams.
I do go through a lot of blogs when I have my free time and I do spend a lot of time in Facebook. Somehow, it had kept me addicted because I've nothing much to do during working hours. It's rather a sad sign, but I have to say, Indian guys are going through a period of lameness to the max. Some of the attitude shown in Facebook and over the Internet had been much too humiliating.
Have you ever seen some guys go all over Facebook, hunting down any of the chicks that is seen there, and then adding them, spending time writing comments for each of the fucking photos that he sees in her profile? Well, I've seen this once too many. These guys are not even leaving out even her parent's picture.
The moment the girl takes a quiz and publishes it over, in a few seconds, this guy would say, XxxX likes this.
And so on and so forth.
The moment she publish a new picture;
XxxX likes this.
XxxX likes that.
Xxxx likes her pussy.
Enapa ithe ellam? Thonggere , thanggere, etheke ithe ellam?
I understand your intention is get as many pussies as possible. But then shouldn't it be done in secret, for the sake there is something like messages? You can always send out one. And we even have hundreds of poems which was copied from I-dont-know-where and it would be in the girl's Wall-2-Wall.
And then there some of the ones who act like physiologists and mental analyst in the Facebook.
Kamachi is sad.
Thonggi : Why dear what happen?
Thangga : Why da? Tell me.
Thengga : Da, dont worry . I'm here for you.
Thevangge : Everything will be all right da. God is with us.
And then Kamachi replies.
@Thonggi : Nothing da.
@Thangga : No mood to talk .
@Thengga : Thanks for the concern dear.
@Thevangge : Thank you dear.
And the pattern is very much similar with all the guys. And the same pattern is shown by all the girls as well. How funny is that? She wouldn't want to know
And so Durai tries the same thing:
Durai is sad.
Machan No 1 : Nakkathe da dei.
Giri : Naye dei, yanda sad ah iruke. Sareke othericha?
Raja : Kotte dei, ena achi.
Yanda pundenggelah, girl sad potta thanggeringge, nangge sad potta okkehringgela?
See, maybe you can blame me for having friends as such. But this are the same guys going around commenting in other girls profile.
But you're not a girl, Durai? We can't fuck you. So, what's the point of asking if you're really all right or not?
Ade pavigelah. I rest my case.
I do not get infuriated by these things. But I think that's quite funny. Not like I expect attention to be coming the way it is going for the girls, but I find it funny how much low a guy will go just for fucks. And so comes another Kamachi saying, this guy is very caring.
Just because he put up a one liner like that over in Facebook, means he is caring la, while the rest of us are boring la?
And then we have another bunch of losers set loose going around the girls blog trying to loath and hate them with whatever means necessary. See, long have I explained that constructive criticism and pure loser's language do have a lot of difference.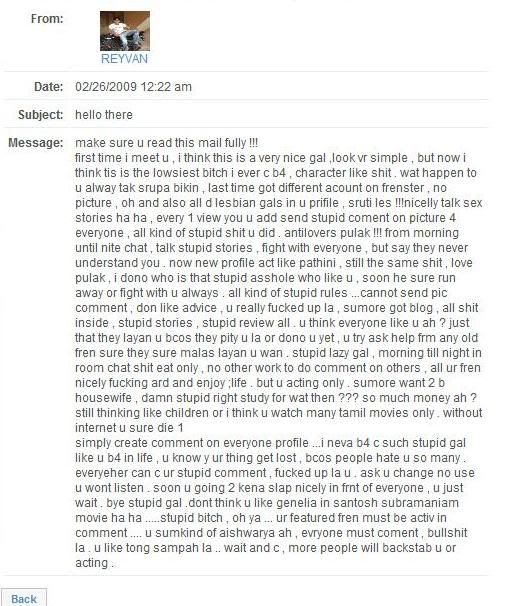 Above is one perfect example
We have some guys over on the Net who would go to a girl's blog, and try to challenge the girl. How? By throwing in some rather nasty and vulgar words. These types of guys are in the category of attention seekers. They would try to fit in as much as vulgarities in the comment box section and then wait until the blog owner replies it. Once she replies, like a sex starved fuck he would reply immediately. Now, that sums up two of the interesting characters guys seems to be having on the Internet nowadays. They originated from Friendster where they go around girls profile and put forward nasty comments. Later then, they graduated to blogs. I did not have enough time to talk about this, but sure enough, once I'm back, I'll elaborate more on this.
As I've always said, although not all of us are like that, but some are getting infected daily with this disease. Maintain your dignity guys, if you have some left. Never go as low as that for the sake of fuck.
Valkele fuck irukelam, anah fuck eh valkeyah ayire kudathe.
With that said, I will not be around for few days because I'll be going for vacation to Kenyir Lake and will only be back on the 16th of April. Have fun my brothers and sisters! I'll be back with a bang.
Oh, and before I go, I just thought of something. Since I wrote about Facebook, I remembered one of the unforgettable mistake I did in Facebook. And so, there was this girlfriend of mine, she put up a shout out as follows:
My father who is my close friend passed away 2 days back. May God bless his soul.
I accidentally clicked and this line followed next:
"Durai likes this."