*This post is written with priority given to humor and sarcasm followed by logic. Do not get hyped up reading this post and come down with your rifles just to fuck me up with all the statistics you can find in the world.
—————————————————-
I'm sitting down here thinking of something to write but I just couldn't keep my focus on anything. Topics are plenty, but it's just like my mind had got something of a mental block that I can't just let my ideas flow. Then, I thought again, it's been sometime since I came out with something particularly interesting. I've been boring you with the sort of shit you wouldn't want to really read perhaps. Perhaps you're just commenting on each post of mine just to make me happy. I guess so. Sooner or later, perhaps I would be writing only to myself if I keep on doing the same way I'm doing now.
All right, I'll try hard to write about this then. I've thought about this thing for a long time now, and perhaps it might be entertaining and unique for you to read.
According to my own calculated statistics, I think Indian guys dies faster than Indian girls in our country. I'm not talking about worldwide population because I can only write about things that revolve around me. Thus, it's Malaysia then.
See, why do Indian guys die faster than Indian girls or woman? I'll tell you why.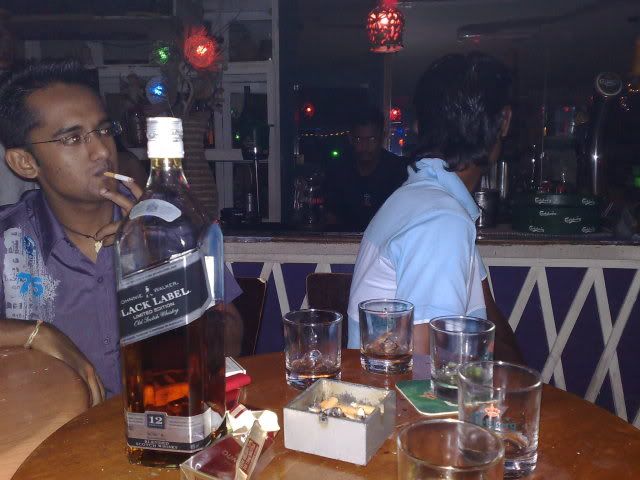 1. Indian guys smoke and drink alcohol.
The first reason for this is of course basically, we, the guys think that smoking and drinking is cool. Both of which influences the condition of our body directly and contributing to a number health cases. This however, would not stop Indian guys from stopping these 'cool' habits.
Either the guys dies by health related problem before they could get married or after getting married, due to constant drinking, they might get a heart attack and die. With a combination of mutton, cigarette and beer, we go up faster than you can imagine.
I'm not saying Indian girls do not drink and smoke either. But the fact remains that most of the Indian girls do not drink and smoke, and even though they do, it's usually occasional. Thus, they live, longer.
2. Indian guys drinks and then fights
And then we have some of the famous wannabe gangster who thinks they're some superheroes once they're drunk. All they might want to do after a session of drinking alcohol is to stare at another Indian. Probably in an attempt to start up a fight.
Every Indian should stare when they see another Indian. This is rule number one of being an Indian. And if you 'catch' someone staring at you while you're drunk, you must at that very moment hurl some vulgarities towards the other Indian and try to start up a fight.
These fights sometimes do not just end up with injuries, sometimes it ends up with death. So, this concludes that drunken Indian is dangerous to be kept around. They can end up beating you lifeless with a beer bottle. And yes, I've seen that. Read related:Smiling and Staring
3. Indian guys fights and die because of woman
See, there is a saying in Tamil, which is actually vulgar. But then, I never refrain from talking profanities either. So, it goes like this.
"Tamilan sandeleh sagevan, illenah pundeleh sagevan."
To tell you in plain English with a direct translation, Indian guys either die by fighting or because of a pussy. We have too many Indian warriors in our country that is more than willing to give up their life just because of a woman. See, any positive thing and the guy gives up his life, I would applaud that. For an example, in the mean of trying to save the woman from a robber, he was shot and died. This is a positive death. He had done something proud.
But on the other hand, we have some pussy-hunters who would fight up with another guy just to gain attention of a girl. We also have some other guys who would fight up with another guy just because this guy might have said something about his girlfriend. In both cases, fatalities cannot be ruled out. Here, the guys die, while the 'pussy' gets away unharmed.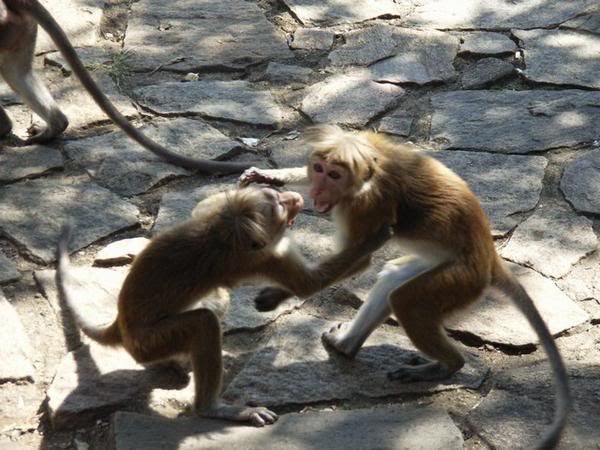 The above pictures describes what other people think when Indian guys fight
4. Indians guys' suicide
It goes beyond fact that Indian guys are the most likely to commit suicide in the event of misery or love failure here in our country. I've talked about this. Reasons are plenty, but Indian girls had always been lower in statistics compared to Indian guy's suicide rate.
It might be because basically those guys are simply sentimental idiots, or cowards who do not want to live anymore; scared about what the world might have to say. And suiciding because you couldn't get a girl? Fuck the dead ones. I've got no respect.
Indian girls on the other hand do not end up suiciding once they fail in their quest of love, want to know why? It's because they're smart and they use their brains.
5. Indians shot dead or die in custody
Last but not least, we have quite a number of Indian shot dead blindly by the uniformed guys. Not saying that all of them were innocent victims, but even the criminal ones should have been given a fair trial. Sigh, they're dead. No point talking bout it.
Hardly any Indian woman or girls are being shot dead, and so yes, Indian guys are getting lesser even because of this. Or let say even if the Indians are caught, most of them die in custody anyway. So , whether caught alive or not, chances for you to come out alive is pretty much poor.
6. Indians gets killed by hired killers
If you have enemy, then you should have one that would not harm you in anyway possible. I mean physically. Of course you might have enemies , but make sure you have someone who will not go to the extend of hiring someone to finish you up. If someone is willing to put up a bounty to your head, then mate; you have serious problem here.
Most of the times only Indian guys/mans gets killed by hired killers. Take an example of some of the Indian politician that got killed in recent years. And also the number of Indians shot dead in coffee shops and so on. We hardly hear any hire-and-kill for the woman's/girls anyway.
—————–
And that's what something that I can summarize from the lots of thinking I've done for this topic anyway. Please take note that I have no facts to support this post of mine, and I've written this based on my own observation and things that happens around me. I've a massive number of friends and thus pretty much I've some information on things that happens.
The same thing might be happening to other races as well, but again, I do not feel the importance of writing about it because this topic is not meant to be that way.
I guess it's time for the Indian guys to just shut the fuck up of trying to be a 'Singgam' in the public and fight for each shit they can find reason for. Remember, the calmer you're, the better it is for your life. It might just let you live a little longer. No need to be fucking wannabe gangster and end up getting beaten to death by another Indian or getting shot dead by the man in the blues.
Perhaps Indian parents should try for male babies to balance up the statistics. Girls, we, the Indian guys are getting lesser, thus it is time for you to act, get one of us as soon as possible.*Grin