This story is dedicated to all the blind fools who follow everything that other people say without doing a research or without any advice. Like what people say plunging into death blindly, this is how this people does things and also influence others the same way. This story is based on what I've studied in religious books and stories being retold by people who had dedicated their life talking about the very existence of God. Do not agree blindly on whatever I've said here, because I'm, as the others, a normal human being. I'm no saint or Prophet, but listen to my story with an open mind. I've also written it M1 style, so ignore the fucks. And make sure you read this full, or you won't be able to grasp the meaning.
A very long time ago, few centuries earlier, there was this small village in India. The village is a nice mixture of bad and good people thus making the village somewhat balanced. However, due to the escalating greed of the bad people, crimes began to increase.

The bad guy's starts fucking around every virgin chick they can see in the village. While the others are resorting to free-killing and robbery had also become much rampant. The village head, who couldn't take these things much longer, brain stormed with few of the top level villagers and started thinking of an idea to stop all this unnecessary crimes.

No one dared to come forward. No one dared to help. Everybody was too scared. Even the daughter of the village head had been fucked. So, it really infuriated the village head. Weeks went by, and solution still could not be found, until one day, one man called MV sprang into action.

Everyone in the village forgot about this ultimate warrior at the time they need him the most. He was suggested by one of the villagers during a meeting and immediately the village head summoned him .During the meeting, they ordered MV the ultimate warrior to take care of the village and restore peace.

MV is a reputed brave and no nonsense warrior. He was very strong and was feared by all the villagers due to his unbelievable braveness. So, every night, MV started patrolling the village. Since the crime happens only after the day light is out, MV only patrols the village every night. This fearless warrior captured and killed so many robbers. Rapist and sadist do not dare to roam around with their hanging dick fearing MV.

Ultimately, crime reduced to zero and the village head was very happy. Everyone in the village started living normally again and nobody dares to resort to crime since MV is around to kill the bad guys. Years went by, and peace was still in order. One fine day, MV died due to old age. It was sad news for the villagers, due to nobody is going to protect their village anymore.

Their amount of respect towards MV is extraordinary and once he had died, they start making him as an idol to be brave and fearless. The village head on the other hand had summoned the blacksmith to carve a statue resembling MV out of respect towards the warrior who had protected the village for so long.

The statue was ultimately placed in the corner of the village where MV used to patrol at night. Days went by; some villagers had claimed that they saw a guy riding a horse resembling MV. Everyone was happy once again, thinking that MV's soul is back protecting the village. All of them, in return of the protection given, started bringing foods and flowers to MV's statue. Incense and other prayer material were also presented as a sign of being grateful. Years went by, and people started believing that ultimately, MV is god; because he showed all the signs he was one. Even after his death, he is still protecting them.

And so, MV was regarded as God in years to come and people start coming to pray to him for good luck, bravery and to be fearless. They started having rituals and ceremonies. Words spread by about this ultimate warrior cum God and nearby villagers started adopting the same concept and asked the blacksmith in their village to carve MV statue. It was placed in their village so that their village would be protected from evil deeds too. Things spread fast, and now we have MV statue and worshippers even in Malaysia.

His name was Madurai Veeran.
The above story is a true story. This was how Madurai Veeran emerged and was regarded as God nowadays when he was supposedly normal human being centuries earlier. The same goes for Muniandy, Sanggali Karupan or any other warrior God (Kavel Deivenggel) who had vowed to protect their village or border many centuries ago. All of them was given a statue and due to wrong stories being told to the upcoming generations, people start regarding them as God.
Ok, now I've even challenged the very existence of God. No, that's not the point. See, look at it from this angle, this warrior Gods is all fine with me, as I regard them more than a normal human being anyway. They're of course, people who had not feared death and lived by rules of God. But the problem is, people had misinterpreted them wrongly without knowing the very actual story of their existence.
————————————–
Now it will get interesting.
See, I tell you now, again and again, we're normal human beings. We're full of sins. We have come to this world to live a good life, and ultimately, when death comes, you will meet Him to review your scorecard while you were on earth.
There is no such thing as you can summon God into your body. Our body is such a dirty thing, that God simply can't enter. Clear cut. You tell me, there are this saints and Mahan's all over the world, who had dedicated all their life meditating to God. Why isn't God entering the Mahan's body?
Why the fuck does people think God will enter your body after a mere 48 days of being vegetarian? God is that cheap eh?
I tell you again, listen nice and clear, there is no such thing as being possessed by God. God do not, I repeat, do not and would not enter the body of human beings. If he does, you simply won't be alive. I would talk about this in detail another day.
The Machans will be drinking and smoking, not forgetting fucking around with all the Indian sluts they can find. Then, one month before Thaipusam, all of them will start being vegetarian, and then during Thaipusam , will 'download' God into their body.
What the fuck macha? The thing that enters inside your body is not God, but it's the normal spirits that hangs around after death. Their souls, still having unaccomplished wishes or perhaps lust, will enter into the persons body imitating God. In return, they can smoke and dance or do whatever they wish.
Uncle Muthu would have died years earlier, and he might be a hardcore smoker and drinker. While still lingering in planet earth waiting for his judgment day, one stupid fucking asshole on Thaipusam day will call upon God to enter his body accompanied by Urumee Melam. Uncle Muthu, seizes this opportunity and enters this assholes body and start demanding for cigarette and beer. Brainless people around will give him what he wants. That is how most of the 'Hindu gods' starts smoking and drinking, what a shame. (There is another side to this story as well, which I would also talk in detail another day)
These things are getting more and more ridiculous daily. And then we also have some stupid Indians rubbing money into wild boars nose and ass thinking it would bring good luck. Work for your money; do not go around fingering some pig's ass to get good luck and money. There are many other much simpler ways to increase your luck anyway.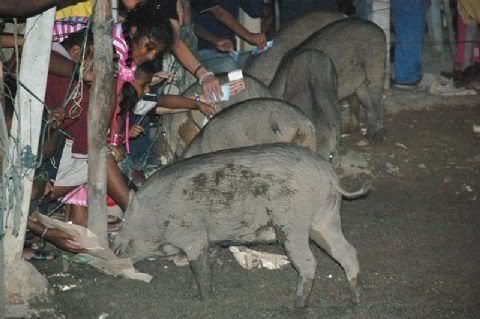 Remember, God is ultimate, he is the one and only.
Oh yes, I forgot Kali. There are also thousands of Kaliamma coming down in Thaipusam all at the same time, how on earth can that happen? Do not believe for a second this bunch of psycho idiots who dress up like Amman and claiming that they're God. With tongues hanging around, some of these girls look more like a porn star to me rather than the great Kalima herself. Machans are more or less the same.
Kalima, is not in the loop of Kavel Deivengel. She is of course, not a normal human being unlike Madurai Veeran. Kalima can be said one of the many avatars Goddess Durga had taken to get rid of evils. Kalima do not come to planet earth to posses any stupid bitch anymore (in fact she had never been), at least that's what the religious books are telling us. Come on people, Kalima is such a version, that can your body contain her power without destructing yourself? A perfect example of how stupid some people can get is below. Sucking up goat's blood and claiming its Kalima requesting for all this. Even African tribes had become more civilized not sacrificing animals for their own ritual. And here we have a bunch of 'Pattai Thanni Kaingge' sacrificing goats and chickens and letting a stupid Kambethe Mohana to suck up all the blood.
How many of you get scared when you see this entire fucking psychopath in Thaipusam? I believe most of you would have been, especially the girls. You're supposed to respect God and feel want to be closer with him, why the fuck are we fearing them? Because this stupid fucks are normal human beings possessed by spirits and ultimately trying to scare you as well. How many of you had seen people dancing in front of our so-called Gods in Thaipusam? I believe most of you would have seen it. If God is that powerful, how come you ridicule him with such a thing, isn't it a shame? And you tell me that it's God? Poda punde.
What I've written above is pure logic, think about it . Ultimately, as long as there fools, there would be people fooling around. Are you a fool?
*There are many other things that I haven't talked about yet. I will continue writing about it later.It would get too long if I continue writing, if you have a question, the comment section is below. I would answer, God willing.