Each one of us is unique. Some might have a lot of similarities, but the fact remains that every one of us, vary from each other. Even twins possess only similar physical value, but mentally or characteristics' might differ.
Just like that, some people might like watching porn. They might allocate 1 hour per day watching porn, to satisfy their hunger for it. Others might like going temple; they might allocate one hour every day to be in temple. Some may even like chatting online, while the rest might prefer talking one-on-one.
Some might like blogging to express their interest; some might like to talk to a friend to express their interest. See, a simple example that shows that each of us differ from each other.
I've written many controversial articles bashing how people should behave and how they shouldn't. If I write something, criticizing a certain quarter of the society on their acts, then it is called my opinion. Or my voice. It is by no means an act of trying to lure them to come to the right way. Whether they chose the right path or not, or whether they choose to listen or not, is their opinion, note, their opinion.
My personal life and things that revolves around me had been the core of how I write. I've shared many personal matters about myself, which I can just ignore and continue acting in front of all of you. If I were to portray myself as a person who do not drink, or smoke, or have not done anything bad, then you would have believed that way.
But does that reflect who am I in real life? This blog, the contents, and every word that I write reflect who I am in real life. If this space which I've bought with my own money , and something that I felt can reflect my thoughts is controlled, that simply defeats the purpose of me having this blog then. That is to express me thoughts.
It's funny to think that people actually thought that I might be a major influence in how Indian society is shaped today. How odd and funny, even ironic. How can you not be flattered if someone actually thinks that you might influence some other Indians out there? Am I someone below to be idolized?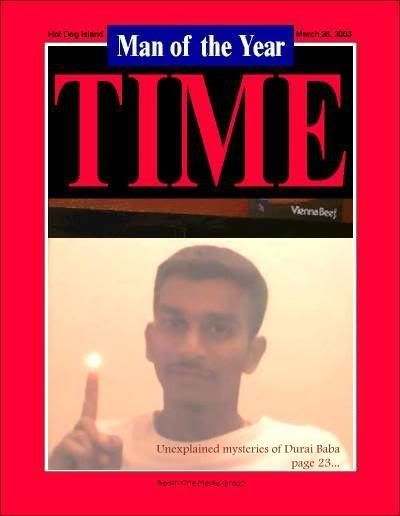 Every one of us are sinners. Show me one person who have not sinned their life, and your wish is my command. I've done some really bad things in my life, and I've done some really good things too. Life is a balance between this two. You can't be that good ay, if you're that good, then you're God. Heck, you've sinned even if you eat animals, but how do you survive then? Vegetarian, you're killing plants, my man. They live too, don't they? If we try to be specific on what is good and what is bad all our life, then you're no longer alive! You can go rest in your grave.
If there is no balance in your life, then you're doomed.
Do you know how easy it is for me to put a blog that shows that I'm a holy person? I can easily choose to cheat you with all my words, as some of you believe that I can construct my words that way too. It's that damn easy, and I might be a hit amongst the Indian society for helping in to shape up those Indian Machans and Machis.
But the question is do I actually 'influence' and 'shape up' our society? No, I highly doubt it.
Some of you agree with what I wrote, some of you don't. Can I actually write something that would please every one of you? I can't, it's not within my ability.
The above is how fucking boring my blog will become if I write something that is clean, that's pure and something that might 'shape' our society and also choose not to be myself. We have more than enough blog out there which is helping to shape up the society, but what are the bad things then? Sarcastically writing, I'm trying to achieve my point on what are the things that can land you in trouble, by putting an example of me. Some people can't just get the point.
Well,
I sincerely apologize for those whom I've offended, however, by no mean I would stick to a certain standard of rules or follow blogging ethics that I find ridiculous.
Society, Indian girls, Indian guys,Vulgar, Porn, Alcohol, Smoke, Charity, Temple, and everything else, from pure to evil, blend in together, to create the perfect mixture to be poured in Ragedindian.com. If you find the mixture to be highly indigestible, you can always choose to vomit it out.
Last but not least, if you can't choose to be yourself, what is the point of living then?
P.S: My sincere apologies to my fellow readers and bloggers (ecspecially Vanee,Nedu,Indian,Geetha) whom I've dragged into the previous war of words.