There will be two version of this story: One written by me and the other by Brother Makkez. We chose to write two versions to reflect from our own perspective what happened there. Thank you.
I know most of you are waiting anxiously about what had happened to your money. I can't wait to tell you either, and I would do a complete review of our visit to the school. This post is going to be long and interesting. Spare some time.
We started early in the morning around 7 am and as expected, trouble started early for us. Our initial plan was to buy KFC for the children, and I was with Sashi in KFC at 7 am. We wanted to buy bucket set at 7 am, when KFC only offers breakfast set at that time. But sure enough, after putting up a pathetic face and saying it was for the purpose of charity, the manager somehow was convinced and agreed to prepare the bucket set. We bought 3 bucket set and while I was waiting, Brother Makkez called up and said he was on the way. I'll have to rush over to another restaurant to order 'mee-hoon' and it took another 30 minutes to get it prepared.
We met up with Brother Makkez and Brother Suren(theeyes05) at 9 am . We started our journey, which was not as I expected. It was a journey through rows and rows (and rows) of palm oil trees and you can't see anything else, seriously, anything else other than palm oil trees there. We took a turn and it ended us up in a horrible bumpy and stone road. We traveled through an estate-like-environment around 30 minutes, and our car was bathed with dry sand.
We finally reached the school at 10.00 am, just before their break time. The name of the school is SJK (T) Pulau Carey Selatan. It's a small school, probably in the size of football field and I guess that's sufficient enough, because the total number of students is only around 44+.
The condition of the school is very basic with few classes, each to accommodate Standard 1 to Standard 6. It's windowless, with a pre-war-look-alike ceiling fan hanging in each of the class. They have a small library and a HM room cum office. The only thing that surprised me was they have an Internet connection, and it's a WI-FI connection. But they do not have a basic Photostat machine. The school is also on RMT (Rancangan Makanan Tambahan), so the food is provided for free. Pros and cons about the school aside, I would rate the school is in a below-average condition.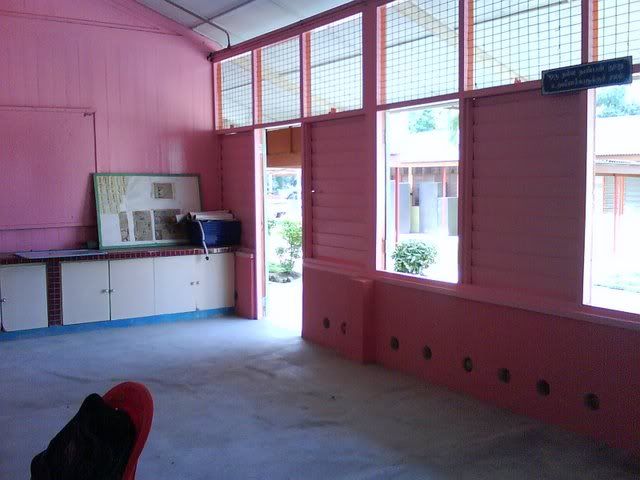 We prepared the food (KFC and mee hoon) and met up with the person in charge (Mr Satish). He was really thankful about our visit because it seems they hardly get any help from outsiders and he was surprised as well, because we were willing to travel that deep(of what I would describe as palm oil jungle) to get to the school. We explained the purpose of our visit, and how we collected the money. It was around 10.30 am and it's break time, all of the students came out and took their seat in their simple 'canteen'.
Most of the students got all excited on the sight of KFC. One thing that makes them stand out was although these children are poor (extremely poor), they were rich in smiles. That really made us happy. There is something about a child's smile, and I like it so much that I want to have a child soon.*Grin
Anyway, we started serving the food and soft drinks. The children were all much disciplined (I don't know if they had any rehearsals :), but was surprisingly disciplined and well mannered on the table. The teacher in Charge (Mr. Satish) started the speech after the food was served. It was a simple talk, but I can't help it but to feel pity and sorry for the kids. It goes something like this:
"Manavergele, ineke ungge munadi mee-hoon iruke, KFC iruke, ungge ithele narayah pereh KFC pathereke mathingge, ithe ellam epedi unggeleke kadechichina, ingge vantherekum annen margeleke nandri sollengge"
To translate in English:
"Students, there is KFC and mee-hoon in front of you, most of you might not have seen KFC before, please thank the brothers here for this."
And the kids turned around to say thank you to all of us.
How can you not feel pity when this children had never even seen KFC in their life?
The kids ate slowly but I saw one particular girl who finished her food early. She was a very small, frail looking girl but managed to finish up her food. She was biting and chewing the chicken till only the bones are left, which did not stop her too, she continued breaking even the bones and eating. She really did cherish the food given. I couldn't stand to watch that, but she refused any more chicken.
The break time was over and we visited each class to donate all the stationeries that we've bought for them. Of the 44+ children, all of them received:
1 full set of stationeries
Extra pencils
5 notebooks
One box of color pencil
We selected 10 of the hardcore poor children's (6 boys, 4 girls) and decided to give them an extra of these following things:
1 school bag
1 Full set of Uniform (Shirt, Pants, Skirts)
1 Pair of shoes
3 Sets of Stoking
Above: Brother Makkez handing over items
Co-incidentally, one of the boys name is Durai. Maybe he should be prepared for a lot of curse in the future and girls are going to hate him. Below goes the boy:
Above: The next generation of Ragedindian





The smartest student amongst them all: Look at his collar:D



Above: Brother TheEyes handing over to Primary six students
Back to the topic, it didn't end there, of course. We also gave out a complete set of exercise books for the six Primary Six students for them to prepare for their examination. In addition, we singled out one of the student (below in picture), who is in Primary Five and bought her a number of exercise books for next year. The below girl (Yuvarani) is one of the high achievers in the school, extremely poor and her father is in jail (for I don't know what crime).
Above: Yuvarani
Once it's over, we handed over stationery sets for the remaining 2 schools, SJK (T) Pulau Carey Timur and SJK (T) Pulau Carey Barat to Mr. Satish because we could not make the trip to the remaining schools.
Mr. Satish also took the opportunity to thank all the donors who had contributed generously for this event to be made possible. They've also informed about the poor condition they're in and would appreciate any future assistance.
We left the school at 12 pm with a wonderful feeling. On the way back, I handed over RM 10 to the guard (uncle) who had served us with all smiles.
Overall, it was a remarkable achievement (for us) which would not be possible if not because of YOU. I take this opportunity to thank all the donors, although you were not there, every single Ringgit that you've given away helped to put smiles on the faces of the poor souls. Words can't express how thankful I'm to be surrounded by people (like you) who had helped to make impossible things, possible.
'Kalvidhanam' and 'Anadhanam' is the best form of charity. You've done both. I (we) wish to give credit to the following good hearted people who had donated:
Brother Lizard: RM 50
Sashi : RM 50
Thilaga : RM 50
Viji (vijayasengodan.blogspot.com) : RM 50
Renuga Devi(Cameron Highland) : RM 100
Makkez : RM 60
Vinodthren (Sungai Buloh) : RM 30
Sasi (Sungai Buloh): RM 30
Sri and Friends : RM 100
Priti (Eds) : RM 50
Gowri Narayanan ( Ipoh, Perak) : RM 50
Veni Paramalingam (Kepong) :  RM 30
Suren KL( Sri Nageswary Amman Urumee Melam,Sg.Besi): RM 200
Dharshini (Kepong) : RM 100
Nithz (www.nithzroaming.blogspot.com) :  RM 100
Kamini (subang) : RM 50
Malathi (batu caves) : RM 50
Linda Schiavi : RM 175.10
Umayal : 500 pencil
Ilayaraja : 800 notebooks
Nicholas : 50 notebooks
I would also like to thank all of you for being very supportive during the execution of this plan. I'm also grateful to all the readers for being very positive from Day 1 when I suggested this plan. Once again, millions of thanks, which is not only coming from me, but also from all the 195+ poor students whom you have helped. May God Bless your good deeds. I would also take this opportunity to apologize on behalf of myself and Makkez if there are any flaws in our plan.
The world is just awesome. (I just felt like saying it although it's not related)
Below are some extra pictures about the event:
I had a balance of RM 1+ in the end.It ended up in the Tabung Anak Yatim in Petronas station. I've finished up every last cent of the money collected.
Terima Kasssiiihhhhh!!!
—————————————————–
And as I promised earlier, following are the complete list of what we've done with your money to the last remaining cent. I've also scanned and attached the receipt as a proof of purchase. If you have any doubts regarding what we've done with your money, please contact me or Makkez. We would be more than happy to clarify. Please click here.