This post is not written to offend any of you, pictures in this post is taken randomly and displayed here in relation with the context of the post. The topic is discussed in a matter of general opinion, and is based on what most people do. It does not specify or target a certain group of people.

When it comes to talking about love and relationship, it had always been interesting. In fact, most of my earlier topics had revolved around gunning down those who thinks love is so divine and getting fucked at young age is called love. When I start denying and stressing that love is something beyond that, bullets started to fly around opposing my thoughts. It happens to be most of these bullets were fired from the young sluts from Friendster.
I've talked about this once, many years back, when I was just learning to write. Perhaps at that time, I did not have much word to put in, or shall I say ideas didn't flow well. Now since writing had become such an easy thing, and also had become a dangerous thing for me too(since I've noticed an increase of family members reading my blog), I will write about it again, and this time let's see how the responses are.
The topic is pretty much simple. I've seen hundreds of quotes and one liner, poems, essays and so much more on how love is defined. Please remember that I would focus specifically on relationship between a girl and a guy, or guy-guy or girl-girl. All of them seem to be agreeing on one thing in common, love is blind. See, when it comes to life, love is in fact, not blind.
It's eye-catching to see 14 year old young girls trying their best to  one liners in Facebook craving for some attention, but when it comes to practical life, it just doesn't suit you.
I would narrow down the discussion. Be honest with me, guys, when it comes to a relationship, looks or character comes first? Looks can be defined here as how the person looks like, I mean outer appearance. Character on the other hand can be defined as how the person behaves and his/her attitude.
Now, I would most definitely receive a majority response of:
"Of course Durai, no matter what you might think, love is not at all about looks"
Well, of course, I would receive that kind of response from most of the girls. What about the guys then?
Be honest, lets put it this way. Let's say a Mohana is walking in front of you, say below picture:
What would you think?
Hmmm, iveh kadecha epedi irukum. Kalyanem panni settle than.
Namake ipedi ore gf iruntha nalah irukum.
See, now I would get as honest as possible, it's not like guys do not go for girls with characters, but I think outer looks makes the best impression before the guy settles for anything else. Of course, every guy wants the hottest chick to be their girlfriend, and I've certainly seen it , so have you.
I'll be frank, as I've always been. Let's say the below girl has got the best characters in the world, the kindest, and she loves you wholeheartedly. Would you accept her?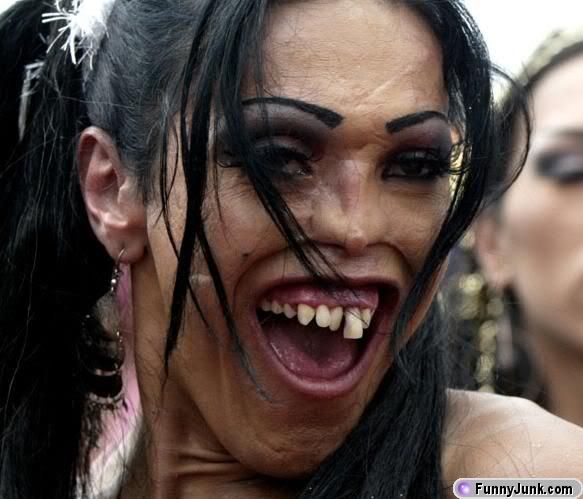 How many of you? See, deep down you, there would be something that stops you. How are you going to introduce her to your friends? Wouldn't it be embarrassing? Yes, of course, looks plays such an important role.
On the other hand, if you were to tell me that girls do not go for looks, then I would agree. Girls are exactly the opposite, they do not really go for looks, but it's the 'other' thing that matters.
There is saying that goes like this:
"If you can make a girl laugh, you can make her do anything"
Although the liner sounds like making a girl look like a very cheap thing, but indeed that is not what it intended. It is one of the reasons why girls like guys. Girls (majority of them ) do not go for looks, but goes for the other qualities that the guy possess.
They're also very concerned about the guy's future, or how much 'figure' he earns or has inside his bank account.
But guys on the other hand, puts up stupid lame quotes all over Facebook and Friendster stating that all they want is a homely girl, character important , and you know; all that sort of bullshit.
The problem with some young girls is, they sometimes over react when it comes to selecting their guy:
"Avere pichakarenah iruntha kudeh paraveleh, manase nala iruntha pothum"
Dei thangachi, pichakareneh kalyanem pani piche edeke poriyah?
In short:
I can conclude:
Guys goes for "figure" (body shape, looks)
Girls also goes for "figure" (money, stability).
What are you looking for?