I'm back from Indonesia and stressed , will write soon.
Wherever I go, or wherever you may go, if you observe things that happen around you, everything is actually very meaningful. Everything has hidden message behind them. Almost all the things, even the simple ones, carry some meanings behind their behaviors. It all depends on how you see it.
Basically some Malaysians just happen to be dumb. It's more likely since I talk to mostly Indians, that I find some Indians happen to be dumb. It's bad calling others dumb, but when I have called them fucks and other sort of bad words, I think dumb is actually very; shall I say, respectful.
It's like you tell them again and again, this is the way things should be done. But they just don't seem to get it. Ignorant? Maybe. But what do you call people who do not seem to be ignorant but just plain stupid not to understand something you've explained 100000 times?
I'll give you few examples of the mild ones before I move on to what I wanted to talk about today; which is in fact, very simple.
I was in the barber shop the other day for, of course, to cut my hair. There were another guy in turn, so, I sat down reading some porn magazines. One of my friend passed by, and at glance he saw me through the window. So he pushed upon the door, and annoyingly:
"Macha, ingge enada pandre? "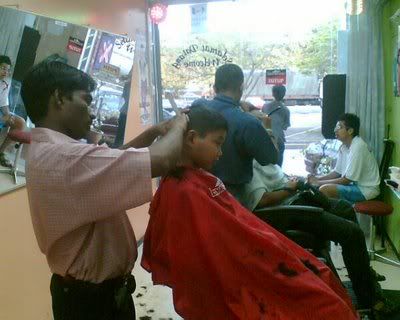 See, this is exactly the kind of question you shouldn't be asking when you obviously know the answer. Please tell me, what can you do in a barber shop?
So, I replied.
"Pudengge vanthen"
And he cursed and left. Although my answer is right, it serves like 2 in 1. I was happy he left.
I was in the clinic the other day, waiting for my turn to be called up. (I'll tell you a whole story on why I was in the clinic first of all -which I have already done on "My last moments"). Two Indian uncles were sitting beside me, both of them actively talking politics. It was about the Maika investment, which both of them had invested heavily during the 80's. Both seems to be sad and frustrated; you know who they were cursing, "Dato Samy, engge panahthe kami".
And so another friend saw them, he pushed upon the door and asked:
Maniam, ingge enaya pandringge?
And this guy beside me replied which I burst out laughing at that very moment.
"Samy vellu Maika kaseh thiripi kudekeranah,  athan queue le nikiren vanggeretheke"

(Samy Vellu is returning back all the Maika money, so I'm waiting in queue to receive them.)
Enough about the mild dumb ones, I picked up one of my friend the other day, and it happens to be he missed his phone at phone. He couldn't have misplaced it anywhere else because he was at home that whole day before I picked him up. Obviously so, his phone is at home. Just wanting to make sure, he called up his phone, and his brother picked up.
And he asked,
"Aya, phone vitteleyah iruke?"
"Aya, Is the phone at home?"
I laughed thinking what he had just asked. When he left his phone at home, and he knows his brother is at home, he still has to ask that question. Ironic.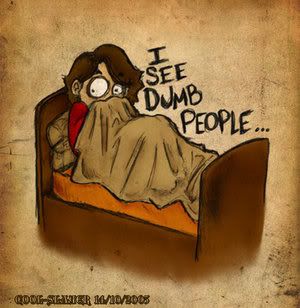 Now let's move on to something that I've explained like million times through the comment section in my blog as well as my articles:
I received a message the other day.
> I dont get it…stuffs that i wrote?
> I mean bad?
> please explain, anything i talked wrong?
i was refering to ur blog…
ur entitled to ur opinions but i truly disagree…
its interesting though as certain issues u have addressed them in a very thought provoking manner but when it come to girls,indian girls specifically u were beyond rude…obnoxious actually..
if u were to send me a rude reply filled with profanities…go ahead coz i dont expect any less from u…
ps.forgive me if m rude or spoiled ur day but then again m entitled to my opinion
See, first of all, I've told numerous times that whatever I've wrote over here, are not targeted to the general public. I don't get it why all of you girls here can get it while the rest seem to be too dumb to understand it. It's not like I should call all who do not agree with me as being dumb. That's wrong. But if I've said it like so many times, and still you have hard time digesting the fact, how else can I say it? Don't you think you shouldn't judge me of how I'm just because of how I wrote?
If that is the case, then I've helped many people too. Does that mean that I'm a saint? Yandee thangachi, if I talk bad words straight away I will be kattan, but if I do good still kattan than.
I rest my case.