It's been quite a break from blogging world and I've kept myself busy with some of the important things that I always wanted to do. Nevertheless, keeping away from writing is something that I could not do. I have written quite a number of articles in between whenever I had time, so, hopefully the publishing goes in a flow.
I can't wait to tell you more stories, more exciting ones as I had always told you. I received quite a number of emails and messages in FB, encouraging me about my blog. Thanks to all of you for at least spending time writing to me.
Anyway, cut the crap and let's fast the track. Last Saturday, I was invited by one of my friend to a temple in Port Klang for their annual 'Thiruvila'(festival). Of course, I had been to few before this, and since this particular ritual starts at 10 pm, thus I know something peculiar must be going on.
Together with another friend, we arrived at the temple around 9.30 pm. We met another friend, who happens to be the committee member of the temple, and he explained to us that there would be two rituals that night, which is set to be at 10 pm and 12 pm respectively.
Of course, it's a Kaliamman temple. It was together combined with Dato' temple and I'll have to tell you , the statue of Kali sitting was simply amazing, but the fact remains that I was not allowed to take the photograph of her at that time. However, I still managed to go around the temple and catch some other photos.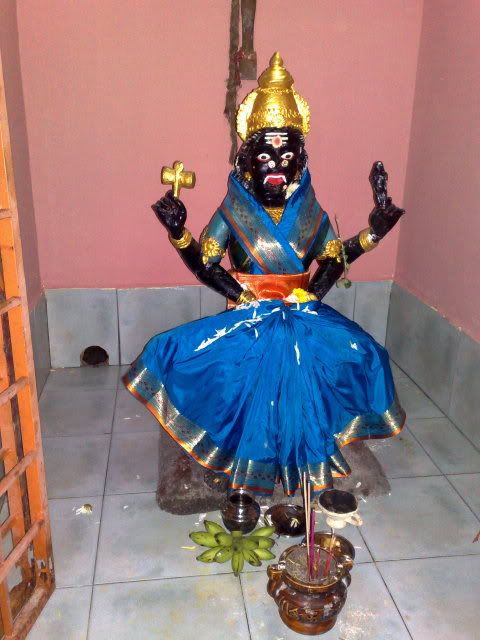 Well, let's go to the ritual then. I'm sure most of you might have been to temple, in which there would a person who gets in trance and then he would be blessing all the people that come to the temple. And so, the exact same routine was here as well, with one of my friend being the person who would get in trance.
It seems the 10pm ritual is presented to Dato' while the 12 pm is for Goddess Kaliamman. A quick tour around the temple shows that sacrifice would be done at that night, with 6 goats lined up for the last day of their life.
There were between 20-30 people inside the temple with quite a number of kids as well. Why is young children allowed to participate in this kind of sacrificing rituals remains unanswered.
Anyway, it started. Around 10 pm, my friend got in trance and he was dressed in a traditional Malay dress, complete with 'songkok'. It seems he is Dato'. He got in trance, and he speaks like an old man once he is in trance. He speaks in Malay and although he is Indian, I could not explain when he starts writing in Jawi language once he is in trance.
There were Chinese people coming in and out taking a strip of Chinese paper and asking the Dato to write something on it. He wrote something on it, which I noted as being Jawi language. I've seen Jawi writing before, and it was further claimed by my friend that it is indeed.
He starts blessing people and after a while, the sacrificing ritual started, which was truly for me, a barbaric act. I for one, had never seen sacrifices such as this, because all I have seen, is one chop does it all.
This is somewhat different. A particular small hole was purportedly dug out, and the goat was dragged upon by the members of the temple. They waited for a 'go' from Dato, and the goat neck was placed in the hole.
The goat was hold tight and once it is ready to be slain, a small knife was used to slit the throat. The blood gushing out from the goat neck goes all to the hole. With the goat still alive gasping for breath, all the blood is squeezed out from its neck (or throat) and directed towards the hole. I took my phone and took a video of it so that you can see it for yourself. Below video shows it all.
I was struck shocked because I believe that's not how we really want to end up a life. The goat was left to die after the ritual, in which it took I believe around more than 20 minutes until I saw it never wiggle again. People are also coming in and out washing some magical Thailand amulets from the blood gushing out from the goats' neck. You can see it in the video.
Another 3 was slain the same way. It seems another 2 is saved for 12 pm ritual. When I asked the explanation from my friend why it is not chopped up entirely so that it would end its life faster, all he could answer was:
"Macha, dato samike apdithanda vettevangge".
"Macha, that's how sacrifice is made for Dato"
Whether a goat or chicken or human, slitting its throat and leaving it to die is simply, inhumane. But you know, I can't show my M1 skills there, neither could I argue in the presence of so many believers, fearing my neck would be down the hole next.
Once the event is over, more people came to get blessings from Dato' and around 11pm, my friend got out of trance.
I left the temple soon after and didn't wait for the 12 pm ritual since I'll have to help out for my friends wedding.
Sacrificing in the name of God, had been performed for centuries over, and even in Malaysia, this things is not seeing an end. I believe that what you pray is what you will become, if you're so used to blood and sacrifice in the name of God, then that's how violent you would also become. Prayers are meant to soothe, relax and calm the animals in you, not to bring it out, and certainly, with this kind of rituals living on, generations of Indians would cry for blood rather than love.
I rest my case.