It was an unexpected trip to Indonesia and I did not pre-arrange anything in front. It came all of a sudden and we have to plan the trip in urgency because of the issue involved. Now, the issue is going to be quite ironic. See, brother Vasu has a maid at home who had left Indonesia about 3 years back.
She has a son. Once left Indonesia 3 years back looking for job in Malaysia, she lost contact of her agent, thus completely lost in touch with her son as well.
Lately, she had been seen crying alone and when approached, she actually told Brother Vasu that she is missing her son and she don't even know if the son is alive. She had left her son with her step-parents, whom she hardly knows, back in Indonesia.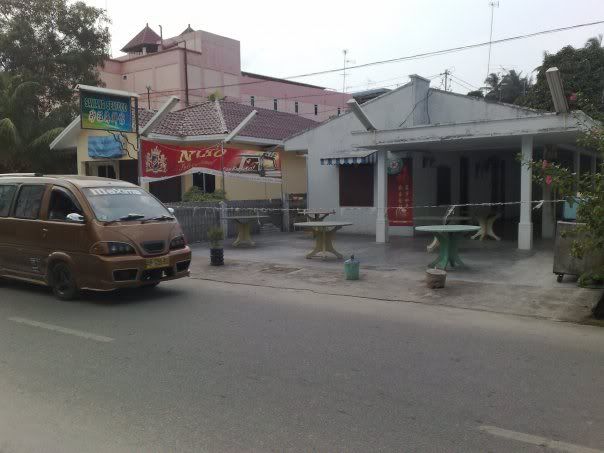 Sentiment hit hard Brother Vasu thus the plan to go on a sudden trip to Indonesia to find her son. Since none of the other friends could follow, there were only 2 of us, me and Brother Vasu, plus the maid.
I was expecting a nice journey and it's going to be exciting in Indonesia, little did I know I'm going to end up in a remote island. It's not a little known fact that Indonesia is a poor country, at least in most of the places. Not like Malaysia is doing any better in some of places though. : P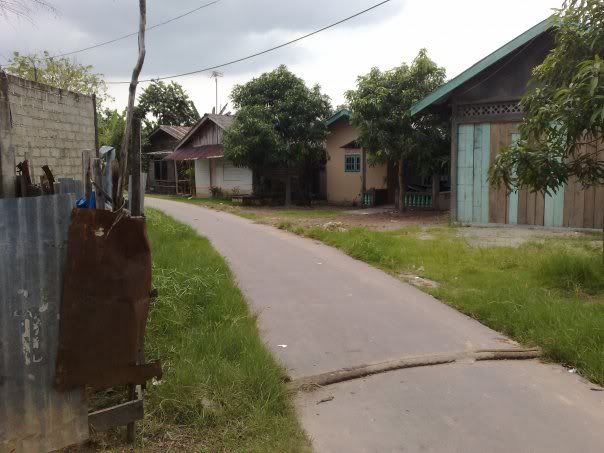 We planned to send the maid all the way back to her hometown in Tanjung Balai, Kepulauan Karimun Kecil;if I'm not mistaken about the name of the place. We traveled all the to Kukup, Johor and took a ferry which cost us RM 100 each two-way to Tanjung Balai.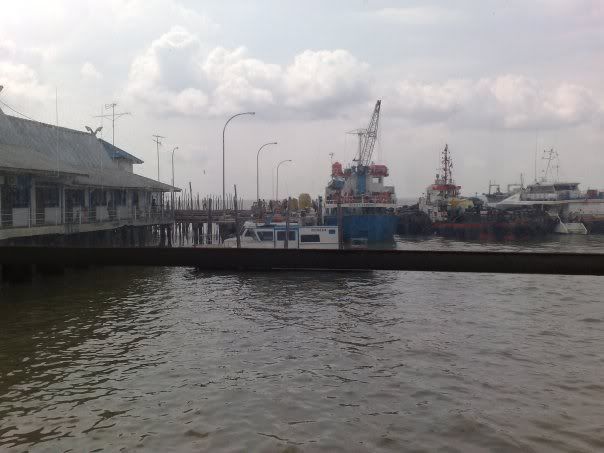 Once you reach there, the horror begins. As soon as you're in the arrival hall, hundreds of Indonesians guys would be screaming and disturbing you all the way. You'll be squeezed and some of them would be forcing you to let them carry your bags and send you to where you want to go. Luckily, we had the Indonesian maid to guide us through. True enough, those guys do not like it, and they were hurling abuses and those guys seem to be dangerous enough to harm us. We made our way through to what Indonesians call as 'teksi sapu'. You pay Rp. 9000 for that, merely RM 3. It will get you anywhere around the island.
We went in search of the place and luckily, as the maid said, the places have not changed much. The village was still there, and everyone was so shocked on return of the maid. They were even more shocked when they found out that her employer had chosen to send her all the way back to Indonesia. I mean, who would even choose to company her maid all the way back to her village, just to make sure she is reunited with her son? That's mind boggling. Anyway, it was not me being kind enough, it's Brother Vasu.
So, we were served with the ultimate tea, which was a truly pleasing experience. The tea itself was one thing I would not forget, it was called Teh Prendjak. Damn it was a nice tea. While the maid is relishing the moment meeting her son after 3 years, we took the opportunity to just go around the place and talk to the step-parents. Life indeed is extremely poor for them, and the poverty level over there is just unimaginable. People just do not have a way to live in that island other than fishing and doing odd jobs. Explains why they live leave the place in search for a better job elsewhere.
One thing that worked as advantage for us though, everything is very cheap compared to Malaysia.Staying in a hotel per night, cost you just Rp.60000, which is around RM 24. While beer cost you dirt cheap, around RM 3 per can of Carlsberg. It's even cheaper than in Betong, Thailand.
We went for food hunting after checking in the hotel (we've left the maid earlier in her home and said would be back the next day). We met up with a great guy, Yoosy, who happens to be the agent that had send the maid. He guided us around and we tasted Nasi Padang for lunch. It was extremely spicy and delicious, with a lot of variety to choose.
We went on the streets, testing some more foods, before shopping off in a nearby supermarket to stock our room with enough of beers. We had a nice drinking session with Yoosy, and we talked about religious to political issues in Malaysia, which highlighted to me that Indonesians are always keeping in tab with issues in Malaysia.
One thing though, there is literally nothing to Visit in Tanjung Balai. There is not even a single place as a tourist attraction; it's just rows and rows of shop houses and poor villages. You have to be careful though, there are number of 'bad' people lurking around to pounce on you if you're not careful enough.
There is only 1 pub and 1 karaoke in the whole of Tanjung Balai, and pub being a tourist attraction should be avoided due to bomb threats. We went to karaoke and did a little 'dangdut' with the Indonesian girls. : P . You can also see hot chicks everywhere, for example: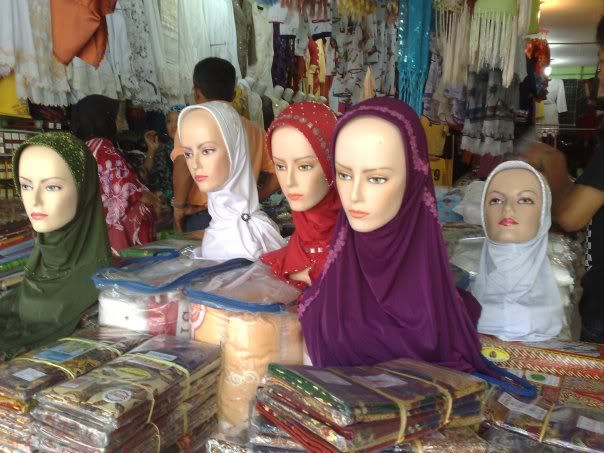 You have to be careful because rituals and voodoo armored guys are everywhere. For an instance, when we were shopping for clothes the next day, all of a sudden, one Indonesian guy suddenly called Brother Vasu and asked:
"Helo brother, how are you, when did you came"
And Brother Vasu just stood there blank, directly looking at him. It took a few seconds until I realized something is wrong when he kept staring at him. I quickly rushed Brother Vasu from the scene to our hotel. When we related this incident to Yoosy, he told us the guy might be trying to spook us. It seems a lot foreigners had been cheated all their money and jewelry before by these voodoo guys. Even a single tap on your shoulder could put you in a state of unconsciousness it seems. Thus, we were indeed lucky or with the amount of gold I'm wearing, that guy would have struck a lottery.
Clothes are relatively cheap there and the Indonesian 'batiks' are wonderful, colorful, beautiful, Liverpool, and whatever other 'ful. We stayed on an extra day sightseeing and we left there after picking up the maid from her house. Overall, it was indeed a sad trip although I did learn a lot of new things. But visiting a place stricken with poverty is not exactly what I would call a holiday. Still, the warm feeling of reuniting a mom and her son had left both us a deep satisfaction, deep in our heart.