Let us try to get further in depth about something that I had been recently talking about; since I feel none of my already written article would suit at the current time. Recently, there had been a number of religious related topics that had been covered here in my blog, and I have provided tons of my opinion regarding this.
Some say that I should not ridicule or say something about what others believe. Well, that is exactly how I've believed, although not religion wise. I, for one, had also stressed previously that anyone that likes to drink or likes to smoke, should do it according to their own judgment. I've also always stressed that anything you do, or have done, should not have any impact on others or hurt others. As long you do not do this, then nothing is considered harm; in my opinion.
Some of you think that I should let others believe what they want to believe and mind my own business. But then, what have I done more that minding my own business rather than writing here in my own blog? But, i just feel it's not right. I feel it's stupid for some people to believe that rubbing pigs ass will bring you some luck and thus a temple to it. I feel it's stupid to slit a goat's throat and let it gasp for breath then say it's for God. I also feel it's stupid to believe that every tree on the street resembles Amman.
When I feel that people are doing something stupid, then I question their intelligence. See, it's not like I'm against them for what they believe in. It's not like people who think the above are stupid are against them. It's more of an educating. If you think what I say is logic and practical, then you may listen. If you think that I'm a pipe fucker, then by all means gather around some sarees and go looking for some trees in your housing area to be made temple.
Can I really look around and see something and do nothing about it? Well, of course, exactly like what I'm doing now. I'm not really concentrating and taking action but rather trying to influence some people not to do the same thing.
For an example, people who are sacrificing goats and chicken in the name of Amman, what is the guarantee they're not going to cut off anyone's dick or slit someone's breast even and let the blood drip? Would you be able to accept it still? Well, you should, because some of you think that we should not care about what other's believe in. Well, fuckers, let's say I believe that raping someone is not a sin, would you mind? I can say maybe you would not mind either, unless I rape your sister or daughter. Then would you mind on what I believe in? Exactly, if you get infuriated by my statement, then you should also agree that you can't just keep on ignoring certain things in life and be a fucking stone.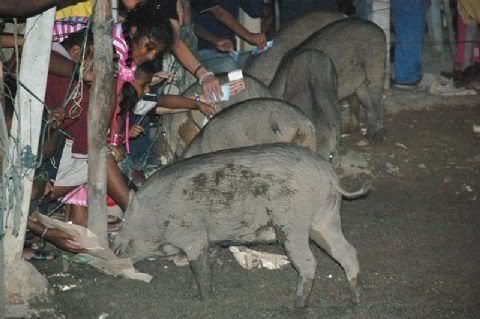 I've never interfered what others believe in, if I would have, I would have been more critical about other religion. Well, they believe in another thing right? Shouldn't I be critical about them? And with so much more thing in the religion I believe in, I might have to dedicate my entire sperms to be writing about it.
You see thousands of people getting in trance and carrying things heavily pierced in Thaipusam. The claim is that they have God inside them thus they do not feel any pain. It seems God took all the pain. They're taking a vow to pierce them for something good that may have happened in their life, for example, maybe a new born baby after ten years of endless sex. That's good, but the question is; why get in trance before you fulfill you vow?
Why yet again let the God take the pain? Why not you take the pain without getting in trance? You repaying God for the pain He had taken away from you, and in return you put Him back into pain? Where is the logic? Not to mention the 'thing' that enters their body is not even God. You expect such an extremely powerful entity to enter inside your body? Podala macha.
Then if you say that I should not question what other's belief in, I say you can go rub the pig's ass in Taiping. For I'm not critical on what other's belief in, rather trying to educate within my knowledge where is the logic behind what they're practicing.
Which religion has the most Gods in the world? Hinduism. One may say sun is God, one may say Amman is God; another might say tree is God, while another might say drink goats blood to get closer to God. That's how beautiful Hinduism is.
Look at the word Aum. I do not really have to explain what does it means. Aum is Hinduism, but look at Islam and Christianity, the other two major religions.What do we say at the end of our Hindu prayers? Aum Shanti Shanti Shanti maybe.
While Islam says, Amin. On the other hand Christians say Amen.
Did you notice the similarity?  Look at the pronunciation of all this words. Aum, Amin, Amen.
Aummmmmmmm….
A(u)mmmmmminnnn..
A(u)mennnnnn..
This is the truth. God is one; we Humans are the one creating a thing for each other to suit our needs. One ultimate light is waiting for us all, and he is the one who judge how have you fared towards other beautiful living creatures He had created in this world. I know I'm not stupid trying to educate others not to promote violence in whatever method available, be it God or other occasions, but whether you're ignorant, I leave it to your judgment.
So, the choice is yours, do you want to educate or to ignore?