I'm kind of happy lately because my reader's base had shot up drastically for reasons I couldn't really figure out. Of all my articles, Ipoh Fuck Girl gets the most hit. Which do not really surprise me because obviously people are searching for a girl that they can fuck in Ipoh and end up in my blog anyway. Imagine that, even with Ipoh Fuck Girl it's getting that much hit, that's only a district, what if I put up 'Malaysia Fuck Girl', damn I would be getting massive hits. People had always been interested with anything related to the word fuck. I've got stats to prove that.
Anyway, let's forget that. See, there had been few articles by me lately sounding as though I'm looking out for a girlfriend or partner related articles. It's been great response to those particular articles and I've got to say although I receive good response to that articles, it starts and ends up in my blog itself. I neither received any private messages nor any email messages from secret admirers. Damn, I never had any of 'those' secret admirers. Girls, on the other hand, are flooding in to address me as their 'anneh'. Sigh.
I've never realized how much damage I've done to myself by writing all those articles condemning, ridiculing or terrorizing the girls all this while. I never knew my 'market' had gone down to the lowest level until I received this message in Friendster today.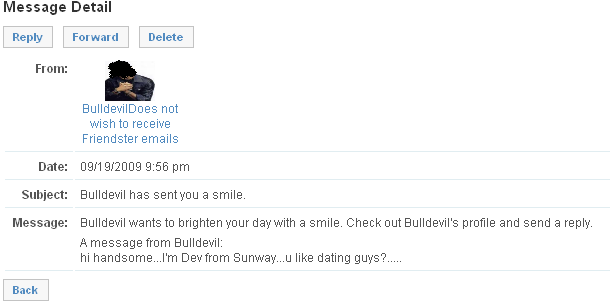 Of the million Indians in Friendster and Facebook, one fucker thought that me, out of the millions, might be  interested playing the rear part. That's fucking romantic ay. Do I look like someone dating guys?  I'm fucking straight la wei!