This post contains extremely graphic images , although I've limited the number of pictures I posted here. It was meant to put a stop on the circulation of the said emails, and in no way I'm promoting this pictures over here in my blog. I've talked about this previously here .

The thing with most of us is we really jump into conclusion without investigating or probing further about an issue. When we see or hear something without evidence, we tend to believe it blindly and not further find out the real things 'behind' the issue. This can obviously lead to a lot of trouble for lots of people, plus in some case the result might be very devastating.
Although the issue today did not lead to a devastating end, it sure will put  one dead child restless with pictures circulating about her unnecessarily.
Chain mails had long changed the way information is exchanged over the net, and for years, it had spread a major number of wrong information and rumors about lots of things. Such as 6 year old baby having cancer and each circulated mails will donate a few cents to the children and so on. But have we actually investigated any of these things? I can assure you no. Most of these chain mails are actually hoax or spam mails. It's easy, I can pull out any of your children picture from Facebook and then start up a mail stating that your children is dying of a major disease. Or I can also circulate that the child is missing and need help from all the internet users to locate him/her.
I'm very sure you've received a number of emails such as that, and most of you would blindly forward it without thinking if there is any impact by you posting or circulating as such. With that said, let me give you an example of the most recent wrong information being circulated around recently.
It's about this 12 year old girl Ashwini from Kulim who was reported missing just before her UPSR examination .Read story here . There is an email circulating, and I'm sure most of you would have received an email of a girl who had been murdered. Gory pictures of the dead body had been taken and circulated around the internet, linking the dead body with that of the missing girl, Ashwini.  I couldn't help but laugh at all this. I first received this email on March linking it to a genocide victim in Sri Lanka. Out of the blue, once this girl Ashwini was reported missing, someone had actually edited this pictures and then begin circulating it stating that this girl Ashwini had been murdered.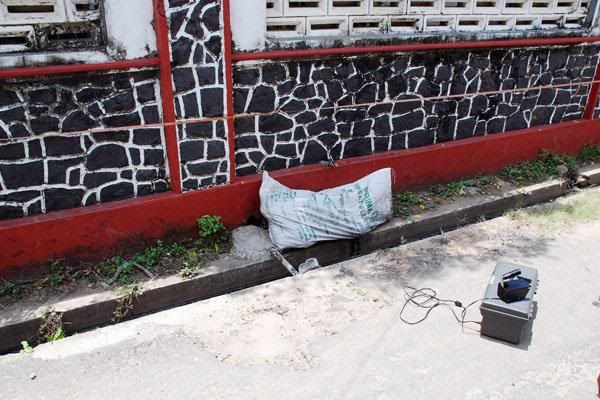 Clear cut above are not Malaysian police
I received the same email almost 10 times from all of my contacts, which means the email is spreading like fire amongst Malaysians here. I wonder if any of them who helped to circulate the email ever stopped to look closely at these pictures? If yes, I believe they wouldn't have been dumb enough to spread this thing. And I also see outraged Malaysian Indians blatantly accusing the government and so on for this murder. Well read this.
This girl, of course, had been murdered elsewhere and not here in Malaysia. We sure can see how this girl had been murdered without mercy, now we're not even leaving this poor soul to rest by spreading pictures like this over the internet and claiming her to be someone else, even more Ashwini, who is actually alive and safe.
The next time you receive email as such, please do not spread it blindly without knowing facts behind it. Helping to spread such things might not only tarnish ones image, as well as help cause other indirect damages. If you're not sure, refrain from circulating. Let at least the dead ones to rest in peace.