My condolences to the family of the 5 Indians who were gunned down recently.
I'm pretty sure you've seen the news and all of you might have made a conclusion about this issue. Well, few days back, we saw the news about the 5 Indian guys who was shot dead by the police in Taman Klang Utama. Personally to me, this is like old news. We've heard it time and time again, Indian guys being shot dead here and there.
And the sad part is most of them do not even have prior criminal records and they might be only guilty of being an accomplice to a known criminal. I've personally lost a friend through this gunning down incident back in 2001. Yes, it's been a while, but memories of that incident is etched to my memory ever since. We all know how sad it is to lose someone you love.
We also know that mostly Indian guys are the one that end up riddled by the bullets of police. Take an instance of the other day incident, PCO Boy Gang. One of them was only 17 years old, and the rest was also very young. At least 3 of them do not have any prior criminal records.
Their only crime?
Being an accomplice of the wanted criminal or being at the wrong place at the wrong time. See, nobody other than the police who were there would know what had happened there. Much like how we like to speculate that police are gunning down blindly most of the Indians in our country, we tend to forget the simple fact that why should this guys be a friend of a wanted person?
PCO Boy Gang was running away in Kelisa; imagine 5 of them in a small car, with a gun of course. Only 1 gun, while the rest are sharp weapons. With 1 handgun, isn't it utter stupidity to shoot at the police who are far more equipped weapon wise? Well, yes, then some of you say that police had set up the crime scene and the gun was not of theirs. Well said.
But then, how do you explain PCO Boy (one of the wanted criminal) about all his prior crime records? It is a known fact that at least one of the guys, in this case the leader, PCO Boy is a criminal and had been detained under Emergency Ordinance before this.
Why the fuck do you have to be a friend of a criminal? That is plain stupid, we all know how Indians are getting shot and killed all the time. We read it all the time in the newspapers and we know that in most cases, only 1 of them might be criminal. The rest might be innocent, but because they were in the same car, they end up in a coffin.
If indeed one of them had a gun and shot at the police, how do you expect the police not to shoot back? To hell, if I was the police and someone is shooting at me, I'll make sure I don't end up dead.
When something like this happens, we tend to blame the police. Yes, arguably, some of the issues might not be transparent, but a crime is a crime. Looking at the number of machetes found in their car, I'm pretty sure all of them know what they're doing.I've seen so many people around me who knows criminals, and some of them are in wanted list. They brag about these criminals as though it is a proud thing knowing them. IT IS NOT!
For each criminal that you know, you're getting nearer to your coffin. This is logic. Yes, most of them might be innocent, and police should have apprehended them alive, but in the heat exchange of bullets, can you identify who is innocent and who is not?
Do you want to know how simple it is to avoid dying with a bullet in your head?
1. Stop being a fucking Indian Tamil film hero and start fighting for every reason you can find.
2. Do not befriend any criminal, and even if you know one, avoid them. Try hunting for girls instead.
3. Do not be involved in any criminal activities, no matter how small it is.
As simple as that.
I'm not at all justifying the acts of police gunning down Indians. It's just I see that now Indian here and there who is involved in politics, getting all worked up and blaming the police and the government. All this pathetic Indian political parties are trying to gain political mileage by bringing in this issue in order to heat up the blood of Malaysian Indians.
And yesterday, the sister of the deceased tried to commit suicide, bringing together all her 4 children. Innocent children are dying because of one stupid act by her mother. Sigh, Indians and some of their act, is just not justifiable and explainable at times.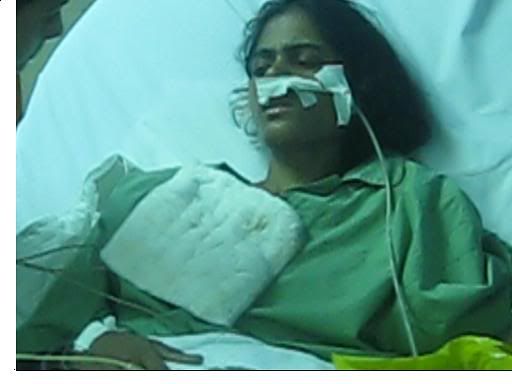 Indian machans, tak payah jadi hero! How many more we need to lose? Mande punde ellam ageh vendam, sande punde ellathekum aleyeh vendam macha.
Yes, this would not be the last case because never an Indian listens to the advice of another Indian, but I sincerely do not want to read another Indian being gunned down.
RIP.
1. Govindarajan Arumugam, known as 'PCO boy'.

2. Loganathan Gopi, age 17, Lorry attendant

3. Visvalingam Mookaiyah, age 19, jobless

4. Serenthiran Ramapathi, age 24, security

5. Ebinesan Aruldas, age 22