UPDATE :
Confirmed transactions :
Durai  : RM 100
Brother IP : RM 101
Brother Deva : RM 50
Brother Lizard : RM 50
True Gemini : RM 100
G : RM 100
Brother Kavilan (Klang, S'gor) :RM 100
Viji : RM 50
Geetha : RM 50
Brother Sri : RM 100
Sis Shaila : RM 1000
Bytes : RM 50
Brother PremJey : RM 100
Brother Vasu : RM 250
Kamini : RM 100
Nithz : RM 50
Brother Deven : RM 50
Brother Makkez : RM 50
Dr. Mga :  RM 100
————————————————
There will be a separate page opened up for this particular post, to update you about the current happenings.
This is going to be the most bizarre charity event I might ever conduct.
Meet these poor children's who is having difficulties to support their daily needs, more over their education needs. While it's true we've helped this school before, nevertheless, continuous help would make certain that this children have all the needs to continue their education and have all the necessary facilities. I've contacted the person in charge of the school, and I would be soon receiving a list of materials we can buy for these children's.
Why are we helping them again?
Only continuous help and providing the materials on a consistent basis would help this children's to stay motivated, thus enabling them to achieve greater heights. We will be using the money collected for several reasons:
1. To buy stationeries/books/ or other education materials.
2. To pay off the annual school fee (if there arise a need)
3. To buy school uniforms for the hardcore poor children's
It's been sometime now since the last charity, and I'm pretty sure all of you are eager to help in. Since Thaipusam is around the corner, lifting off a bit of pain from the children's family would be of great help.
I do not need to tell you, but you should be able to comprehend that they're in dire need of help.
Thaipusam is around the corner, which would be on the 30th of January. I'll be carrying the same milk pot this year, but there will be an extra twist.
If I could collect an amount of more than Rm1000 to be donated, I would further go forward and do something out of ordinary for this Thaipusam. It is known that we all thank God for taking off the suffering of someone by piercing ourselves or doing crazy stuff like drinking blood.
While I'm not going to drink blood, I'm going to go forward to fulfill a vow, which is piercing my body using mini milk pots. As easy as it may sound, it is not in the reality. I've decided to hook a minimum of 28 small milk pots .Which might look something like this: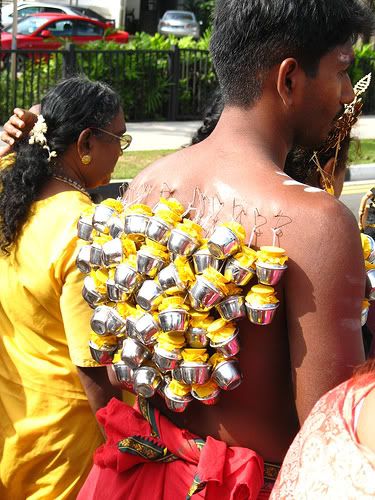 Why am I doing this?
1. I will personally take a vow that if this children's gets a minimum of RM 1000 from all of us, I will proceed with the vow. To symbolize that a bit of pain had been taken of the children's, and with the support from all of us, we can make a difference towards this poor children's future.

2. To break the stereotype that people should be in trance or possessed in order to 'hook up', in which I do not believe in getting possessed. If there is any way you want to thank God for taking off your pain, then you should do something without getting in trance or possessed, so that you feel the pain, and you do not forget your sufferings after you've gotten better in your life.

3. Although I've vowed about this thing before, the thing is what I've wished didn't really materialize. So, by doing this, I've decided to combine it together, their wish to study comfortably accomplished, and I would fulfill the vow.

4. I would also want to tell you what is this hooking up really is from my own experience. And no, I'm not doing this for fun; I'll follow all the rules and regulation before proceeding.
Are you trying to pull a publicity stunt?
Yes, I'm trying to pull a publicity stunt here. To save some of you from typing away that I'm trying to show off, I hereby declare, yes, this is a publicity stunt. Much you don't understand is millions of people are getting hooked up in Thaipusam every year, and what I'm doing is actually very common and ordinary if compared to them.
No, I'm not going to hook up in any future charity event except for this particular event. My body consists of minimum skin attached tightly to my bones. I can't risk regular puncture even though its small hooks.
Yes, I can always collect the money from all of you, and donate it to them, which I'm going to do anyway, if I do not reach my target of RM1000. But as you can read above, I have my reasons why I'm taking this personal.
Without a doubt, most of you had been involved in my previous charity plan, and I urge all of you who had been involved and all the new people who are reading my blog to come forward and donate for this  poor children's who could not afford proper education materials.
Details of the charity:

Funds raised for: SJKT Pulau Carey
Target: RM 1000 (in which I would proceed with the vow)
Campaign date: 22.12.2009 – 22.01.2010
Things you can donate: Cash preferred
How to donate: Maybank : 112455 284391 – Durai Kumar A/L Subramaniam

This part gets tricky. See, you've trusted me with your money previously. And I would go with the same thing now, put up your name in the comment section and your contact details, and I would personally send you a mail. Or I would be really glad if you can send me a message (personally through my phone), and below goes my contact details.

Durai : 0166912456 (durairg@hotmail.com)
But what if I cheat? Well, I will post up each donation of yours over here, in this blog, and the total donated here would tally the one I'm going to hand over to the school. That way you would know that I didn't use your money to buy me a beer.
I can't do this personally, and all of you, who are going to donate, will be listed, and I would hand down the list of the people who had donated to the school. I would also welcome anyone who wishes to follow me to visit the school next month.
For a starter as always, I would donate RM 100.
To the critics: Please, if you're not able to support, do not voice out something negative about this. Please spread the word and give moral support to me instead. Do not go in detail about my personal vow, and feel free to ask about the charity instead. Or else, you can always shut the fuck up.
The money you might be donating no matter how small the amount is will be making some difference in the children's future. I'm sure we should all be able to smile, and think back a few years from now, on how you've helped others, on how you made a small difference in other people's life. I do not want to carry you away with same old sentimental shit;
But;
Hook me up, will you?