Well, as you might have expected, Thaipusam is over and this post would be dedicated entirely for my experience during Thaipusam. I would separate this article and tell you the story in a chapter by chapter sequence. That way, I guess it would make a better understanding. It will be accompanied by lots of pictures, plus videos (of poor quality, I'm sorry), so just let it load for a while.
The preparation
As I've told before, preparation started quite early, as early as 3 weeks in advance, although my fasting started only 9 days in advance. All 9 days, I was a vegetarian, which is of course not a big deal. I guess it directly affected my body weight, in which my current weight might only equal up to a few stacks of A4 papers; I just feel I became much thinner.
Putting that aside, we arrived in Batu Caves on the 28th(Thursday) around 8 pm. Together with me is my friends and family (Brother Vasu, Brother Deva, Brother Lizard, Brother Kumaran, Brother Lughen,Brother Kannan and Kumba) and the rest of other family members of Brother Lizard. Immediately after arriving, we went all the way to Attangarei(Riverside) to prepare our milk pots and other stuff.
Since the hooks and mini pots had already been prepared earlier, the only part which was left is taking bath and getting ready. We all took bath, and after tying up our vehti, we started the prayers.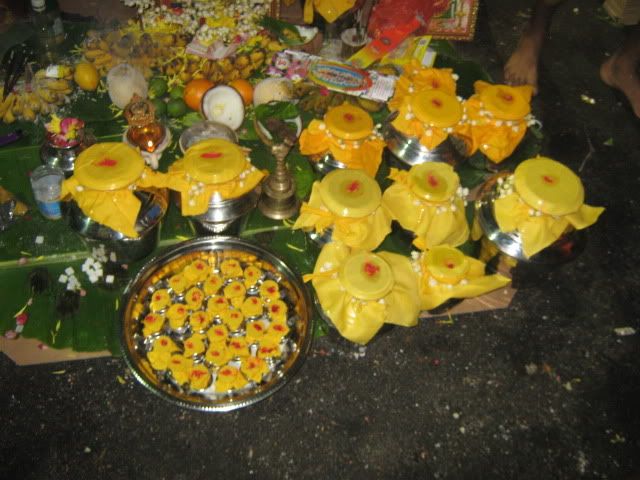 The Atmosphere
By the time we were there, the crowd is unimaginable. Bear in mind that this is 2 days in advance. The thundering sound of Urumee Melam aside, and with air filled with incense and other prayers materials, the atmosphere was simply fantastic and perfect.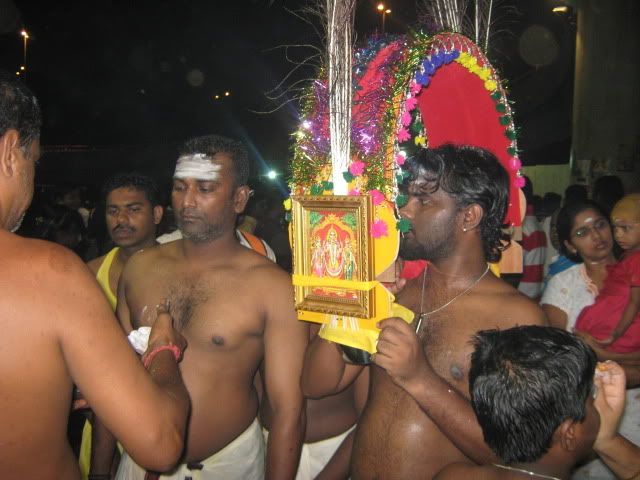 The Hooking
The hooking up was done by one of priest who did the prayers for us. So, with the chants of "Vel,vel", the hooking  started. The video shows the entire hooking up part, so you can see the whole situation there. Before hooking, the priest applied lots of thiruneer(holy ash) on my back, and with the chants and screams, combined by the music of Urumee Melam in the background, I felt all spiritually lifted up, and one by one the hook was pierced through my body.
It took about few minutes for the entire hook to be applied off, and I had a lemon which I used to bite, in order to forget the pain.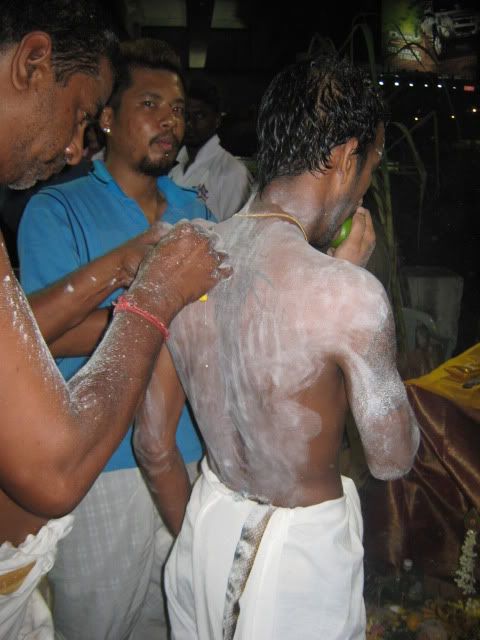 The full hooking up clip
The pain
I would not lie to you that I was not feeling any pain. I do not believe in getting trance; so that I personally can feel the pain. The pain was extreme and excruciating of course, but when you're there, in that atmosphere, you're just so lifted up spiritually that the hooking up went on smoothly. After the hooking up, together with my friends (all of them carrying milk pots expect Brother Lizard-Pal Kavadi), we started our walkabout towards the temple.
Each step reinforces the hooks inside the body, in which I couldn't explain it by words here. It's like when you walk under normal circumstances, your body automatically trembles or vibrates, so with hooks behind your back, when you walk, the vibration causes the hooks to puncture through a bit in your body and comes out again. So, I was walking really slowly needless to say, and all my friends were way in front. We only met up inside the cave after that.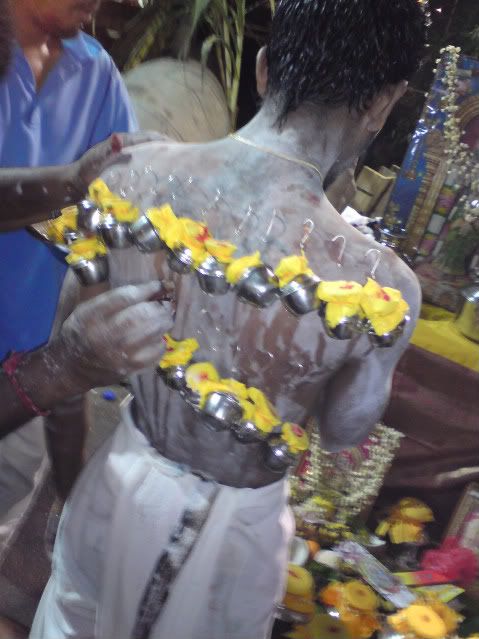 The science part
Practically, although I told you the pain was overwhelming, I feel that we can actually explain it by science. It becomes much easier for a person who is a bit on the heavier side, because they compact more fat in their body.
During the piercing part, the amount of distraction you have in the background would bury any fear that you might have, and you will be calmer once the hooking started. If you ask me, it can be done by anyone. There arise no need to be in trance because the pain is taken away that way, in which I strongly believe you do not have to have 'Kaliamma','Sanggili' , Benggali , Gangguli or Bruce Lee. Mental and spiritual preparation is all you need.
The Walk Up
This is another challenging part, I was already feeling tired by the time I arrived near the stairs. With hooks behind my back, getting up on the 272 steps of Batu Caves was agonizing. I somehow managed to climb through and finally reached inside the cave.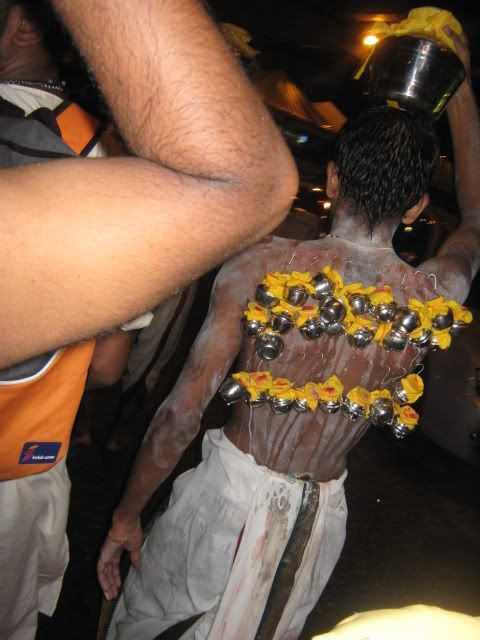 The Unhooking part
The unhooking part was done immediately after I'm done with the prayers inside the cave temple, and it was done together by Brother Vasu and Brother Kumaran. The problem was most of the hooks are buried deeper than expected, and the unhooking part was as much painful as the hooking part. Nevertheless, it was done skillfully and it was over, finally.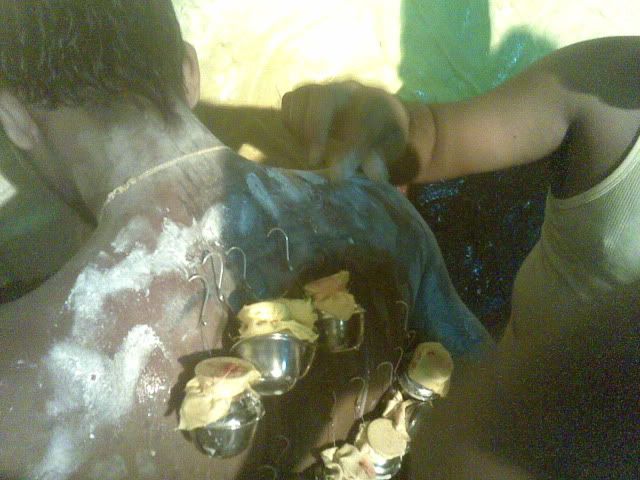 You can see how deep the hooks are buried
The Overall Experience
This whole experience had taught me to be a better person, and a holy person, and I feel I've been purified and born again as a new person, as if all my sins had been washed away.
The previous liner was just a joke. I would not lie to you all that crap, I never had all that feeling anyway, all I had is the vow is over, and I've fulfilled the promise I've made completely without any interruption. My sins wont be washed away of course, I just have too many.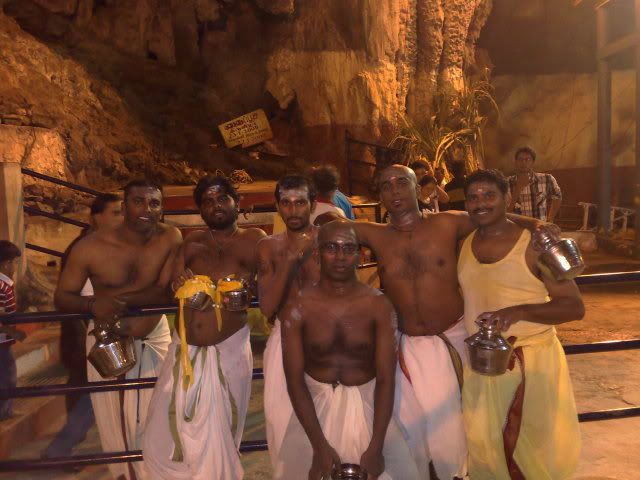 The whole experience will remind me about the pain I might have caused others; also unlucky, poor and innocent children's who are suffering because of the way their fate had been written. Having all of you with me, we shall re-write their fate. That is what this whole hook up is all about, as a personal spiritual experience for me, and to tell you in detail about what it is all about, and how some children's are going to be having a better future with your money and my vow(at least for this time).Salam.