Total spend for the charity and cost would be listed soon. This article contains lots of pictures, please be patient while it loads.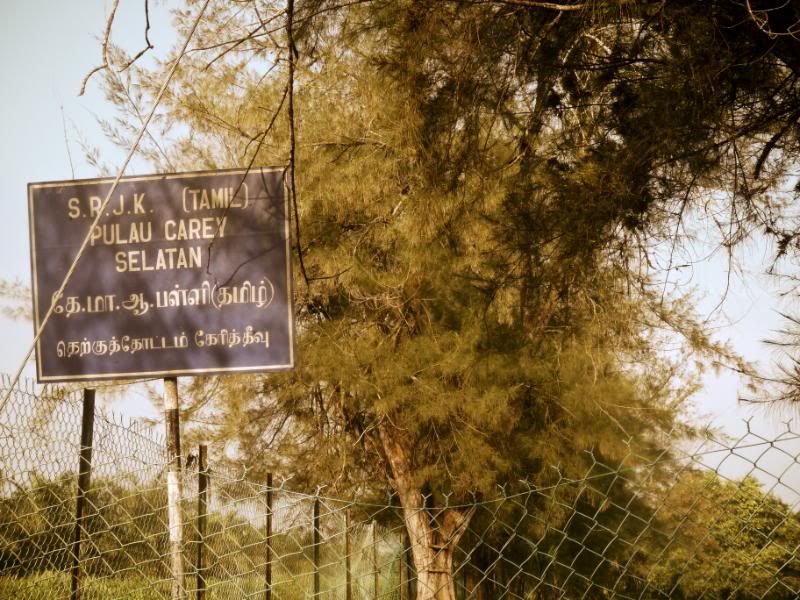 As expected, this post would be all about the charity we conducted on the 22nd of February.
The previous night, I was in KFC to order all the items needed for the charity event. I did not want to rush things like how it happened last time, so yes, I promised to collect it at 7 am. The next morning, after collecting KFC, I picked up our new official M1 photographer,Brother Kannan(Yes, now we have official M1 photographer) and Sashi. Brother Makkez and Brother Suren were on the way and had promised to meet up on the way to the school.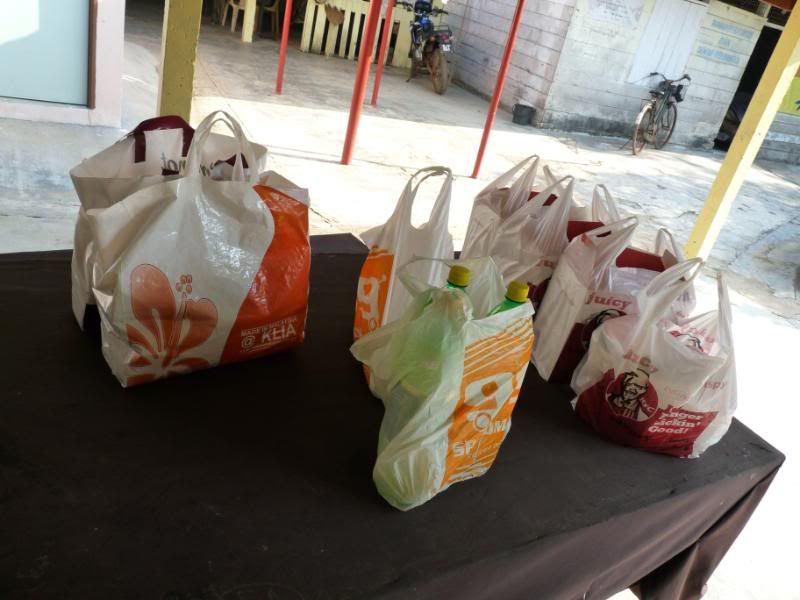 After stuffing my car with all the items, we left and met Brother Makkez and Suren on the way, transported a few items into their car, and continued our journey. So, the total participants this time was a pitiful 5, unfortunately.
We arrived in the school at 9.30 am and met one of the teachers there, and continued to prepare the food items since the students recess time is at 10.15 am. We served Mee-Hoon and their all time favorite KFC; and as soon as the food was served, the student's started their usual prayers, and closed their eyes for a few moments murmuring something, which was like M1, M1, M1, and then opened their eyes. We continued to serve drinks to the student's, when suddenly;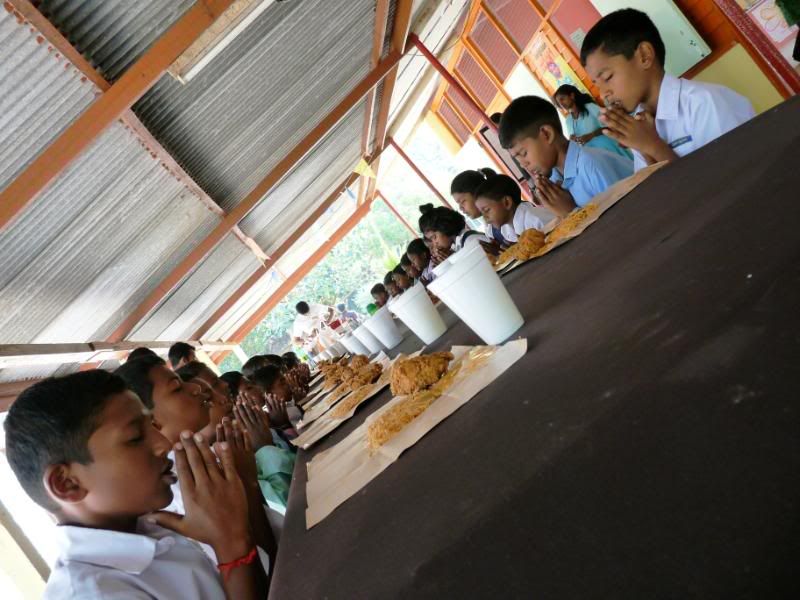 Sashi started a speech announcing that it's my birthday and I would be cutting a cake to celebrate the occasion. Little did I know that Brother Makkez and Suren had bought a cake, and it seriously came through like a big surprise. The cake was placed, the only candle was lit, and there the student's stopped eating and started singing for the first time in my life; a birthday song in Tamil. It was truly a touching moment, and yes, the student's singing was too cute for me to ignore.
I spend the next 30 minutes crying and weeping, until one of the female teachers laid me on her shoulder and said it's all right.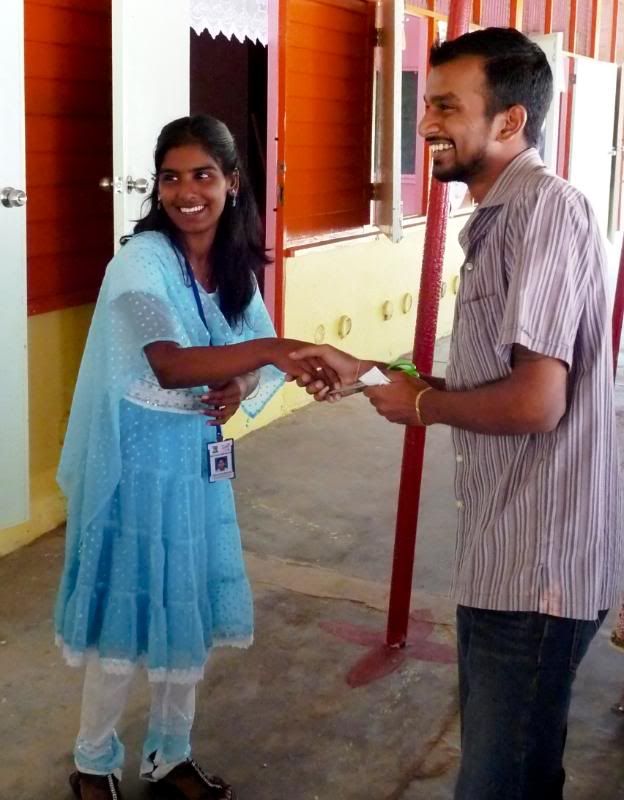 No leh, the above did not happen of course. All I got was a handshake. Nevertheless, I can't express it by words, and many thanks again to Brother Makkez and Suren for such a surprise.
After the student's finished eating, we spend a few moments interacting with the kids and Brother Kannan took this opportunity to show his talent in photography by capturing below amazing moments.
Complete pictures :HERE
All the student's and teachers gathered in the assembly for a speech, but since we were too shy, the teacher spoke on behalf of us. She reminded the students why we are doing all this, and all we're expecting from them is good results. They synchronized their "Yes, we will study hard" and was dismissed.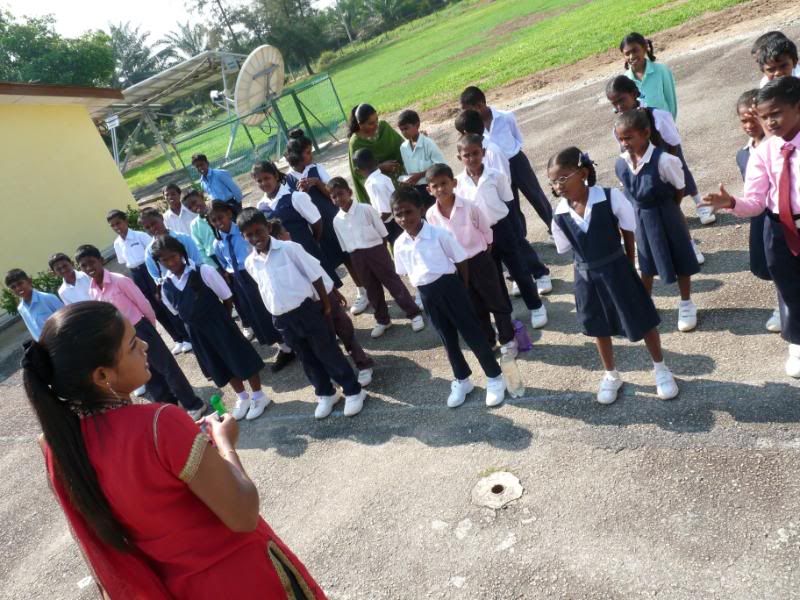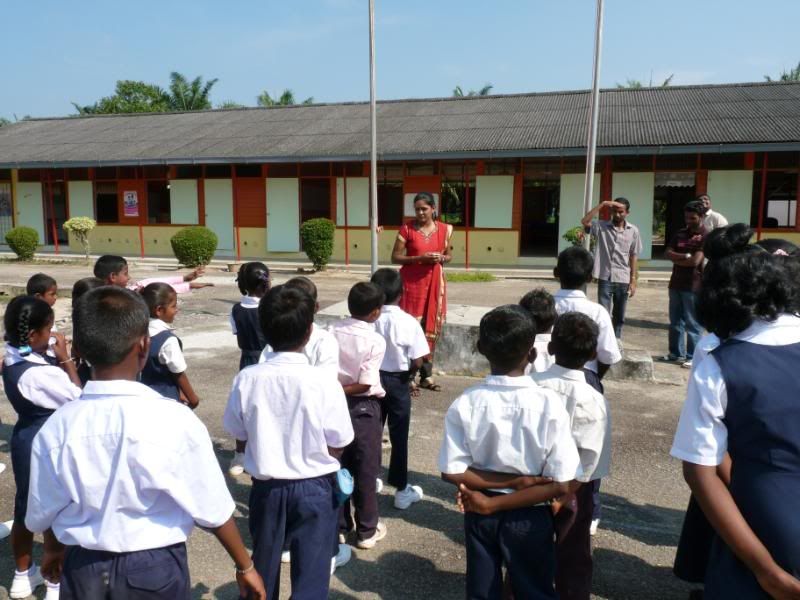 We further went on to each class and presented the student's with all the exercise books, and also the mineral water dispenser we had bought for the student's. The dispenser was necessary since the student's are not getting clean water for their daily need. Before leaving, we all had our breakfast and said good-bye to the kids and teachers. We promised greater events in the future, and left.
I blew a few flying kiss to the female teachers school before leaving.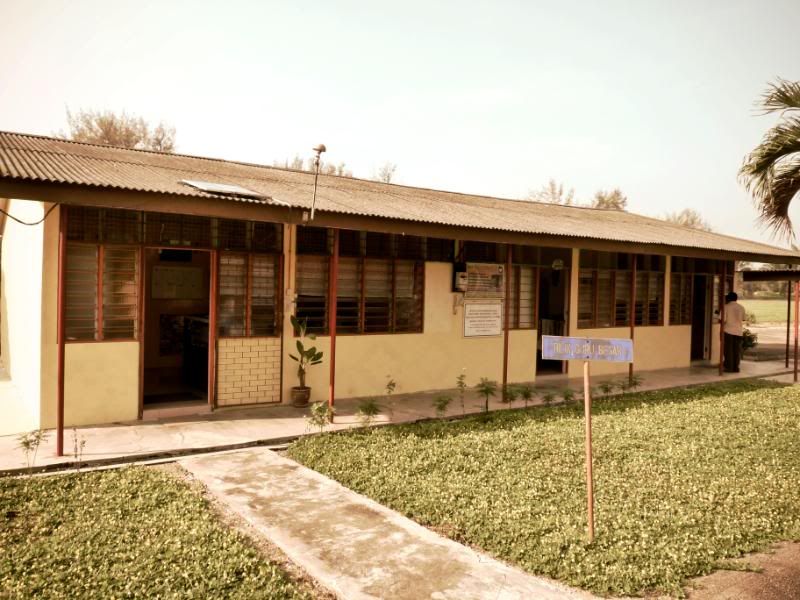 We proceeded to Banting Kalle Thoppe,  had few drinks; at the same time discussing about our blogs, enemies, about you and future events. Not to forget, there was a small gift from Brother Suren which was the official M1 sticker. Can you believe that? Below goes the official first M1 car.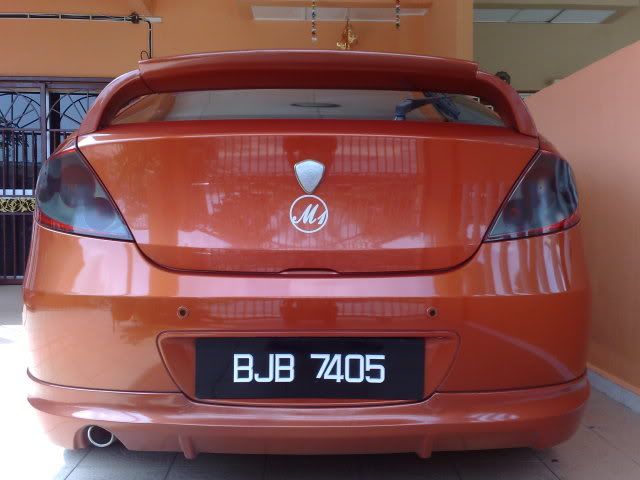 Once again, I would like to say thank you to all of you who had made this event possible, whether directly or indirectly. Also to Brother Kannan for this wonderful shots.It means so much for the kids and their education. What we're going to do with the remaining money would be discussed in the upcoming posts. If you have any queries about the charity money, please contact me or Makkez to clarify, we would be more than glad to answer.
The team(Makkez was having eye infection)

Read Makkez side of story HERE