This post goes as a dedication to my working mate who died in an accident early on Monday morning. This accident occured in Taman Midah BHP petrol station. The victim is actually my team leader who sits directly behind me, and it seems the woman who hit my working mate was driving under the influence of alcohol. CCTV in the petrol station captured the whole horrifying scene, and you can watch it below.
News clipping :
KUALA LUMPUR: A man was killed when a skidding car crashed into him while he was filling up his car with petrol at a petrol station in Taman Midah, Jalan Cheras, here, Sunday night.

City traffic police investigation and prosecution division head DSP Abdullah Roning said in the 10.30pm incident, the injured driver, Mohd Yusri Abdul Wahab, was taken to Universiti Kebangsaan Malaysia Hospital where he died at 2.15am from head injuries.

He said Mohd Yusri, 32, was filling up his Proton Iswara with petrol when a skidding Hyundai Getz crashed into him.

"Our initial investigation showed that the car, driven by a 23-year-old woman, had skidded after it was involved in a collision with another car near the petrol station.

"The woman was, however, only slightly injured," he said. — Bernama
Video removed out of request from immediate family members.
This is one of the pictures taken after the accident.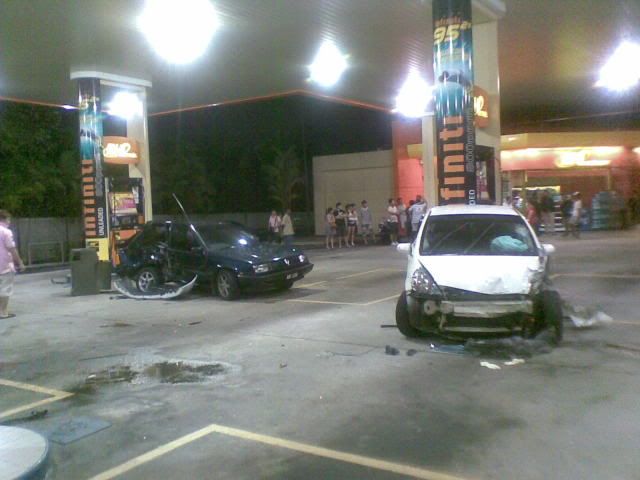 The victim(Mohd Yusri) was just about to get into his car when the woman driver somehow crashed into him in full speed(as you can see in the video, the victim is standing near the door of the black Proton Saga Aeroback). I can't see any reason the car has skidded as the car is in full speed coming all the way straight ramming into the victim. My working mate's wife and children was inside the car, and you can see the wife getting out of the car after the accident. The wife hand was broken while the children, aged 2 and 4 suffered mild injuries.
Above accident shows the reality of life, no doubt I've heard and seen this kind of accidents before, but when it is someone you've just seen alive few days back,it just makes the whole experience horrifying, moreover watching him getting hit and dying on such a horrible kind of freak accident.
I'm totally lost of words for the damage the drunk woman driver had caused the family of the victim.
May his soul rest in peace.