UPDATED(12-4-2010)
We all have people adding us randomly in Facebook. In fact, the definition social network had been misused by so many Facebook Kamachis and Muthus that all they end up doing in Facebook is adding up people randomly without any purpose. I tend to always trim down my Facebook contacts from time to time, in case I've added people that I've not known. You see, it's totally fine if you add up someone just to get to know him/her, but when you do add, it doesn't take a few minutes to send up a message politely to introduce yourself.
After all, there's nothing wrong making new friends. But what infuriate me are the ones that adds you up, and when you ask them something, they answer you blankly, making you wonder what is the point of adding you up in the first place. See below screenshot from a Facebook Kamachi and what she got in return.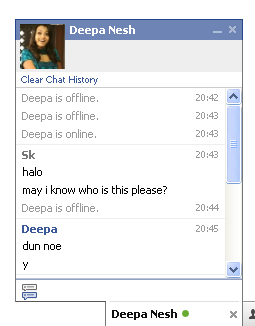 Can you imagine answering 'dun noe' when someone asks you Who is this?
And then there are some girls who tries to be cute by putting up that they're in a relationship with another girl.  We do have growing numbers of lesbians in Facebook though, judging by the number of relationship-with-another-girl that I'm seeing in Facebook.
But nothing beats below guy description about himself(Thanks to Brother Ninja Assasin for sharing this):
The quality that above characters possess,just priceless.
I think my partner in crime had encountered the same situation. So, here's another one that qualifies in the 'retards list'. Hilarious!!!