This post contains some very graphic images. View at your own risk.
My sincere condolence to the family and friends of two brothers who was shot dead last week. Time and again, as I've written in the past, Indians obviously seems to be on the receiving end of the bullet. Two brothers from the same family, both with multiple previous convictions, what can you expect?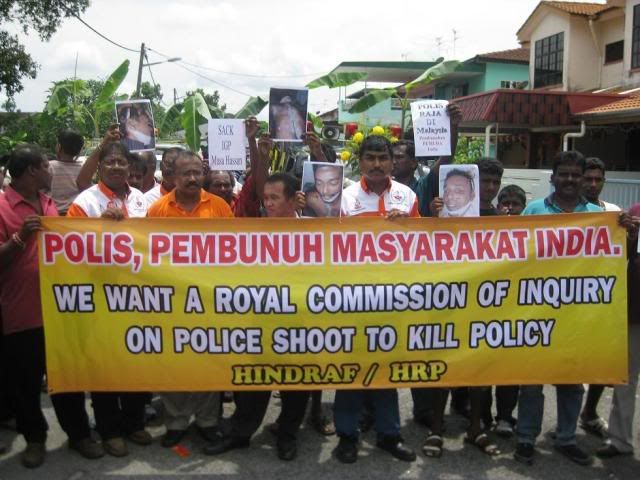 IPOH: Two brothers wanted for committing armed robberies around the country were killed in a shootout with the police at Jalan Kamunting in Taiping yesterday.

R. Satchithantham, 28, and R. Logeswaran, 35, had earlier tried to ram their car into a mobile patrol vehicle. The duo also opened fire at policemen who returned fire in self-defence.

In the 10pm incident on Thursday, policemen on patrol rounds tried to stop a car with two men inside acting suspiciously, Perak CID chief Senior Asst Comm (II) Mohd Dzuraidi Ibrahim said.

Police recovered six live bullets, three empty shell casings, a .22 revolver, two parang, a samurai sword and three mobile phones from the car, he told a press conference.

Satchithantham had four previous convictions. The latest was last year where he was sent to the Simpang Renggam detention centre in Johor for robbery.

Logeswaran possessed a longer rap sheet with 21 previous convictions, and was wanted by the police in connection with six other cases.

With the deaths of the two, police believe they have solved nine cases of armed robbery in Perak, three in Johor, two in Penang and one each in Selangor, Kuala Lumpur, Kedah and Perlis.

"We believe there are accomplices still at large," SAC Mohd Dzuraidi said, adding that the suspects had been active since 2008.

In Taiping, the father of the two deceased, V. Rethinam, said he planned to seek legal recourse because he was dissatisfied with the police action.

"They may have made mistakes but just take them to court and put them in jail for 15 years or even more, it is okay," Rethinam, 64, an MIC branch chief, told reporters at his home in Taman Pertama yesterday.

Rethinam claimed that the Proton Wira, in which both his sons were travelling was sandwiched by two police vehicles.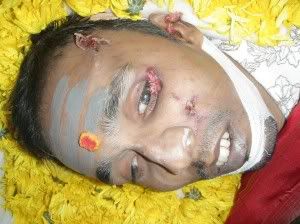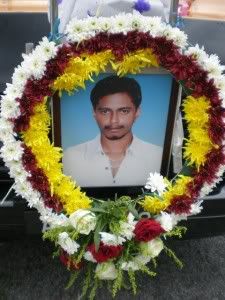 Let's come into our senses now. I'm not going to elaborate any more about this issue. Above death serves yet another reminder that life of crime doesn't pay. You can read my past views about this issue below:
On the other hand, 14 April 2010 is Tamil New Year. Stay away from crime and ….