Ok, MIC won. Sad news indeed. But I'll just look at it from this angle, MIC won with 24,997 votes, to PKR with 23272 votes. Which means there are more than 23000 unsatisfied people in Hulu Selangor. Let us hope that people like below would be identified and given proper help rather than the usual barking done by Indian political parties without offering proper help.
UPDATED WITH VIDEO
If you want to catch  hot and serious reviews about the current by-election, go HERE. Brother Balajoe is doing a run-up.
I was totally shocked when I saw this news clipping. I've seen people who are living in dire condition, until their skins are sticking to their bones, but to see them right here in Malaysia, moreover since they happen to be Indian, my emotions are running high. Look at this below picture, I'll elaborate further on this next, but since it's Hulu Selangor election time, let's have a run up until elections day.
The picture of the frail, skinny, bone and skin of R.Kanniappan (below) speaks a thousand words.The former rubber tapper Kanniappan is today unemployed.

The cowshed looking hut Kanniappan and his 59 year old wife stays has no water and electricity. He lives in dirty filthy and dark living conditions. The picture paints a scavenger with no personal belongings in his home. They both have been denied birth certificates identity cards and Malaysian citizenship although they are both born in this country.
I wonder how many more Malaysians are living in the same condition, casted away deep inside the estates to survive on their own. Look at the state of elderly man and woman in the above picture. If you're looking at a young man with the above condition, then it's entirely his fault for not working hard, but 60 year old former rubber tapper who is currently unemployed, how do you expect him to survive without proper help given?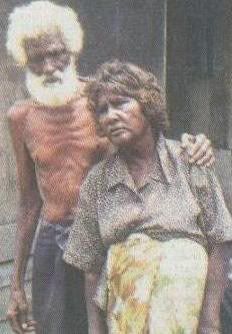 This is sick ay, seriously sick. And we're buying all the defense and offence military weapons for millions of dollars. We also have our own delegates who go all the way to another country to do up charity. Fucking cunts.
Look at the frail old man. Unbelievable. But I'm sure all the NGO's and Indian political parties are on the run to be the first to help since it's already highlighted in the newspapers for their own personal gains. What about the rest? Look at the video below. Tears might run down from your eyes.