This blog also serves as my personal log/diary. So, I'm going to write in detail about my India trip, which means long articles.It took me 4 hours to write this. Sigh.

Day 1
We arrived in Trivandrum airport, Kerala and as soon as we landed, we had a glimpse of how life was there looking at the people outside the airport. The airport itself looks like one of the bus-stops in Malaysia. It was early morning at 7.30 am and Brother Vasu needed to send up a parcel, so we were coaxed by one of the taxi driver there that he would send us to the parcel company. Little did we know that we were getting ripped off Rp500, just for a few kilometers ride to the parcel company. We waited there for at least 1 hour, only to be told that the parcel service was only for local deliveries. The first Kerala-ian (driver) that we met fucking cheated us off. It thought us a lesson though. We somehow disposed the parcel and took a government bus to Kanyakumari at 10.35 am.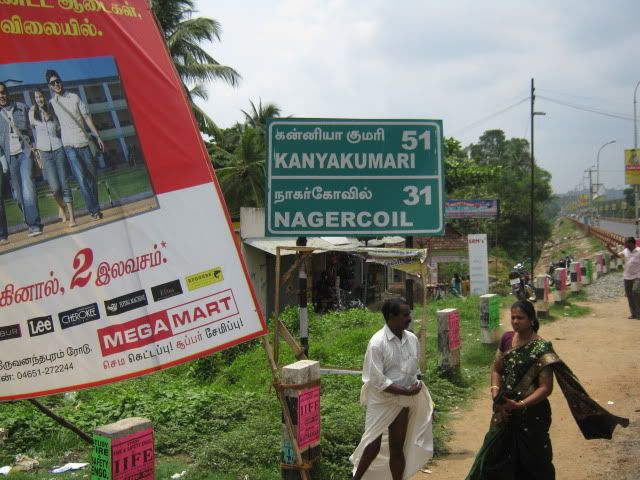 Our first journey in the bus was outstanding, the locals with their dirty lunggis, awful smell, and Malayalam language that I could not understand, was just a bad start for our day. The bus journey was a bumpy, horrifying ride. The only thing you need in India while driving is horn. You just horn your way out of everything, turn left, turn right, brake, accelerate and literally anything else. The buses don't usually stop for you to get in, but you have to just get in 'on the run'.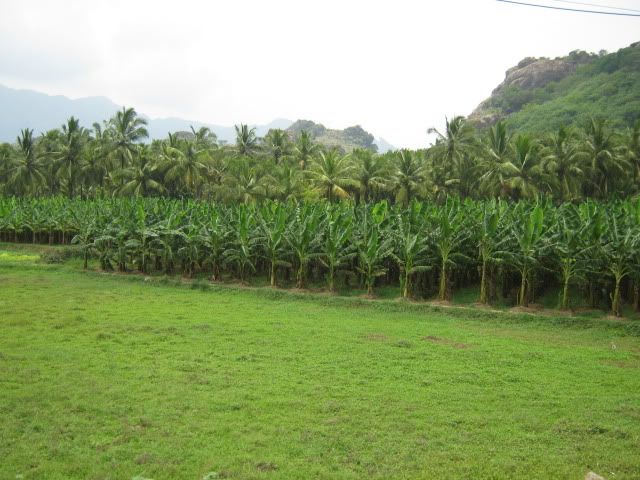 On the way to Kanyakumari

Above naked mermaids with huge tits indicates you're
entering Kanyakumari beach.
We had our first lunch in India after reaching Kanyakumari.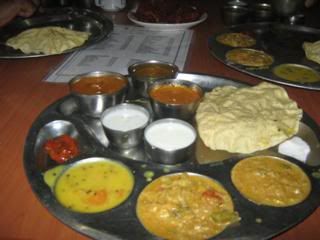 Kanyakumari was beautiful, and a lot cleaner than what I have seen so far during the ride. Kanyakumari beach and streets are well maintained. Classic Indian chicks and Machas can be seen sitting around dating near this beach, and sure it looks funny.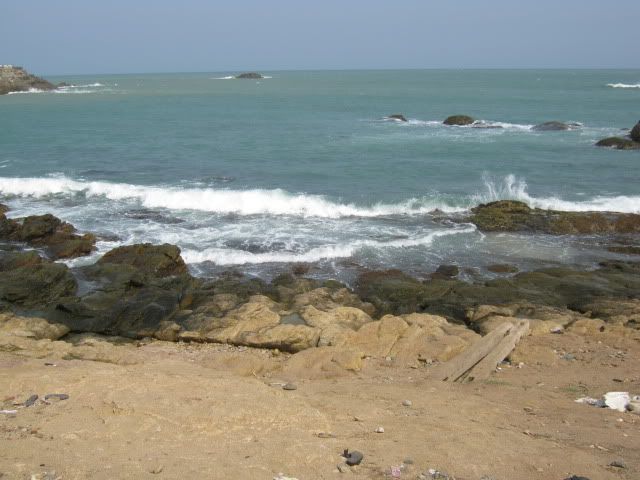 Kanyakumari Beach
We went to Arulmigu Kanyakumari Bhagavathi Amman temple, pictures were strictly prohibited here. The weird part about this temple was the guys must remove their shirt before entering the temple. The temple looks like it has been built underground, and I'm sure this temple dates back hundreds of years ago looking at the classic architecture. Since the temple was dark and lighted only by oil lamps, any attempt of taking pictures would be noticed because of the flash. Yes, I'm sorry.
Day 2
We left Kanyakumari at 11.30 pm to catch a bus to Madurai and reached Madurai at 5 am. Madurai was another city completely different from Kanyakumari. Dirty, overpopulated, and rude people are literally everywhere.
Madurai Bus Stop at 5 am
We headed straight to Madurai Meenakshi Amman temple, which opens at 6 am. The architecture built of this temple was simply outstanding. We were mobbed by guides who offered their services, to show us around the temple, which we know we had to take since it was so huge, and we settled with 1 old guy for a fee of Rp100. It took us few hours to complete the tour, and still it seems we had only completed only half of the temple. The prayers were done in a rush, since the local aunties would use every part of their body and huge boobs to push you away before you could lift up your hand to perform your prayers.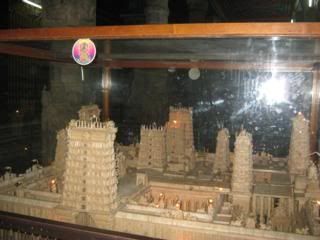 The miniature version of Meenakshi Amman Temple

Our guide - Soda Mani 




Inside the temple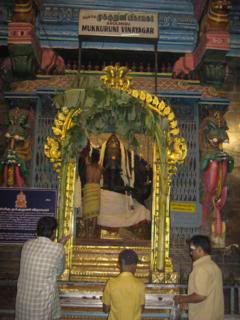 The Golden Lotus is worth Rp 40 Lakh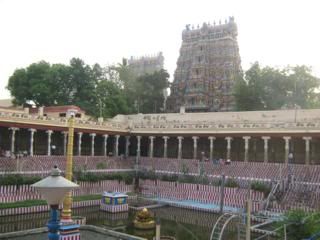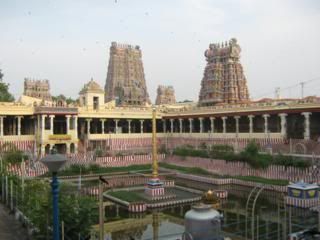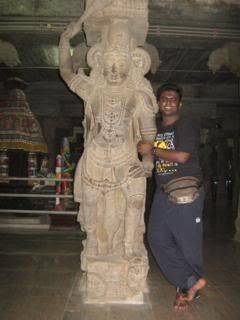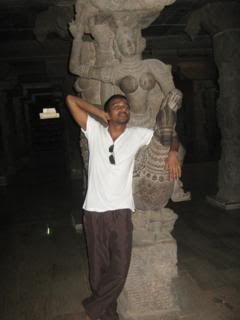 Some of the user-friendly statues


Beautiful Nadarajan statue inside Thousand Pillar Temple
Thousand Pillar Temple inside Meenakshi Amman temple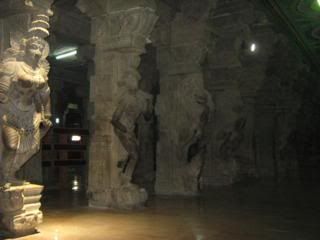 We took an auto and started our journey to Ramanathapuram.We met a friendly and honest auto driver, Keerthi. He was a former tourist guide, and his knowledge was excellent. Keerthi send us to the bus stop and we exchanged numbers.
10.15 am – We are seated inside the bus and I could see woman are fighting for water inside the bus stop. I'm not sure what the fight all about was, but it was a big verbal war.
The number of beggars, as I've said earlier was outstanding, there was just too many, and sad to say, almost all of them are small children. They bug you with all kind of excuses, like sick parents, have not eaten, and some would call you 'anneh' non-stop just for a coin.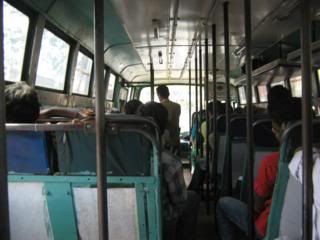 This is called AirBus. Where all the polluted air's gather
 and make you puke.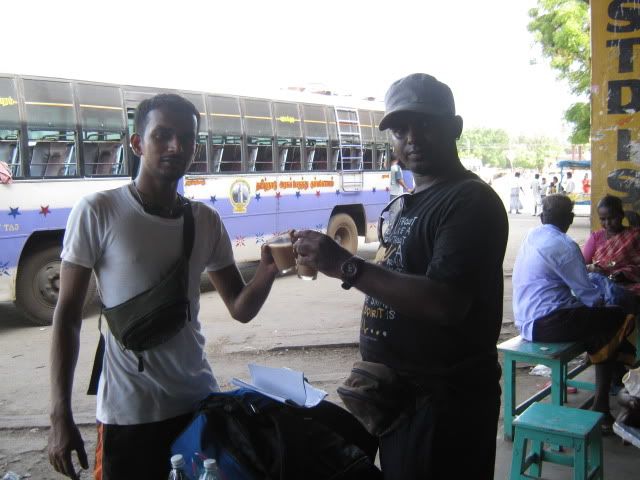 Our first street tea in India, after getting fucked
in a bumpy bus ride for 5 hours
12.30 pm – We went to SethuKarai to perform prayers for Brother Rajan's father and Brother Vasu's parents. Took an auto and when we reached there, it seems the priest will only come at 4 pm.We cancelled the prayers and decided to perform it in Rameshwaram. There was another ritual going on in the nearby beach though, and they were praying to Nagamma.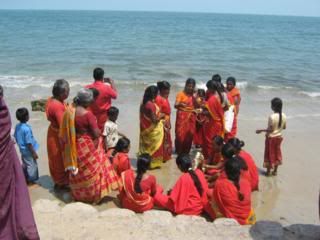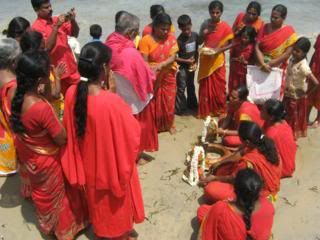 On the way back, we saw a horrible accident. The driver of the bus just asked for direction (from our auto driver) few minutes back, and we were right behind him before he smashed into an oncoming tourist jeep. Kids and women's were injured quite badly. It was a sad sight indeed.
The bus which asked direction from our auto driver

Note that on the top right corner - 1 woman was still inside
02.00 pm – Took bus from Ramanathapuram to Rameswaram. Checked in the hotel, and we wanted to do prayers, but it was too congested. You can see plenty of North Indians here, and the chicks are awesome. Rameshwaram beach however, was polluted and filthy, as usual the victim of opportunist over here who does not care about the beach. People shit, and throw all sort of rubbish like it's nobody's business. But people also take bath and enjoy their day in the same beach polluted with human filth.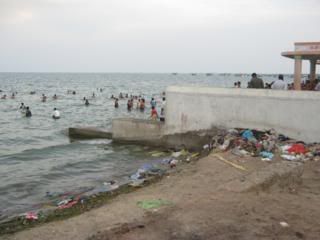 Rameshwaram was actually a place which if I were to describe here was a combination of zoo and humans, mingling and sharing together Rameshwaram. There is just too many animals around, and wild boars, donkeys, elephants and others just roam the street like it's nobody's business. Wild boars just mingle around within your hands reach like it's your household pet.
Elephants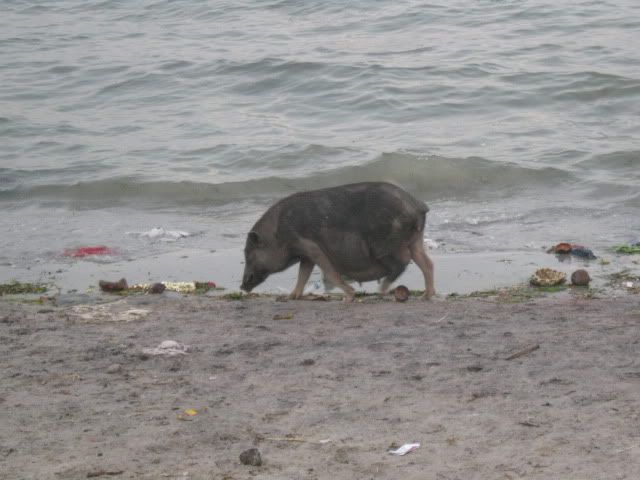 And One of the wild boars fucked recently- it's pregnant

And there goes a donkey- I mean behind me.

Rameshwaram temple
It was already time for dinner, and went to the nearby 'local' bar, and to tell you the truth it looks exactly the same like in the films. We could not drink there so we bought some Kingfisher's and took it back.
India's Kingfisher - Thank you, please cum again.

                                                    2BContinued...