Before you go on, visit HERE. You might be interested.
I will just slide this in between India write-ups to make sure you don't get bored.
There is a new group in Facebook which was created by some anonymous Indian guy. Their motive is to find and hunt down all the Malaysian Indian chicks who are abusing the social network by posting up very sexy images and so on. I was browsing through the page, and I have to say, seeing girls in skimpy dresses is like so norm nowadays, and it's unfair to label a girl bitch just because of the way she dresses up.
It's also morally wrong to actually be grabbing someone's picture from their profile, and then posting it up online in certain groups or sharing it with another person. The thing is, once your picture is up and available on the net, you can't stop anyone from abusing it. If you decide to pose up with a mini skirt then post it up in social networks expecting some attention, then you should also be prepared to face the co-sequences.
I'm not supporting anybody over here, neither the admin of the group or the girls.
The girls who got posted up on the group , started joining the page and giving some rather filthy comments. You see, I always stumble upon skimpy girls in FB, and I love them too, come on, all the guys loves to see more skins. I was not really shocked about some of the pictures posted too, because I've seen and written about this type of girls years back, although posting up their identities is not really my style.
This drama serves as a valuable lesson to everyone, especially the girls not to be overdoing your dramas in social networks, because anything that you post online(especially your pictures), might end up in the wrong hands, and it might bring you some rather sad endings.
Here are some of the dramas going on in the group with very interesting commentaries as well. The amount of vulgarities coming out from some Indian girls was extraordinary. Laugh it out loud yourself.
The profile picture of the group, I've blacked the eyes though. I would say, come on , I love girls kissing each other(it's a good show) but don't take the pictures and post it up in FB, that's like freaking stupid.
I love this below one, check out the comment by Kumar. Hilarious indeed. And the main commentator is apparently one of the girls highlighted in the group.
Look at the consequences, even the mother/parents has to be dragged in.
This is one hell of a comment by a girl. Gotta respect the language though. Even I had never used those words in FB. Lol. Pundek thevidiya semua masuk wo….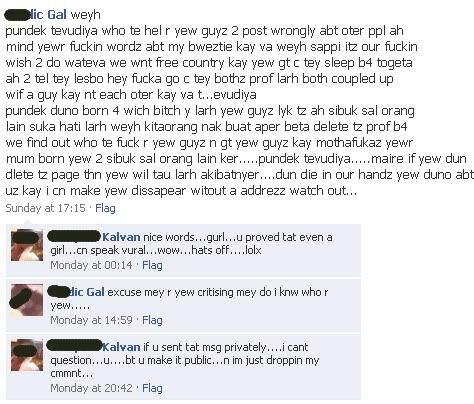 This one apparently by another girl condemning the group.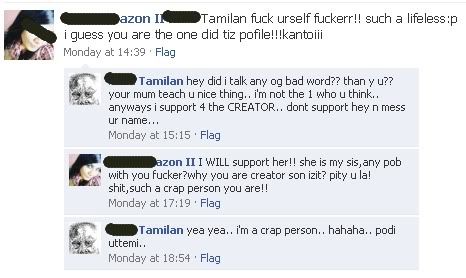 And below goes one of the most unluckiest boyfriend in the world.
I'm sure you would be trying  to check out the group  for the next few hours. Before that, go back to  your pictures , and see if there is anything that can land you up in trouble.
What do you think, the girls fault or the guys (who created the group) fault?