Congrats to Ms Banu and Happy Birthday to Ms Devishri.
It is without a doubt that people do all kind of things to earn a living nowadays. Some do not want to earn their money doing things the right way; they cheat others to feed themselves.
Just like that, there is plenty of scammers on the Internet nowadays, and they use all kind of techniques to deceive you. A lot of people get cheated by these simple lines, such as the one where they asked you to send your details of your banking accounts.
Indians are undoubtedly the pioneers of the IT world, but they're some of the worst when it comes to cheating people through the net. Or say some of them. Just like how lame Machas can be tackling girls sometimes, these guys do scams where you can like 'smell' it all the way.
Almost all of you know that there is this charity club for Tamil school kids, which is called Sai Fund. Sai Fund was actually named after Shirdi Sai(1838-1918), a great saint whom I admire a lot because of his simple principles and approach towards life. He took His Maha Samadhi(passed away) in 1918.
Since WE'RE all helping in this club, I must share this story with you and ask for your permission to help the below mentioned.
I received a Mayday distress mail all the way from Tamil Nadu, India. The mail was send to our group, Sai Fund's email address. The guy is asking help from Sai Fund. I'm going to introduce to you one of the most unfortunate Tamilan in the world. Please keep your tissues standby, as I practically cried my hearts out reading his plight.
Mr. Guruswamy actually asked me to ask Shirdi Sai if I should help him.
So, I replied the below.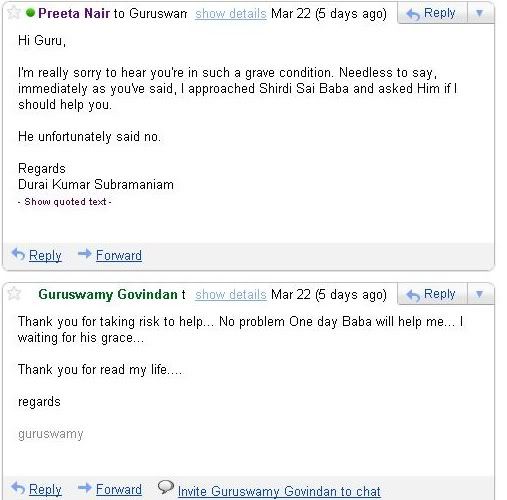 But still , just for the benefit of the doubt, guys, what do you say? Shall we help Guruswamy or not?