It's been a few weeks since I last wrote, and I'm having difficulties starting up again. It's because I still can't get over my vacation. For those who didn't know, the reason for my absence was because I was travelling, in some cities around Europe. Of course, this article will be about the travel. Let me tell you a story before I start writing about it.
All this travelling stories and any other things that I do and tell you about it , is to inspire some of you Machas ;so that you know you will be able to do the same thing. And it is not impossible to do it, it's really simple. It is not a big deal at all. During my teenage years, I had a very low self esteem. Some of my friends were very rich; especially the Indian girls. So, some of these bitches has this problem; they look down upon the average Indian guys or the normal Machas as you so call it. I do not want to go in detail, but some of my friends including me and my best mate, Rajan get offended by their behavior. It decreased my self confidence and made me realize there are things I wouldn't be able to do, for an example like having fantastic vacations.
When I was 18, I was working in A&W Subang Jaya ; as a waiter and cleaner(means you also wash toilets on alternate days), and of course, my confidence level was hitting zero. I had no mission or vision in life, all I wanted is smoke, drink and be merry. And sometimes if my luck was good, I get a Mary. I do not speak English; neither can I write a few good sentences without grammatical errors.
Then I slowly progressed through my life, taking each steps strongly, and wanting to prove to everyone else that I too can succeed! The strong urge to succeed grew inside me, and I worked hard to be what I'm today.
The previous paragraph was of course a joke. I didn't progress through all that shit; I just got lucky along the way in my career. Nothing really grew inside me except for my dick due to masturbation.
Right now, I have travelled to some places, starting from some neighborhood countries, to some cities in Europe. What I'm trying to emphasize by telling you this story is; simple, what you're today is not what you're GOING to be tomorrow. If you're at the lowest level of your life today, remember, it's not going to be permanent.
This blog had brought me fantastic opportunities, tons of new friends, and wonderful experiences. When I tell you each of my experiences, I'm truly pleased; and when some of you Machas come and tell me how you have benefited through it, I feel extremely elated.
Let me tell you about my travel then. I'm going to be very brief about this, showing more pictures instead of more stories. Let's go UK.
It will be wrong to call it that I've travelled UK, because I only went to few places there which was Brighton, London and Plymouth. However, I have to say, I loved everything about UK. The extremely friendly people, beautiful and mesmerizing countryside's, and amazing weather. There is no such thing as hot there; it's cool all the time. Brighton is where my sister, Santhiya had settled for the past 20 years. She is one of the coolest sister you can find around, with love and humor scaling high to the sky. If she was not there, it would have been impossible for us to be travelling there. Lovable girl indeed.
If you love countryside's, you will love Brighton. Undoubtfully, apart from Kodaikanal(India), this is the only place I would love to settle in future if I have the chance. The reason I went to Plymouth on the other hand, was by invitation by one of our reader here, Maya. She, as you might have known, is an English woman living with her beautiful daughter, which I named, Thulasi. Any words I might throw in over here can't describe the perfect care I was given during my stay there; I regret I only had a day there.
Stumbling upon this blog by co-incidence one day, she began to read this blog and somehow liked it, although she is a 'white' woman living in UK. Her daughter Thulasi on the other hand, is a lovely lady with a beautiful hair.
On the way to Brighton to Plymouth which is a 5 hour journey, you will see spectacular countryside views, which you will long to retire one day. Green all around, with amazing scenery.
If I'm to combine both this places (Brighton and Plymouth), and describe it in one word, it's breathtaking. Below goes some pictures during my travel in UK:
(Above)Lovely Sis Santhiya (Below) Auntie Malar who cooked us delicious and spicy foods during our staySisters house in Brighton, UK
A beautiful view from Devil's Dyke, 1o minutes away from sis house. A breathtaking countryside viewBrighton Beach, of courseBuckingham Palace, nothing to shout about.London Eye

Arsenal FC Emirates Stadium, London
I do not have good pictures of the countrysides there, but somehow it resembles this. What I saw there does not reflect in this pictures, but just to give you an idea of what I'm talking about.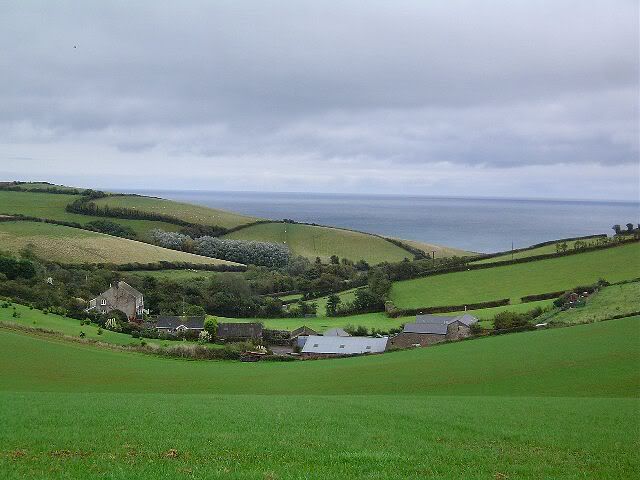 Of course there were more places I visited there, including the London Bridge and some other antique buildings which I'm not sure what's the name of it.  I loved, everything about UK.