This is a long write up, clouded with emotions and a detailed review on what happened, and the truth alone. If you were in the rally, please write in your experience .Read THIS too, fellow comrade Brother Kavilan writing about our adventure. My heartiest thanks to every single person who had been there in the rally, and who had been in support nevertheless. Picture credit goes to Brother Danny. And I heard some comments by MIC that not many Indians joined the rally, to be honest MIC, go wear skirt and shut the  **** up.
I looked ahead with a feeling of disappointment, when thousands of cars literally not moving at all, because the crackdown had began. I know I'm not going to make it today. This thought lingered on my mind during the eve of Bersih rally.
I half slept once I got back home, and woke up at 7 am, highly spirited and charged , although I had as little as 3 hours sleep. The plan was to meet up Brother Danny in Putrajaya, and then take ERL to KL Sentral , then another bus or train to city centre.
When we took the ERL, we saw 'faces'. Faces of people with similar cause. They are all giving a smiling hint, indicating we're all from the same team. We reached KL Sentral around 10.00 am, and we knew immediately we're in for some major challenge to get inside the city center. Every part of the road leading to Pasar Seni is blocked, police trucks are moving in everywhere, chasing and dumping everyone who seemed to be suspicious. And it was only 10.00 am!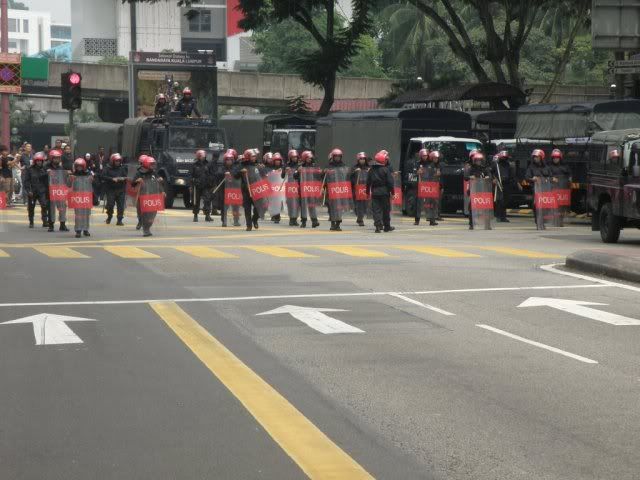 We decided to walk to Pasar Seni, since we had little alternative. As we walked, we were stopped by some man in blues, to whom we lied we're going to purchase some items in Petaling Street. We got through, and we split up. Preeta and Sharon were already waiting for us in one of the backpackers lodge near Petaling street.
We reached Petaling street, and as we walked, there is an eerie silence, surprising me if anyone is ever going to be there for the rally. As I stand there overlooking Petaling street, I see familiar 'faces'. You get that feeling when that Chinese guy smiles slightly when he pass across you, and when another group of Malay guys passed by showing some gestures. I smiled and thought in my heart, they're penetrating…..
Messages are flying in from so many of my friends, indicating where the rally had started and what's happening. People had penetrated and are scattered around the Puduraya area, and then it began. Around 12.30 pm, we joined the rally near Puduraya. The crowd had already swelled to thousands of Malaysians by then. It was an amazing feeling of unity, one that is strengthened by a single cause, and one; which cannot be explained by any amount of words I might use here. It was beyond words, and unless you were there, it's not explainable.
Bersih ! Bersih! …….Bersih ! Bersih!…..RE…FOR…MA…SI…!RE…FOR…MA…SI!!….
And so we chanted the mantra in unity. The voices of the people, the one that had been silenced over the years and the ones that represent the silent majority who did not come out on that day, echoed and roared like a thunderstorm followed by cheers and claps. It was an absolutely peaceful rally.
Malaysians of all races and age, from kids to woman, from young girls to old aunties, from the handicapped and on the wheelchair, everyone was smiling and cheering, happy to be in the company of fellow Malaysians. There was no Malay, no Chinese, and no Indians that day, only Malaysians. It was a feeling of absolute happiness.
We saw another group in white across the street, separated by a distance of 100m.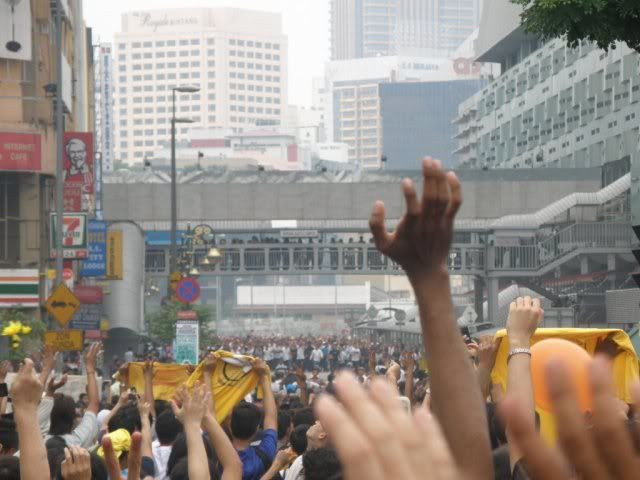 They looked suspicious. I estimate our crowd to be over 30000 by now. We asked the Malay man in his 30's beside us;
Group apa tu bang?
Itu ada Cina dan India, so they must be orang kita. Kalau group tu ada Malay sahaja, itu orang UMNO/BN. Sebab group dia orang ada Malay saja, group kita pulak ada Malaysians.
What 1Malaysia crap is Gov talking about?
I was elated beyond words. What a liner. Turns out the group was DAP supporters, they converged with us. The guy further went on explaining rally quick guides, and provided us with half a packet of salt which we mixed in our bottle of 100 plus. He said it will help when tear gases are fired, and little did I know I'm going to experience one of the worst moment in my life.  10 minutes later…
*thup..thupp thupp…sounds of metal canisters being shot and falling down.
Smoke shot out from the canisters, sending the crowd running helter-skelter, while some brave ones stood to confront the 'criminals'. Imagine a peaceful loving crowd, with no violence portrayed any means possible, being shot down with tear gas and sprayed by chemical water cannons.
I ran, and the effect of the tear gas was unimaginable. It is by no mean something to be taken lightly, it has massive effect. I never thought it would be that terrible, it choked me to like near death, blurred my vision and burned my face. Personally for me, it was terrible, beyond horrifying.
I ran, coughing and choking heavily, with blurred vision. Few Malay guys ran by me and provided salt, and asked me to swallow it. I felt better, but by that time, I don't know where Bro Danny was. It took me long to recover, but I was doing fine and found Bro Danny after a while. We followed the crowd to another road, where the crowd began to gather and swell again, and by accident, met up Bro Kavilan, Bro Raaja, and Bro Puvanan. We were retreating, advancing, sitting, then advancing, retreating, until the moment they decided to fire again. This time again, we ran for our life, but the tear gas overwhelmed me. I don't know where was Bro Kavilan ,Danny, Raaja or Puvanan at that time.
I choked again, and fortunately, it began raining very heavily. I took out my shirt, tried to cover my face, and I stopped because I couldn't go on. I was coughing heavily when one old Malay lady stopped in that heavy rain, and helped.
"Nak, ambik garam ni letak bawah lidah"  .
I looked with disbelief when around me, everyone who was being affected, are being helped by a person from a different race. I hate to differentiate according to race, but I want to tell you the story as it happened.But little did that rain deter the spirit of the crowd, we pushed on. Then we ran towards Tung Shin hospital, where thousands were already seeking shelter from the tear gas. No one was on sight, and I called up Bro Danny to come to meet up. We were inside Tung Shin hospital recovering when the police decided to do one of the dumbest things ever imaginable, shooting inside the hospital. And yes, they fucking did that; imagine the outrage of the people. This is beyond horrible, how could any sane person fire tear gas canisters into the hospital?
An amazing picture, Muslims performing their prayers in front of a church.
We ran again, and then regrouped nearby a road just across Tung Shin hospital. The police had agreed to let us through, finally, what a relief. We relaxed a while, waiting for the police to remove the blockage from the road to let us through. Most of the crowd had regrouped again, and just like our PM, the police did not hold on to their word. They cheated and fired upon the crowd again. And then the police started chasing the crowd trying to catch hold of as many of them possible.
Bro Kavilan doing some jungle trekking:P
We ran towards a hillside, where everyone seems to be climbing, but was not in a hurry at all. Everyone seems to be trapped now, on the other side, it's the police, leaving us with no option but to climb through a small hill slope clogged with slippery dirty muds. My shirt is covered with mud, and Brother Kavilan and Puvanan was following up just behind us. Hundreds of people are climbing through it when the police charged to catch the people getting on top of the hill. And that was the moment; one of the most heroic thing ever happened that I've seen, when a group of PAS supporters did a barricade to prevent the police from getting through to the crowd. It was an unbelievable act of self sacrifice, and I watched them from on top of the hill, where they're getting caught while the crowd escapes. Brother Danny helped as much people as possible to get up; literally everyone was helping each other.The people who formed the barricade, were being assaulted, look at the below video, it shows it all from 0:53 onward.
Bro Danny, Bro Kavilan, Bro Puvanan and me regrouped. We walked slowly with thousands of others, walking towards KLCC as the last showdown is going to happen there, as reported. As we reached KLCC, the police presence was overwhelming. Having been tear gassed repeatedly, we were in no energy to join the crowd again, however; we heard the crowd had already been ordered to disperse by then. We decided to call it a day after watching some drama made by the policemen, and headed back to train station.
The rally that day had no sign of violence at all, and no one man that I saw provoked anyone else, it was an ultimate show of brotherhood. The Government on the other hand, thought that they could break just that. Unfortunately, they were wrong, they've just aggravated it. The Government had mistreated us, the peace protesters, and they will dearly pay for their ignorance and arrogance in the upcoming election.
Me and Brother Danny bid farewell to Brother Kavilan and Puvanan, and took the train back to Putrajaya. On the way back, we again saw the group of crowd whom we had seen when we took the train in the morning. I smiled and asked 'OK?' , the guys grinned and said 'Okayyyyy' and showed the thumbs up …
If there was any time in my life that I've ever seen unity in action, it was during the Bersih rally. I remembered my school teacher asking me to write:
"Pengalaman yang tidak dapat anda lupakan…"

Dan itulah pengalaman yang tidak dapat and tidak akan saya lupakan seumur hidup saya. Hari itu juga telah mencatat sejarah, apabila buat pertama kalinya, saudara-saudari saya dari pelbagai kaum, bangkit dengan satu tujuan dan kearah satu bangsa, Bangsa Malaysia!
Hidup Bersih!    ……… Hidup Bersih!……….. Hidup Bersih!