This is not an article to offend, and you should not get offended if you're not the person doing it. I've repeated this a thousand times, here's another one. DO NOT GET OFFENDED. And fucking READ MY OTHER blogs before you start calculating my scores. There was supposed to be another article, but due to my site database being down for the past 3 days, I could not post it, I will slide this topic just to keep you occupied. Please join the Facebook page : HERE
One not-so-bad looking Indian girl (not as bad as Isha) circles around the temple, holding a few earthen lamps in a small tray, muttering something; praying hard. She came to a halt, in front of Goddess Amman, placing the earthen lamps one by one, while repeating her prayers.
Every other person in the temple was repeating the same thing, and placed the earthen lamps in large amounts. The temple lights were dimmed, but the whole temple was glowing, a sight so divine you have to see to believe.
One old lady was saying to the other one from her era; that her daughter is praying to get a good husband. That daughter I described in the first liner. So, she practically repeated:
"Eneke nalleh husband kadeikenum"(Hopefully I get a good husband)

One earthen lamp placed.

"Eneke nalleh husband kadeikenum"

Second earthen lamp placed. And so on and so forth until all around 10 was placed.
One aunty, whom I personally know that she is extremely poor, lit in 15 lamps, equaling to RM 15.
I asked the priest who happens to be a good friend of mine, what is the necessary of placing so many? Even this poor aunty had placed 15.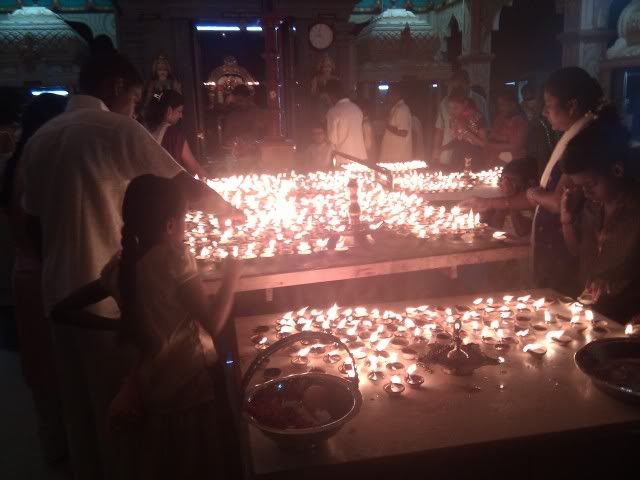 The priest said, each lamp that is lit will practically bring her more wealth, if she lit one, that is what she will be getting in return. If she lit 10, she will receive that many.
I smiled, thinking that the girl I talked about earlier might have just wished to get 10 husbands in return. Every other person in the temple filled up the place with so many similar hopes and wishes, requesting God to grant them something. It's either wealth, or health, or happiness, or desire.
We are all selfish, aren't we? We all ask something from God, but never do anything in accordance to what He advised us to do. He sends up so many Messengers (saints) to us, asking us to be united and love each other; on the contrary all we do is break up and spread hate in the name of religion.
What are we really doing in temples or places of God?
All we do in temple is bring in our girlfriends or boyfriends, pray together that you both end up getting married, and then go back and fuck each other. Then dump them and walk in with another partner the next month; even Amman would get scared at the rate you're changing your partner. The very sin you're committing is not being in the place of God for the very reason you're supposed to be there.
When you go to the temple, sit and spend some time for God. That is the very purpose you're there. Not to SMS your boyfriend, browse your Facebook or exchange empty gossips. We can always do that outside temple. You don't have to perform rituals, sacrifice or anything else. Just pure love and chanting His name will bring you immense benefit.
Then…
All the Meenachis pray so hard in the temple that they should never get cheated and then goes back, takes a picture of them in the bathroom with their small tits bulging out, and then post it online for everyone to see and be famous. When God hears your prayers, He might be touched of your sincerity. Then when He logs in his Facebook and see your ugly pictures, He gets offended and you practically end up being rigged by some Machans. I meant to say God knows whatever you're doing.
God is faith. Faith is believing. Some young Machas I meet claim that they do not trust God, that they're a revolutionist. They say they do not believe in God, that they do not believe in anything. Can you not laugh looking at this stupidity? To say you do not believe in God, means you actually believe that 'you do not believe in God'. I repeat, it actually means that you believe ' that there is no God'.
What is believing? It's faith. What is faith? It's God. Clear? Everything revolves around this very circle.
God and temple is not a place to wish for your material desire. It's not a place to request something. It's not a place to receive 'gifts'. It's a place where YOU, get closer to God. It's a place where you connect to the supreme energy. How many of us had ever wished that you want to be closer with God? That you want to 'see' the supreme Brahman? That you want to realize the very purpose of life, and asked God to show it? To the least, how many of you wish that everyone else around you live with happiness?
If you wished that, what have you done for it? What have you executed with what God had given to you?
Change the way we present ourselves in front of God, and wish for eternal happiness, that is to ever live in a state of absolute bliss, in a state  where you feel God is present.
Stop wishing for girls vadai. You shall be blessed…
What do you wish, really?