I'm not responding much to any of your comments lately, but remember that I do read them and get encouraged.  It takes days to write and finish up an article sometimes, there is too many things in what you're reading for a mere few minutes.  This blog is also 100% ad free, it's not for any personal profit. But the more you share, more people will help the charity club. Be my Macha
I've witnessed and participated in numerous rituals ever since I was as young as 13. I used to go to Kali temples inside the jungles and cemetery to watch the rituals and exorcism being performed there. My father used to beat me up for going to this type of 'gory' temples. Nevertheless, my fascination towards exotic temples had never died down. Combined with the love for Urumee music, you can say I'm very much a staunch follower of exotic temples because Urumee is 'played only; in this type of temples.

I've ridiculed many rituals in the past, writing about how stupid Indians can be to do some of the things; for an example rubbing a pigs ass thinking it will bring them luck. Or drinking goats' blood thinking it is Goddess Kali who's sucking on them.

I was invited by Bro Thiru to witness something out of ordinary, where a guy named Kali Kovil Raja will allegedly pour hot burning oil onto himself, in an ultimate act of devotion. Thinking here comes another dumb ritual, I went to the temple annual celebration last Sunday.

The location? Taman Kem, Port Klang; one of the most notorious ghetto Indian area known for drugs and fights. By the time I was there, Indians machas had already throng in thousands, lining up the streets with their usual beers and cigarettes, 'living' up to the occasion. But this is one place you better not warn them for drinking for temple festivals, or you might get your eye picked out.

It was a mini-Thaipusam celebration. The temple is owned by 'Arul Tharum Urumee' group, the first and most respected Urumee group in Malaysia, and if I'm not mistaken I purchased their first cassette when I was 14. That was 12 years back. From a Muniandy temple nearby, young devotees (Indian machas) hooked with milk pots, fruits and kavadis, made their way onto the Kali temple.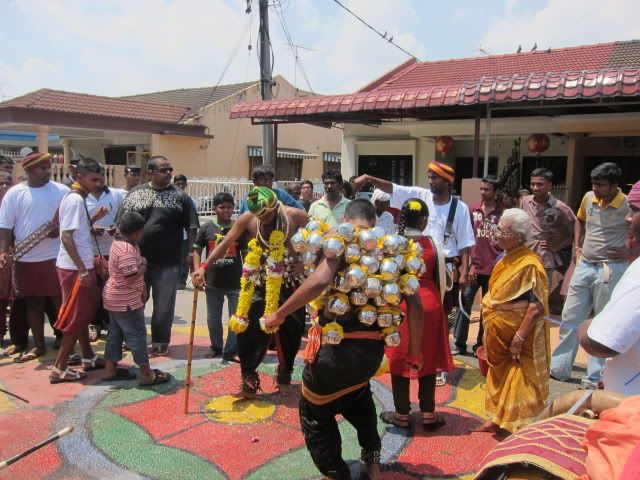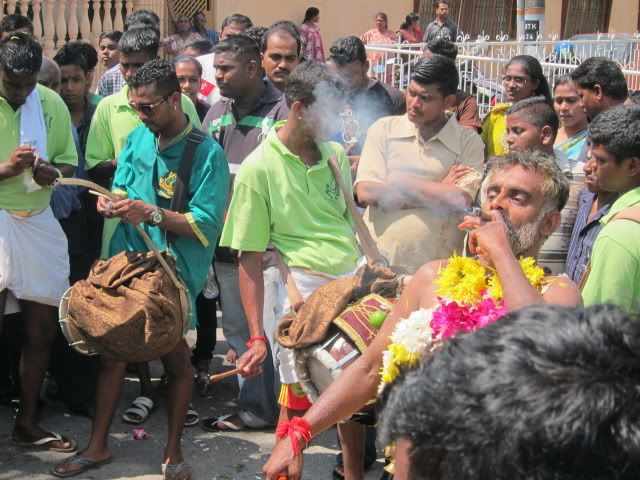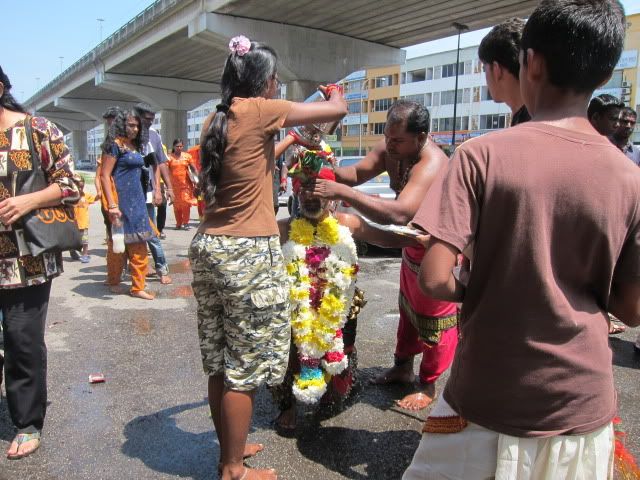 I'm strong advocate against animal sacrificing in temples. And almost all the Kali temples I've been perform animal sacrificing. I was expecting the same here, but to my suprise, they were actually giving vegetarian food. This immediately changed my perception towards this temple, and I saw none of the temple committees was actually in 'trance' and drinking beer. This is indeed out of ordinary.

This man, Kali Kovil Raja is no ordinary man. He had trained under Aghoris in India and is more like a local cult leader to the people here; in one of the most notorious area in Selangor. He looks fierce, but he has a large following in the community here.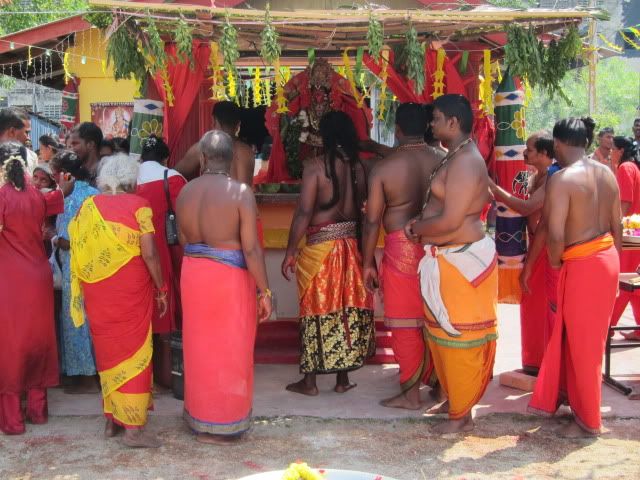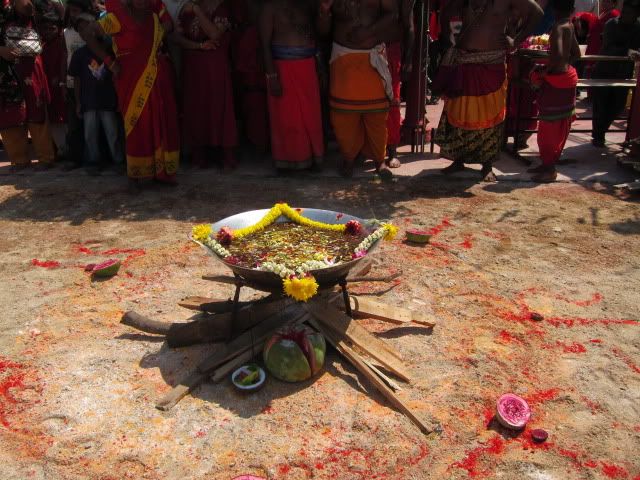 The highlight of the whole event was about to come. Around 3 pm, the ritual started. First, a large cooking wok was placed. On all 4 corners, a presentation was given to Hindu warrior Gods, or so I believe. It consisted of some rice, a beer, and some other items, placed on top of a banana leaf. Then Kali Kovil Raja, started the 'pooja'.
.                                 .
Once all four corners were completed, the cooking wok was ignited. According to Bro Thiru, the wok ingredients include cooking oil, and multiple types of herbs. I even saw different of flowers inside the mixture. As time goes by, the oil began to boil, smoking up in the air. The crowd began to squeeze in and I was having a hard time trying to take pictures or videos.
.                                 .
And then Mr. Raja began the ceremony. He started off by standing in front of the wok, in one leg. This is definitely a position of Goddess Kali, I can safely say.  When the time was right and the oil was literally boiling in an unimaginable temperature, he took a few sticks of Neem tree leaves on both hands, AND TO MY HORROR, chucked it inside the hot burning oil and started blasting it on top of his body. A few drops literally flew my way and got into my head and hands, and it was freaking hot! I was gaping with awe looking at this extraordinary ritual, and with the sound of Urumee , the man literally circles around the wok and blast more and more oil onto his body. Here I'm couldn't even stand a few drops of that hot burning oil, and this guy is actually 'bathing' himself with it.
.                                 .
Once the oil inside the wok dries out, more and more pails of oil is poured onto the wok. The chants of 'Om Sakthi' spurs the man on, and he goes on a spree of bathing himself with the oil.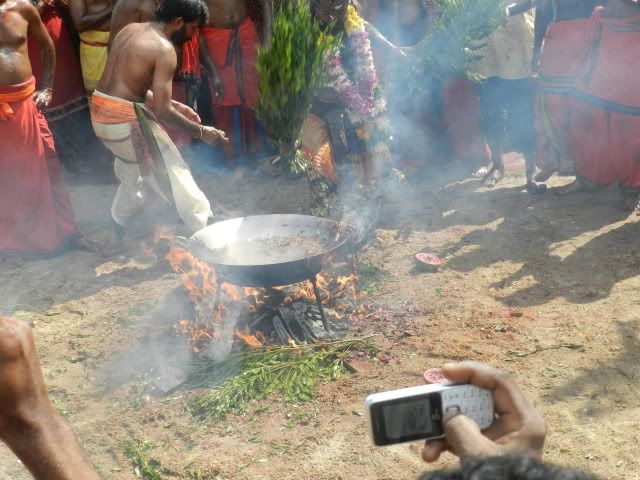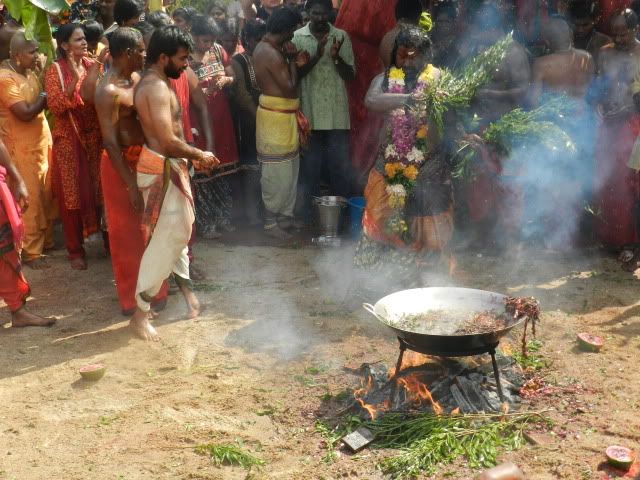 I tried explaining so many things by science, and sometimes I do them myself to show you how it works. But this is DEFINITELY, not something I would ever try out. This man, Kali Kovil Raja, had personally proved to me that some things are not meant to be explained by science. He had crossed beyond the physical human limits.

Spiritualism practiced at the highest level will yield extraordinary result, as such that I witnessed here. I'm amazed beyond words, for his beyond human capabilities…