I had two issues I needed to immediately highlight to you, so I combined both together in this article. Hopefully the message gets across. And if you wish to donate to Sai Fund or simply interested to fund a child, please contact me. The blessings that I receive during any charity deeds;all credit goes to you, my readers and Sai Fund donaters. I'm merely 'working' for you to redirect the money.
Nallah irepa, ningge parembe paremeberai nalla irukenumpa. Ningge eneke uthevi senjethe kandipa anthe kadavul unggel nalla vecherepare ayya.

Be blessed boy, your whole generation will be blessed. For the reason you've helped me, God will always take care of you.
When you hear this kind of words from someone you have helped, it is an amazing feeling of satisfaction. It's something so exhilarating you can otherwise only gain it through drugs.
By the way,those were part of the words uttered by one aunty I visited recently on behalf of Sai Fund . I was there because the boy was in desperate need of schooling items, and the mother is a single mother whose husband passed away a few years back. She survives by doing odd jobs every now and then, and since she is also sick (she has some skin disease in her legs making her unable to walk properly), there is no real permanent source of income.
When I handed over some cash and showed the boy all his new school uniforms, plus some stationeries, there was an immediate glow in their faces. The feeling that their burden has subsidized was clearly reflecting on their face.
The boy is a 15 year old, very hardworking student and clearly knows how hard her mother is working to educate him. He scored 3A's in his UPSR despite no tuition at all, and for me that is a very good result. When I stepped in their shabby looking messy home, there was no sofa to sit at all. There were no computers, just a study table for the boy with books scattered around his table. A couple of chairs, for him to study.
Ottaiye nambathe…:P
The boy cycles to school (40 minutes away), have no money to eat during school break time, do not have phone to talk to his friends, do not have a computer to design his school projects, has no money to go to tuition classes, wears a 2 year old uniform and carries a heavily torn bag stitched by his mother, and despite all this, he was concerned about something else.
"Anne, padichirevene, question kekethan alle ille"

"I will study bro, just I don't have anyone to ask questions when I don't know"
I was amazed.
Sounds a very difficult life isn't it? His life literally can be otherwise spelled as 'trouble'.
Now, that is real TROUBLE!
What I don't FUCKING understand about you; young girls and boys is despite all the luxury you seem to be having nowadays, all you're doing is thinking that you've got the biggest trouble in life. I'm getting annoyed with your ethics, simply lacking the art of survival because everything had been spoon fed by you. Yet, after all this, you complain that life is hard for you.
How can life be fucking hard when you have Skype to talk with your boyfriend  , eat McD's and KFC for your lunch and dinner, study in some of the most 'happening' college in Malaysia, and you've got your own car to drive to school? Some of you Meenachis are fucking stupid, I tell you. Time and time again, I've told you, you are very lucky indeed. You've not seen people who scrape through garbage to find something to eat (in India), or how many of you live in a condition like the boy I described above?
Ironically, the only problem you have in life is related to love. I don't fucking understand la, is spreading up your pussy the only mission you have in your life? Is that what life is all about? Recently I talked about one Meenachi who cut her wrist, and not even a few days later, I saw another young thengga cutting her hand and posting up the pictures in Facebook. The title of the album? "Love".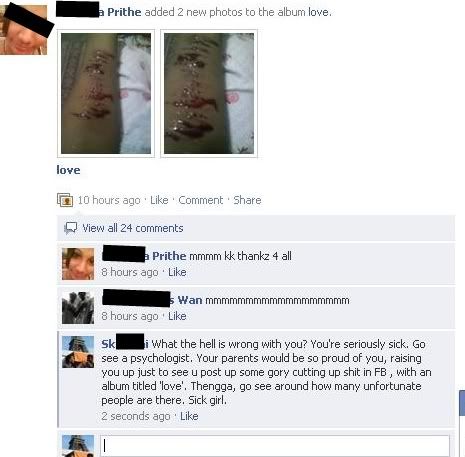 Some of you come and complain to me about another guy, or another girl , or sometimes how things are. But none of you really want to go out there and do something about it, I mean literally taking your own action to solve the issue. Why must I write and highlight the problem that you're facing in your life? Did you ask me when you wanted to get into a relationship or spread up? NO! So why the fuck do I have to help solve your issues? So that your ex-boyfriend comes and whack the shit out of me is it? Ningge kudepingge, na unggeleke biography elethenuma?
And 3 weeks ago, another friend of mine; a guy committed suicide. Again, love. He drank poison, the worst part is he had always been suicidal, me and Banu made a gruesome discovery when we went through his profile.
Look at his profile picture updates around 3 months ago in FB, he had always been suicidal. He committed suicide 3 weeks back.
You think this is a troublesome world isn't it, but the fact remains life isn't! For every single time you are facing problem, always remember that there is always someone out there who is suffering even 100 times worst than you. And YES, if you actually avoid all this punde makkah kathal during your early teenage years or at least keep it professional, you will be even better. This is a beautiful world with one life given to you for you to make the most out of it, go out there and challenge yourself. Don't sit at home; whine endlessly that you're not getting enough in your life.There is so much to see, so many beers to drink, so many girls to screw, so many places to go, so many people to meet ,so many God to pray,yet all you want to do is die just because of one small lubang or batang. So, my brothers, start dribbling through your troubles .
Despite all I've said, if you still think you're very unlucky, think again; think about all the Meenachis who had ended up in this blog