A part of this article was written sarcastically. I've tried explaining this in the simplest manner. This article is dedicated to Dhurga R, Geetha and Prasana.
Around the year 1858, one good looking young man walked into the village of Shirdi, in Mahasashtra, India. He was unknown, and he looks like a mere beggar. He had no belongings, but he looked contented. He had no name and upon entering the village, the village priest greeted him with the surname 'Sai'.

He was no ordinary man, he had miraculous healing powers and upon looking at his sparkling eyes, one gains calm and a state of spiritual ecstasy. He took shelter in one of the dilapidated mosque in the village. People gradually start visiting him and due to his extraordinary 'power', his fame grew and people began to donate their hard earned money to this man. In return, he gave them his blessings and by the end of the evening, he would redistribute the entire donation of the day to the poor and disabled.

He begs for his food, at least 4 times a day, and taught the Muslim and Hindus to respect each other. He is an expert in Quran and Bhagavad Gita. To top it all, he was aware of things that happens hundreds of miles away, by just sitting in that dilapidated mosque. Until his death, he begged for his food and never had a single cent although he received thousands in donation every single day.

His name was Shirdi Sai Baba, also dubbed as the greatest Saint of 18th century.
———————————————————-
Rama was cooking chapattis in his kitchen when suddenly a dog sneaked into his kitchen and ran away with a few chapattis held in its mouth. Immediately, Rama took his long cooking spatula and chased after the dog. He ran through the village and chased the dog, and the sight of him chasing after the dog with a long object in his hand raged the village boys. The village boys started throwing stones towards him, in a bid to prevent him to chase after the dog.

Rama was injured along the way. Little did the boys notice that the spatula actually contained ghee. Chapattis are always eaten with ghee in India, and all the chapattis were raw. So Rama was chasing the dog so that he can serve the dog with ghee. Such kind hearted was the man…

His name was Shri Ramakrishna Paramahamsa.

Both never predicted the life of others and never took fees for whatever advice they offered. Both were such kind hearted humble souls that meditated in the name of God almost all their life. They never got possessed, and they've always believed God is ultimate and sacred. They reached the ultimate purpose of life; enlightenment.
———————————————————
"Samy, pileh nallah padikeh mathikithe. Ena pandrethe?"
"Priest, my daughter is not studying well, what to do?"
"Kavale padathe ma, inthe thanni ore nalehki ore thadave kudeh, pilleh nallah padikum"x
"Don't worry ma, give this water once a day. She will soon start studying well"
Sounds familiar?
Do you have a problem? Are you a Hindu? Do you want to meet a Guru possessed by God?
In Malaysia, we have approximately 3 million temples, to cater approximately 1.5 million Hindus. But Durai, how come 3 million temples just for 1.5 million people?
How come?
It's because it is a rule for every Hindu in Malaysia to build a temple outside their house, inside their house, beside drainage, opposite bus stop, nearby Giant and Carrefour supermarket, deep inside the jungle, and also every tree that they can find nearby Kesas highway.
According to Hindu scriptures, there are approximately 3.3 million Gods in Hinduism. Nearly 1 million of them reside in Malaysia. Anytime you need them, you can visit any of the shrines build all over the country and one Macha will download God in his body, and he will start to help you to solve all your problems.
You would have seen this type of men in smaller temples, where someone gets in trance, have a few bottles of beer and starts smoking Indian cigars. After this, people will usually take turn to share their problem with the Samiyar, in return of some fees.
It is amazing the list of the problems that they can solve, but it's basically everything and anything. Some of the major problems and services that they offer:
1. Financial problem
2. You want your husband to stop fucking around
3. Bad SPM result
4. Marriage and life
5. Kidney stone removal
6. Lesen mati
7. Insurance renewal
8. Install Windows XP
9. Ipad screen hang
10.Your Facebook password hacked
11. Top up Maxis
And the list goes on and on. People flock in to see this type of Guruji from all over the country because they're a one stop solution.
Let me ask you. Most of this people go to this kind of temple when they face financial problems. The shrines itself will usually be in dying condition, with few aluminums stolen from nearby besi buruk used as the roof. How can someone who is actually surviving on daily basis offer you advice about finance or predict your wealth? Utterly ridiculous isn't it?
If you're going to bring your daughter or son to this kind of places and make them bow in front of mere human possessed by spirits, how will they ever respect God or Guru? Young kids being brought to places where goats and chickens are sacrificed in the name of God, how do you expect the children's to grow up with compassion and love when even the God that they're praying to demands blood sacrifice?
Gu~ means darkness and Ru~ means one who removes darkness or gives light. Together, Guru means one who removes evil and guides you to the right path. But there are just too many fake Gurus nowadays that is doing exactly the opposite, swaying you out of the right path and putting you into darkness.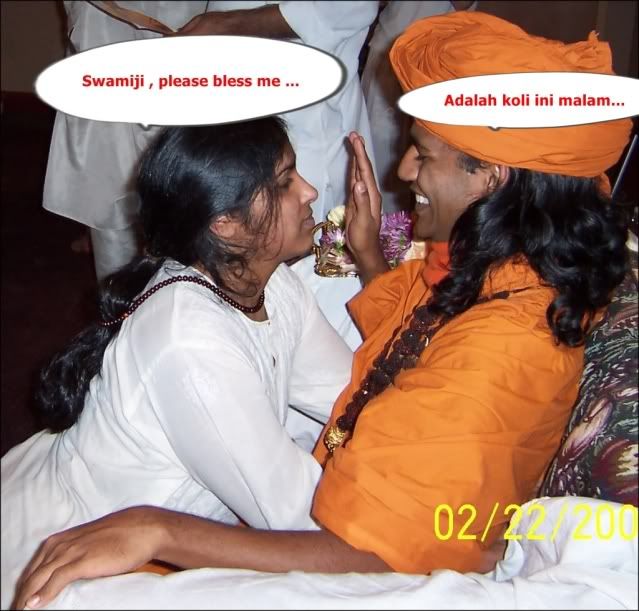 If you're saying God had possessed them thus they're powerful, let me put to you a few explanations why that is impossible.
1. Immense

Remember that we're talking about energy so powerful that it is boundless and can't be restricted. It is the energy that created this universe, and if you're going to download that energy in a temple nearby Kesas highway in Klang, I have no other words to say than fuck you.

2. Items

You would have noticed that when someone gets in trance and starts advising, he will usually smoke some Indian cigars and talk the same shit to everyone who seeks for advice. For an example for the Machas, the message is you're having too many friends, reduce it. For the Meenachis, you're having too many friends, reduce it. Didn't I tell you, it's the same shit?

3. Shoooohh..

You will also notice that during the end of the trance, someone else will help God to go back. He will place his hand in his forehead and do some mantras' and then God will be gone. Ok, now tell me, how can mere human chase God away? Period.
People who are looking to gain quick benefits out of your misery can never be Gurus. People who are showing you some stupid magic's in order to rip off some of your money will never be able to guide you out of your trouble.I will quote what I've said in the past :
"My message is, stop trusting this people who get possessed and try to predict your future, the essence of living a good life is believing in yourself that you will do good under any circumstances and trouble, and trusting God to get you through hard times."
It is difficult to distinguish genuine Gurus from fake ones nowadays, so; if you're not sure which Gurus to follow, place your faith in God.
After all, why seek mediums when you can seek God?