This article is dedicated to all of you who had helped Sai Fund in one way or another; my readers and friends who had supported this cause and be part of it.
We were in SJK(T) Brafferton the other day(9th March 2012) for yet another round of charity. This is the biggest charity that we've done so far, considering the amount of money spent and items donated. To tell you the truth, the school was in a far better condition than some other schools that we've visited so far. Located deep inside palm oil estate in Kapar, the school lacks proper infrastructure; although that is not a surprising thing for Tamil schools in Malaysia. According to the headmistress, there had been a number of NGO's who had helped in the past, but she looks reluctant to divulge the details of this NGO's. However, I knew MIC had penetrated into this school when I saw this: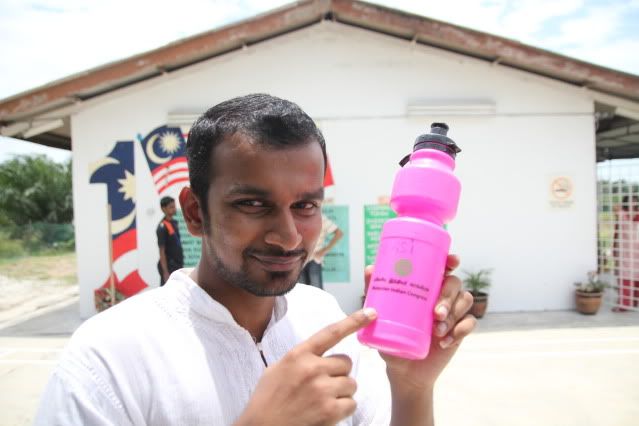 Politics aside, the kids were amazing although they were not that interactive. We donated a total of 6 PC's and 2 printers to this school; and the kids also received a gift hamper consisting of huge amount of sweets and snacks, a stationery set , books, 2 sets of color pencils, and not forgetting a delicious lunch.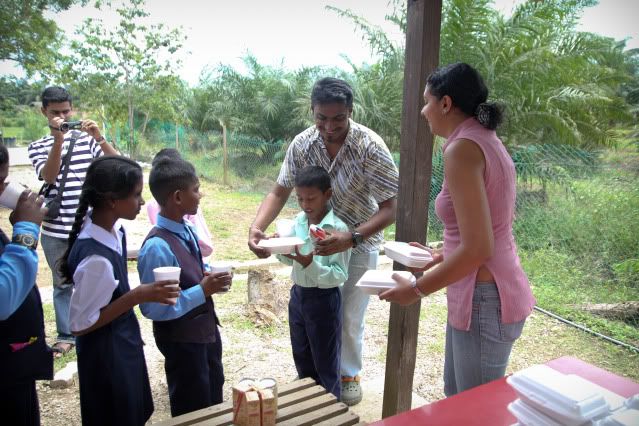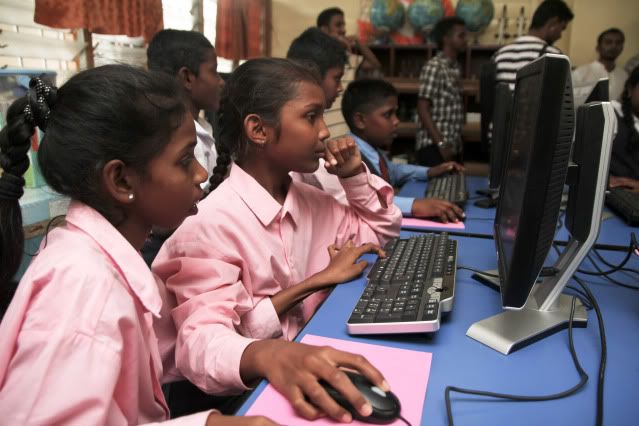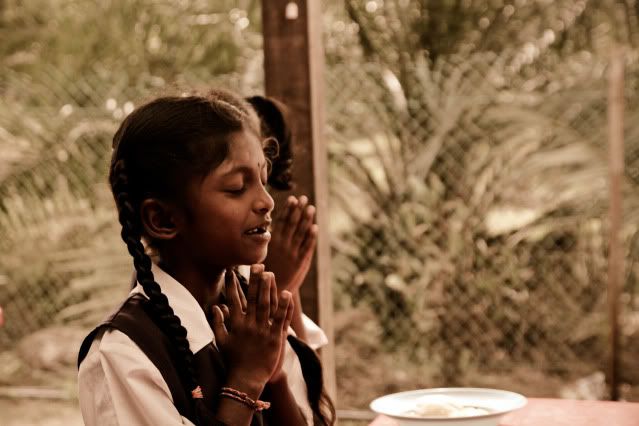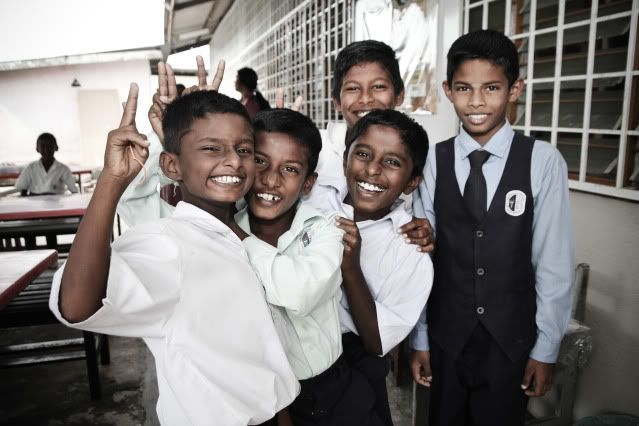 "Enah ageh poreh"

Who do you want to be ?

"Na doctor"

A doctor.
The next kid comes in…
"Nee yennah ageh poreh"

Who do you want to be?

"Na doctor"

A doctor.
Each time a charity event gets completed through Sai Fund, I'll be extremely elated and dream of how these kids will be in the future. I personally dream that these kids will grow up to be someone useful for the society and make a huge difference, not getting trapped in estates and continuing the poverty cycle.
Complete charity slideshow by Bro Kannan. Full review click HERE.
When the food was given to them, we jokingly asked this kids who they want to be in the future, and most of them answered they want to be a doctor. With the quota and non-merit system awarding non-deserving students in this country combined with the parent's inability to fund their kids ambition, the kids dreams; will remain dreams.
But that's not what I'm worried of. They don't really have to be a doctor. They can be successful in many other ways. With so much effort, energy, money and time spend on them; I expect them to set a good example of how our kids will be in the future. But I'm afraid that all this will turn into a waste, looking at the number of kids swaying out of the right path and heading into disaster. I'm practically afraid that all this efforts of convincing you to help these children will prove to be futile in the future.
Look at this below piece of shit:
I'm disappointed. Yet, we have to continue.
Time flies by fast, keeping a blog like this alive is no ordinary task. This blog had brought me tremendous amount of friends and enemies; at the same time also working as a platform for me to blast my personalized ideologies.
Some of you….
Durai, but you promised no ads in the past.
Remember that this is no longer a strawberry blog with 100-200 hits a day, it was. I used to pay peanuts to host this blog, but I can no longer sustain the cost of running this blog. For an example, the cost of running this blog and Maire1.com alone is RM 540 a year, with an additional RM 75 for a premium Photobucket account. With these advertisements, I will be able to cover up some of these costs.  Also if I get fucked by those gang members for making them a comedy piece, it will be useful for medical expenses. I'm not making millions out of this ads, so yes, please be considerate.
You talk too much, what have you done for the society?
My job in this blog is only to influence your thinking with my ideology. I want you to think practically about the issues that is plaguing the Indian community in Malaysia today, and how we can work together to change that. If I've made one young boy to stop and think about joining gangs, then that's what I've done for the society. I'm taking huge risk writing about all those shit that you laugh reading about it .Society is a scope too huge, I can't do much. So before you start questioning me, question yourself.
I feel you're bringing shame to our society by condemning and highlighting them in our blog. Not to mention your atrocious English.
Yes, when you feel ashamed about what's happening, that's when changes will happen. The normal approach of writing all saintly doesn't work anymore, thus writing it Maire1 style. No, I'm not interested in improving my English; I know enough to convey my message properly.
Can you stop or reduce the usage of bad words? Also please stop talking about porn or todi. 
No, I can't. Because that's the very reason you're visiting this blog.
Today marks the 4th Anniversary of RagedIndian.com 

As I said in the past, my mission will be:

1. More political related and fight for justice write ups to stimulate nationalism against the growing number of injustices in the country.

2. Spreading the Macha concept all over to get them to follow the right path rather than getting gunned down or killed by another Macha, all using the practical M1 way.

3. Thought provoking and hopefully hilarious articles to get the message across and influencing Indians on matters related to religious issues, social ills and society awakening.

4. Help more Tamil schools and getting YOU to be involved in to bring our kids up through Sai Fund , and until now, we've collected nearly RM 19000 ++ to help kids and conduct charity events. All came from your pocket.