Pictures from here are some of my personal captures and some others are taken from other Bersih participants. If you're the rightful owner of any pictures here and want it to be removed, do let me know. MIC dogs had started barking about the rally, I just want to remind them they can put their 'nambikei'  slogan up in their ass. 
To fight for our personal honor is one thing, to fight for the rights of our people is another thing. It is not something everyone will be willing to do in order to make a difference. It is not something everyone will do when they clearly know that they might be harmed or might even lose their life.
The very objective of Bersih is to protest against the amazingly dirty electoral system, and to let the Government know the concern and plights of rakyat. Nobody was fighting against the system, they're protesting against the system. We're not fighting; we're leading a peaceful protest.
Bersih 2.0, marred with amazing level of police brutality was a fine example of how Malaysians had been denied to exercise their basic rights that had been stipulated in our Federal Constitution. We were gassed, sprayed with chemical water, beaten and arrested by the police, all for going against the current Election Commission which is corrupted and beyond repair.
We reached around 11 am in Brickfields and joined the already strong crowd there, with many of them in a festive and cheerful mood. Everyone was so excited about the rally, many of them first-comers. We walked and joined in the crowd in Central Market. As we were walking, people had already started shouting their slogans, carrying very interesting banners to bring forth their message.
Some of the girls were carrying yellow flowers. Some older men were talking about the politics in our country. Some aunties was doing some light exercise in preparation. Around 1.45 pm, the mood for Bersih 3.0 was high in the air, every single Malaysian present there was charged up with energy so high even the sky looks lower. I saw hope in those eyes. I saw the future of Malaysia in those eyes.
And so it began….
BER-SIH! BER-SIH!
RE-FOR-MA-SI! RE-FOR-MA-SI!
Hi-Dup- Hi Dup! Hi-Dup Rak-YAT!
The chant beamed through Central Market in unity.
The chant that I've always longed to hear. This is the only chorus team that I will ever want to be in. We rallied together all the way through the streets of KL, towards Dataran Merdeka , in solidarity. Unlike Bersih 2.0 , this was no ordinary crowd. When the crowd converged in Masjid Jamek, my personal estimation of the crowd would be beyond 100 000. This is no exaggeration, anyone who was there or saw the pictures would agree with me.
However…
Monkeys In Confusion, made up of highly intelligent independent journalists, who has the talent of spewing shit through their mouth, estimated the crowd to be around 10000. Their crowd estimation is highly accurate, because being monkeys, they would usually climb up to the highest building, in this case few monkeys had climbed on top of KLCC and started counting the crowd one by one. According to their calculation, a total of 4500 Chinese, 5400 Malays, 46 Indians and 4 Mamak's joined the rally. Bullshittin Utama, the official news channel for these monkeys estimated the crowd to be around 300 in the morning.
I'll let the pictures speak…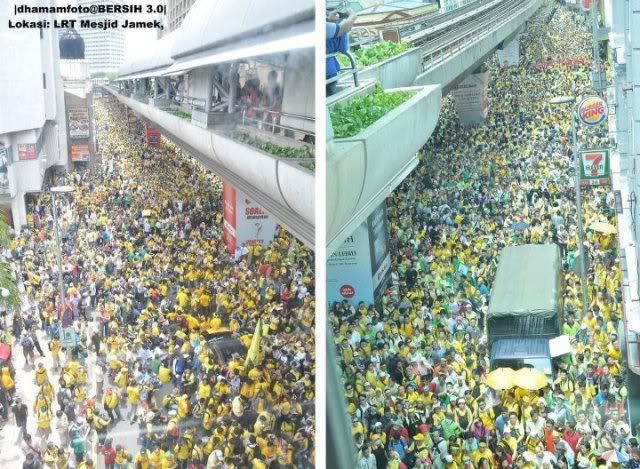 Around 2.20 pm, we reached Masjid Jamek LRT station, and we could clearly see from a good 50 meters away that the crowd had already started sitting down. The crowd obviously knows what they were doing, and if you want me to describe the density of the crowd, it was just like in Thaipusam festival if not worse. People are canned in like sardines along the road in Masjid Jamek when…
3.00 pm…
As I was just about to think otherwise about the authorities, I saw smoke ahead. I saw tiny canisters flying in…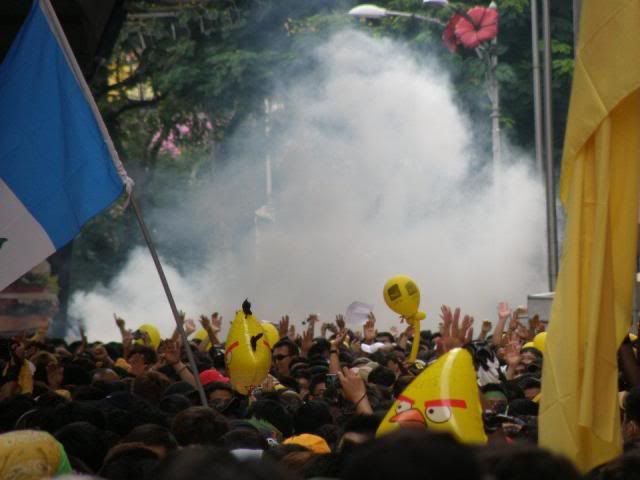 Rounds and rounds of tear gas canisters were fired upon the crowd trapped in between the streets along Masjid Jamek. Young and old, kids and woman trapped in the mammoth rally started running away from the tear gas, we quickly moved out as the gas spread quickly and a few seconds later, the burning sensation took over. Choking repeatedly, me and Danny ran away to recover. The people around us helped each other, salt and water was shared among different ethnic groups that were present there. Rather than getting choked because of the tear gas, I was choked with emotions when I saw a few Malay boys pouring down water and washing down the face of a Chinese guy.Malaysians literally shared water and fed each other with salt to revoke the effect of the gas. True Malaysians not bounded or divided by race. Unit Pengamal PAS, who was tasked to control the crowd, barged in the front lines to protect the crowd. I've seen these guys in Bersih 2.0 putting their bodies on the line enduring beatings to protect thousands of whom they don't even know.
The effect of the tear gas was way more severe than the one we endured in the previous rally, and several other protesters that I spoke to  agreed that a stronger type of gas had been used this time. It is far more horrifying and spells disaster although you might be standing a good 50 meters away.
Bersih medical team can be seen everywhere helping out those who are badly affected. Ambulance were flying in and out carrying out those who were injured. What was a peaceful protest a few minutes ago, had turned into a complete chaos and the crowd; heavily provoked by now, started chanting loudly protesting the move by the authorities.
The crowd quickly recovered and pushed forward once again, and this time water cannons were used to disperse the crowd. Tear gas was fired repeatedly onto the crowd without warning, giving little room for the crowd to react. The chemical laced water will make your skin feel itchy and irritating, and as were standing there the FRU truck started firing the chemical cannons, and I quickly ran not realizing I have left Danny alone. Danny; was showered fully. We regrouped and ran towards the streets, and the crowd had spilled the roads all over. Everywhere people were helping each other in one way or another…
We ran to the nearby road near AIA building, and we saw DS Anwar Ibrahim has arrived. He was protected by his body guards, and the bodyguards were radioing in calling for something. A few minutes later, a motorbike came by, and Anwar jumped in the bike and was whisked away quickly.
For the next few hours, it was a cat and mouse game between the authorities and the protesters. We charged, they gassed, we retreated. We had no idea what was happening, and the crowd did not know their next move; whether to disperse or not. Network jammers were used by the police to jam the mobile network so that no one gets updated about what's happening. This is one of the dumbest move I've seen, because blocking in mobile networks could result to fatalities because medical team would not be reachable.
5 pm…
The scene looks like a rampage had just taken place, and high number of policemen started coming in , and a lot of protesters was caught. Beatings take place there and then, witnessed by thousand others.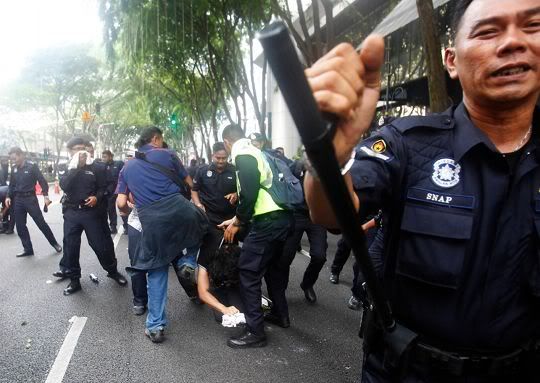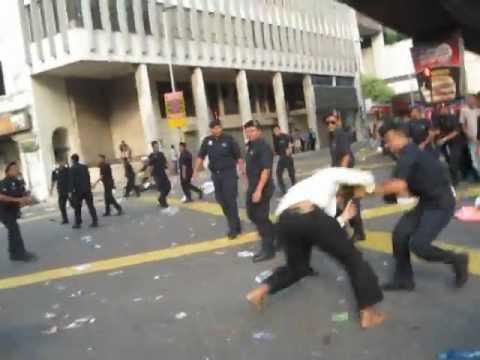 The atmosphere is filled with effects from tear gas, stopping many people from running after inhaling the gas. The crowd subsidized, and a few hundred unruly crowds began taking revenge. Water bottles and sandals were hurled towards the police.FRU trucks were smashed with water bottles. The FRU trucks raced towards the crowd again, firing water cannons repeatedly.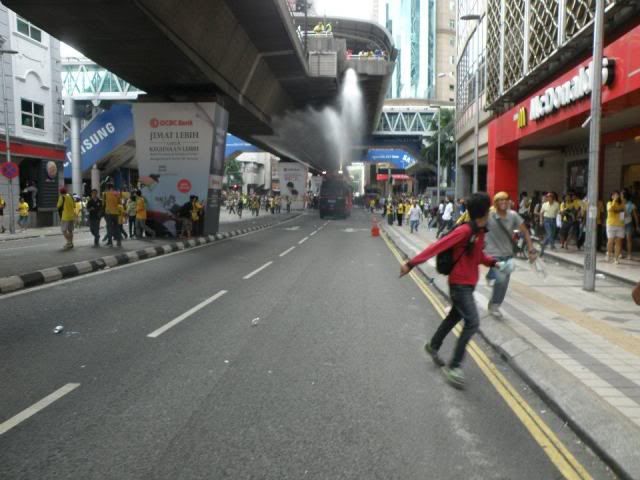 The truck came to a halt. Thousands ran.
As I turned, the streets were clear. And then came the moment….
A Chinese man, walked calmly towards the truck, lifted both his hands in front of the truck and laid himself on the road, right underneath the tire. Scores of photographers began taking that awesome moment, a heroic part by the man to prevent the truck from moving forward firing at Malaysians.
Right after this, the crowd regathered, and sang 'Negaraku'. It was an amazing moment, when thousands of Malaysians who had endured a remarkable day  regrouped for one last time, just to sing the national anthem.
Having endured tear gas and chemical water for a few hours, we were exhausted and decided to call it a day. We met Yuktes, a friend of mine who is a legal assistant and he told us if we were caught, we'll be bailed by the lawyers. So, I jokingly asked him what he might do if he get caught, to which he replied there are always standby lawyers to bail him out. And he was indeed caught, while helping out a Chinese couple from being roughed up by the police. He was severely beaten and ended up with swollen ribs, bruised arms, injured thigh, bruised face and a ruptured ulcer.
As we were walking through going back to Central Market, about 250 policemen walked past us; I and Danny kept our calm. There were no one around, and we were walking in a tight lane. One of the policemen shouted
"Dah Bersih dah ke? Ha!"
I shut my patriotic mouth up, and walked away luckily, unharmed. Although Bersih 3.0 was marred by several negative incidents, I'm rather baffled that some people are talking about few policemen who were harmed; what about the hundreds of supporters whom had been brutally assaulted by the man in blues in previous rallies and the current one? Where is justice for them?
Monkeys In Confusion and the Government thought that Bersih was a failure.
Bersih did not fail, the one that failed was the Government. The law is flawed in our country, siding just the cronies and highly incompetent power hungry and corrupted officials. No one goes to the street for fun and knowing that they might be harmed. It is the frustration of the people that lead them to protest.
When election system is rigged up and clogged; the people wants it to be cleaned. At least 250 000 of them want them to be cleaned. What is more important than listening to the very people who voted them to power?
The police on the other hand, did give some leeway initially. That is because they know they wouldn't be able to contain the wrath of rakyat if they continue to suppress and oppress them.
The violent nature of the crowd as some of our mainstream medias reported was due to them being provoked repeatedly, in any of the rallies previously, such as in Bersih 2.0 and 1.0. No one has the rights to deny an entry to Dataran Merdeka, and it is our RIGHT to be there as enriched in the Federal Constitution. When you let hundreds of thousands to spill in the streets and fire them with tear gas, chemical waters and beat them up brutally, then what do you expect?
The Rakyat has won. And it will reflect in the next GE.