This is a targeted post, the words are strong. 
When I was in secondary school, I had been targeted a few times by my friends from other races, calling me 'pariah' , 'keling' and other words they thought suited Indians. I've never really bothered this, although deep inside I would feel very angry, but knowing fighting a group of Malay boys alone is like a suicide, I chose simply to ignore it.
The trend has now changed in schools, instead of the students bullying and calling each other with derogatory names, the teachers had instead started to plant racist ideologies into this young kids. Recently, just a few weeks ago, one of the teachers in Georgetown was caught red handed uttering 'india paria' to a group of young Indian kids, yet she was not punished but simply transferred to another school. What kind of 'product' will come out as a result of teachings like that?
Precisely below: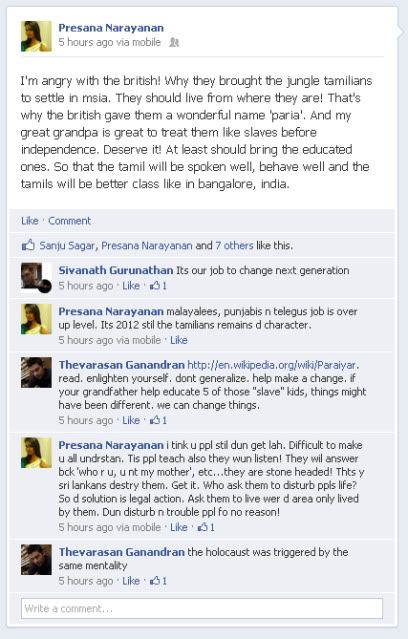 And look at this below girls, fighting and dragging their parents into their conversation. There is a fine line about how sick you can be, but when you cross certain boundaries, you will be held responsible for your actions, and people will generally isolate and cast you away for life. When you're young, you're bound to make mistakes, but not to this extend.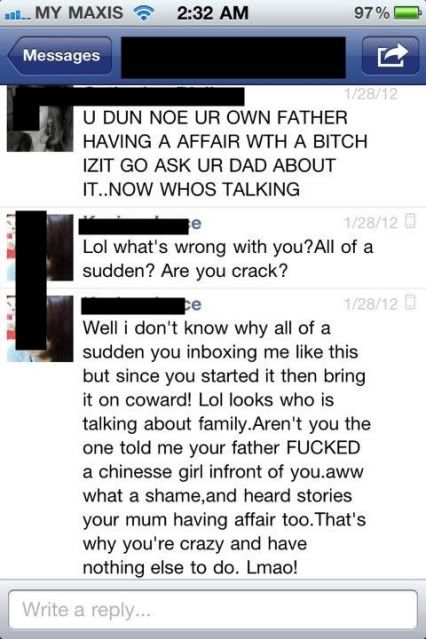 How hurt and what will the parents think when they see this? Ippeh yosichi yenna iruke, appeve atti alurle uthireknum.
Similarly,I've received numerous amount of screenshot about a particular Malayalee girl. When I heard the name of Presana Narayanan, and how she had been going on a rampage about Tamilians in Malaysia, I first thought about how hot she might be; that she can downgrade others to such an extend.
I was thinking along the line that she might be one of this…

 

or this…

or at least this..

Pathaka..
Presana Narayanan is undoubtedly a freedom fighter for Malayalees. I don't and can't understand any reason for her hatred against Tamils, and she might be one of those who would have been very happy when Tamilians in Sri Lanka were killed without mercy.
What is the real reason for a girl to behave like she had been gang raped by all the Tamils?
Lack of parental guidance?
Cheated by a Tamilian perhaps?
Or simply maybe because she 'lama tak dapat?"
People who generalize and target certain ethnic groups, religion, gender, and race are seriously sick people.
There are many people who are as sick as this girls, the problem is none of them really show it. Fine examples are the people who is liking and supporting her comments in her wall. Only the completely insane and dumbfucks come out as open as this, declaring statuses targeting and hating Tamils all over the web. I don't know how 'open' she is though la…
Let me give you an example, if you were cheated by someone, would you be angry with him alone or would you be targeting his race and ethnicity? Unless you were fucked by the entire Tamil community, there can't be any real reason why you must hate them all.
This is not about a status that is being blown out of proportion. This is a serious issue of a retarded pussy let loose, going on a rampage spreading hatred all over. I love Malayalees, some of them are hot and awesome. And when I was in Kerala, Malayalees had like the best attitude ever, and was very welcoming.
This is not a bashing session; this is something that needs to be highlighted. People need to know that sick rats like this exist in our community, infesting and damaging not only their own community, but also the rest of the people who lives by righteousness and with mutual respect towards each other.
Here's some of the amazing things our freedom fighter had said in the past: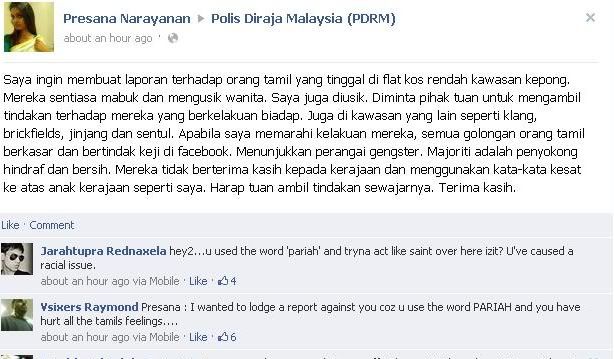 I wonder how can anyone be supportive of low life girls like this?  Look at the amount of likes and support she has, it's amazing that people can support such a cause.
We're bound to have disagreement between us. We might have different set of ideologies when it comes to ethnicity, religion, race and caste, and it can be a good reason for us to compete and be proud of our roots, but it is not right to downgrade and spit on those who are different from you.  Presana Narayanan and her supporters is a disgrace not only to the Malayalees, but also to every right thinking individual.
Have fun.
Update  22/5/2012- Police report were  made about Presana by Bro Thanesh.