I would like to dedicate this post and salute my Sai Fund team members; Vivek, Viknes,Selina, Kannan, Sharon, Banu, Laura, Preeta for being the backbone of this organization and continuously work behind the scene to ensure the success of each project. I bow down in respect of all those individuals who had sponsored, donated, and spread the word about our organization to ensure we get all the help we need. Special thanks to Bro Raaja for sponsoring the food for this event and the ever beautiful Hema and Lana for being there to entertain the kids; not forgetting the rest of the volunteers who were there including Sashi, Arvind, Siva, Suren,Sadesvaran and Anand Shivalanka.
When I arrived in SJKT Lauderdale, I was surprised. There is something about this school; it is a combination of a school and temple. If you need an example of how our temples are being maintained way better than Tamil schools, SJKT Lauderdale will perfectly fit the description.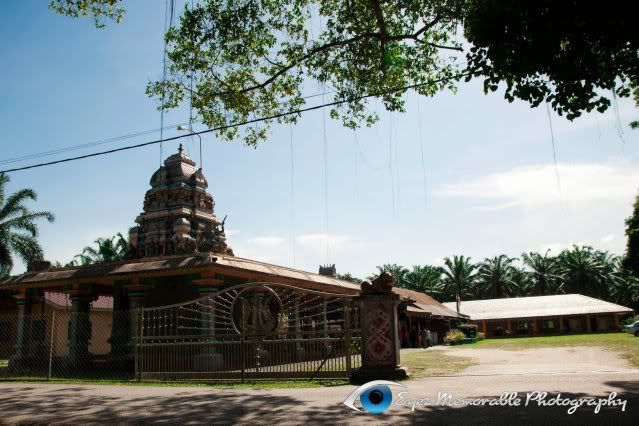 Located inside Lauderdale estate, the school is at least 80 years old. The headmaster, Mr. Nanarekem welcomed us with a huge smile. He was so thankful that we've come all the way from KL to provide assistance to this school. The kids were all waiting for us, sitting patiently and smiling in their canteen bench.
Through Sai Fund, I've been to many schools in the past, but there was something different about this school. Even the headmaster, Mr. Nanarekem was an awesome man. His passion, dedication and sacrifice for the school reflect's in the way he was talking to me. At least a quarter of these school students are high achievers.
High achievers despite studying in cramped classrooms with little ventilation!
—————-
The students were all sitting in a few rows, and we were seated facing them. Mr Nanarekem welcomed Sai Fund, and subsequently invited me to give a speech. I explained a few things about Sai Fund and our expectations. Since I was not educated in Tamil school, my speech was quite a disaster.

However, the girl's seems to be impressed.

The boys…

Once the speech was over…

Hema took over and conducted a few games for them, and the kids were extremely elated and enjoyed the whole event. The rest of the volunteers helped the kids with their games while another team helped to set up the computer lab.

While all this was happening, I was personally given a tour around the school by the headmaster.

We both sat down in his office and he spoke to me about the difficulties they were facing and showed me a number of private documents, which is highly confidential. Investigating further, I found none other than corruption. See, there is a reason why I never get satisfied with all those mega numbers provided by our Government. If all those money really went to schools like this, there is no way you will see kids studying in a classroom as pathetic as I described above. I'm not talking about one school, I'm TALKING about all the schools that I've been.

I feel powerless and pathetic not being able to do anything although I know money is being swindled and being ripped off by the cronies and corrupted officials. I couldn't even reveal the corruption because in future these schools will be affected far more badly, ruining their chances of getting even the bits and pieces that they're getting now. What I can tell reveal to you will be shocking, but I'm not willing to gamble the future of these kids; the risk is too huge.

Back to SJKT Lauderdale…

After a few rounds of entertaining and informational games, the kids were treated with a good satisfying lunch. A few kids were taken to test the newly set up computers, and they all looked extremely pleased and satisfied. I see hope and happiness in their eyes, seeing something new being set up to benefit them…Overall, we've given away education materials and goods worth almost RM 7000 to SJKT Lauderdale.


A number of individuals had donated for the school nevertheless, and S. Vel Paari had been the man behind in the early stages to build 3 new classrooms for this school. Credit where it's due but the school is in desperate need of many other things. Through Sai Fund and you, I hope we will be able to support not only these school kids, but many more kids in the future.

I bow in respect of all those who had been supporting and fighting for the cause of these kids through other organizations, ensuring their needs are met. I have this blog to promote what we're doing to these kids, but there are many heroes among our society who are least known despite fighting relentlessly for the future of neglected and systematically marginalized Indians.

Stop fighting for temples. We have enough. You can see a small shrine here in below picture, the total cost to build this small shrine was RM 40000 and one individual donated a lump sum amount to build it.

If only a quarter of it was given to this school, the school canteen which had been pending construction for the past 1 year would have been completed. Lack of funding again.
I'm tired of repeating this again and again but we need more drastic changes to build a better community. There is a lot more things that we the younger generation can do to these kids and it is extremely important that you take your own initiative to support and help this kids.
The only thing that can bring these kids out of the estates is education. The reason why you should fight for education is because when the kids are educated, they will be wise enough to define what is wrong and what is not, and what is evil and what is not. 55+ years ruling the country, and the pathetic facilities and education system in our country is the only reason why Indians had not grown to think on their own. MIC/BN will fight hard to disallow this, because their cari makan will be gone, but remember that good triumphs over evil.