Around afternoon today, thousands of protesters mostly Muslims gathered around US Embassy in Kuala Lumpur to protest against a low budget movie called ' Innocence of Muslims'. The peaceful protest was a success with memorandum presented to the necessary parties. The cause was right; no religion shall ever be insulted, what more degraded in a documentary style movie.
I hate to say this, and I didn't want to write about it. The previous topic revolved around two dumbheads who has not been loved for a long time perhaps, and just when I thought I would be able to write something informative and funny, two low-life cunts caught my attention again.
If you remember clearly, 2 years back there was a mini unrest around the country when the court ruled the word 'Allah' is not exclusive to Muslims and could be used by the Christians in their Bible. This stirred the emotions of most Muslims, because the word Allah shall not be used by any other person who is not a Muslim.
A single word and it caused so much commotion. Allah is a sacred word. It might get misinterpreted if it is found in religious text of others. Some cheap Mat Rempits decided that they should burn down some church in order to take revenge and so they did…

I certainly understand the outrage.
A few years back, Shah Kirit who was probably analed by elephants got caught when his video came out in the public. In the video, he was speaking in a closed forum ridiculously explaining and insulting Hindu religion to the core and making sexual remarks about Hindu gods. When the video came out, Shah Kirit apologized to the public, and DESPITE numerous police reports against him, this sick monkey was NEVER caught. Tell me my Muslim brothers, if someone is to insult your religion like in this video, will you ever forgive him?
But the Hindus did. I did. Malaysians did.
We forgave this predator in the name of peace.
But he's back organizing something even bigger, and bringing in a racist cunt that was banned from entering many highly developed countries like United Kingdom and Canada. Shah Kirit has this time brought in Zakir Naik, a renowned master manipulator of religious text and who claimed that every Muslim should be a terrorist (in a way).
Zakir Naik has held talks all over the world, and his job is to compare religion and make you look like a fool. Gifted with incredible skills to remember many sacred texts, he chose to utilize it the wrong way. I watched countless number of his videos, and his insensitiveness towards the faith of others is incredible.
When the Christians were accused of proselytizing Muslims around the country, people like Hasan Ali, Ibrahim Ali and many Muslims declared war against the enemies of Islam. You get outraged when someone is trying to convert a man out of Islam right?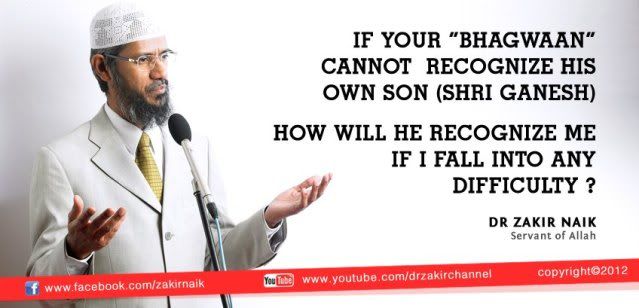 Now listen.
Zakar Naik had successfully convinced thousands to convert to Islam over the past many years, which I don't really mind because religion is one's own choice. No one shall be making decision for you and if you feel your calling is different, then you shall embrace whatever suits you. Do you see any non-Muslims protesting against converting to Islam?
No.
What got me raged was Zakir Naik would be holding talks all over Malaysia discussing and comparing religions. When people object, then some ask why don't we come to the forum and question this scumbag? Why must our religion be dragged in your forum? Talk all you want about your own religion, and I'm willing to come and listen about the beauty of Islam.

You say we should be matured while discussing. It seems non-Muslims must be open minded. How can we freaking be open minded when our God is being insulted clear cut like this? Why is that our religion can be discussed and we must join in and rebut the claim? Will any of the Muslims allow a talk by a Hindu or Christian discussing about Quran?
It seems the media and people tend to misunderstood and misquote him. Kotteleh misquote. You see up there , it was there in his Facebook fanpage questioning if Hindu God does exist!
All that said, I saw a 6 year old Muslim boy putting up thilak in the forehead of Lord Ganesha. While we have a full grown madman spreading hatred in the name of religion all over the world, we have a mere 6 year old pointing out to the world that religion means peace.
May peace be with all, and may those who spread hatred rot in hell.