No media were there to cover the plight of these poor kids. The least you could do is read and create awareness about their plight to others.
As I walked inside the school, I knew there was something seriously wrong with this school. A few Indian Machas were standing outside guarding against potential intruders perhaps, and just when I was about to walk in, they asked where am I from..
"Sir, ningge yenthe press"
"Sir, you're from which media?"

Felt like telling him…

"Maire1.com bro…"
Of course I didn't say that, and replied or perhaps lied that I'm an independent journalist. I'm sure he didn't understand, so he let me through. Inside the school compound, 20 plus years of frustration towards the Government was brewing up.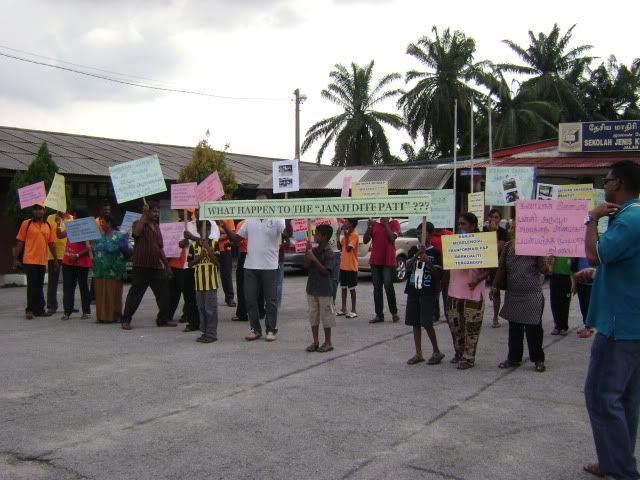 I first knew about SJKT Batu Ampat when one of the 'insiders' of the school called me up and told me the problem the school was facing. As usual, the normal pathetic stories about Tamil schools; no proper facilities and children's were suffering but when I was about to write about it, the 'insider' told me Dato G. Palanivel had agreed and promised to provide the land for the school. The insider told me not to do anything despite me telling them that unless you receive a black and white; do not trust anyone.
That was few months back.
Last week, I received a call from the 'insider' again, asking me to come over for a demo. G. Palanivel and all Government parties refused to answer their call. So, I went, expecting not much surprise than normal cries and woes.
As I walked in inside the tight school compound, I noticed many kids were there. The parents were there. No teachers were there of course, scared about their own rice bowl;understandably. Its scorching hot weather on a Saturday afternoon and the kids were standing there, completely unfazed about it.And around 3.30 pm, they rallied towards the main road with their banners, and all the kids had been taped in their mouth indicating how they've been oppressed and denied proper facilities and buildings.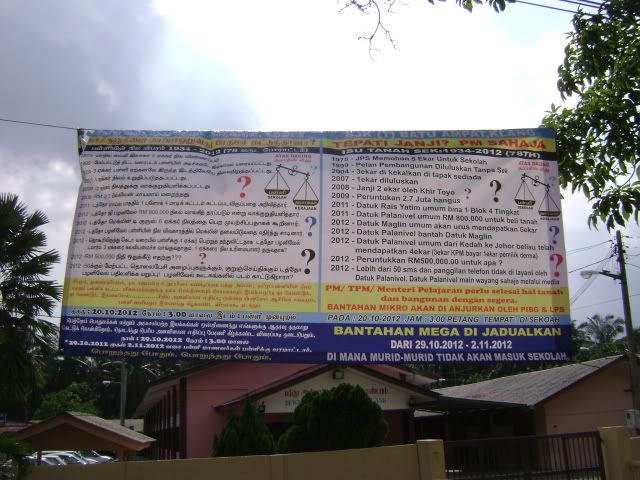 So Durai, what the fuck you mean by improper facilities la?
Let me tell you, in this close congested school that was build around 60 years ago, a massive 980 students are studying. I've been to many schools, but I've never been to a school that has classrooms that looks like a cowshed yet is housing a staggering 980 students! So, rather than interviewing the adults, I probed the kids. The kids were clear cut about their objective, they need a new building.
"Anna, thani uthethe male penja. Books patra kurai ah iruke. Classroom rombe idenjela iruke"

"Brother, when it rains, the roof leaks. There are no proper books. Classroom is congested"
Of course, I've seen all that. These are classic cases of Tamil school conditions nowadays despite millions and perhaps billions of dollars allocated for these kids EACH FUCKING YEAR. But come on, what is so special about SJKT Batu Ampat?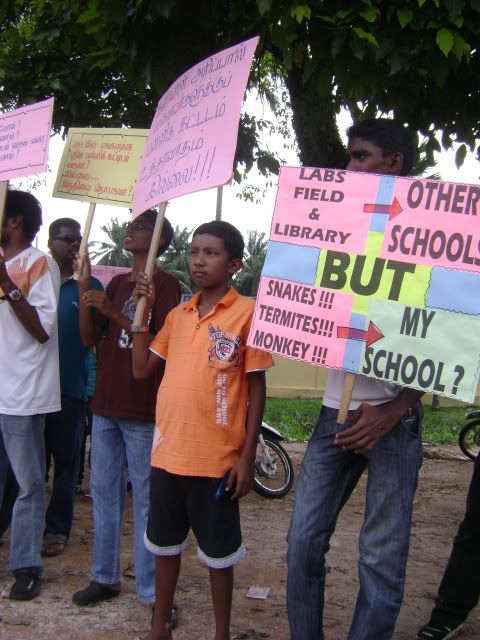 This school has some additional world class facilities.
For an example, the kids do not need to go to zoo. Just last week, a 4 feet poisonous cobra was found hiding inside the canteen backyard. This is where the kids would go to wash their hands. And of course, monkeys jumping here and there are a common scene. I even saw a few when I was there.
Next comes world class drainage system. This was absolutely brilliant. When it is raining, the kids would have water running down from a few places. Solar roof is the latest technology installed in this school. When it rains, water drops direct to the kids when they're in the class, immediately cooling them off.
If that is not enough, the stinking drain clogged up with chemical waste from nearby factories gets inside the classroom providing them with aroma that is extremely good for their studies.
Isn't that wonderful?
I'm tired la...Seriously, how much more do you want to steal? The kids just want one thing, a proper building. I'm even asking my Chinese and Malay friends, what have our Tamil school kids done that they don't even deserve proper facilities in school? Are we pariahs? Are we supposed to be neglected? Are we the untouchables?
These poor kids only escape is through education. Why must only our Indian kids study with snakes accompanying them, and monkeys jumping around, while drain water wash their feet and termites fall down from the ceiling?
I met Sangeetha. A 7 year old studying in that school. Her mouth was taped. She was not interested in speaking anymore. Her eyes spoke, it was full of hope. Full of hope that someone would do something for them.
When I interviewed her later, she told me that she wants spacious classrooms.
Is that too much to ask from you, fucking politicians? RM 250 fucking million to buy cows to live in condos, and yet you can't allocate a land for our kids? Fucking MIC cybertroopers coming up with statistics about how well schools are doing nowadays, seriously I declare all of you are thieves. Thieves of the highest order. I have friends who have been in and out of jail because they stole, but they never stole from kids like you fucking beasts.What kind of sick animals you're that you dare to steal from education of poor kids? I'm a street guy la, let it be, but please, why do you require our kids to beg from you? Dei, its poor kids from estates and sometimes from very poor family, what kind of human being would deny education for these kids?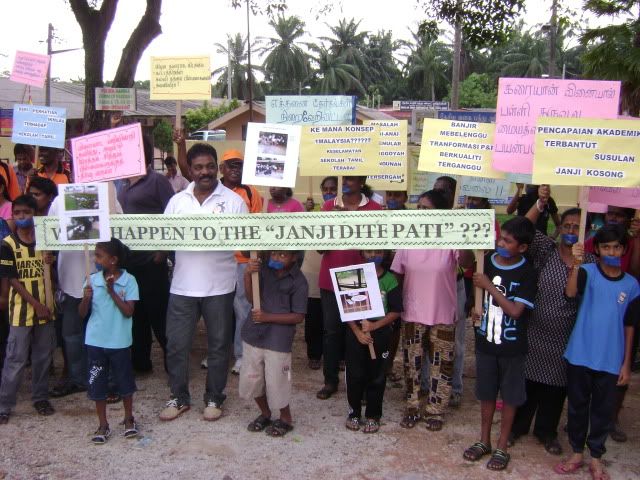 I know you guys can't stop stealing, but please have some compassion. Our kids has to come out , protest and beg in order to study in a good condition; it has come to this stage. Thirutte nayinggela..