When I touched down Surabaya, I immediately felt something is wrong. As soon as I knew I'm in Indonesia, I've started missing my own country. How the fuck am  going to last 7 months travelling all over? Alone? I don't know why I felt so, but probably things will get better over the days. Probably it wasn't like something I expected…
I checked out and called my host, the graceful Laura who immediately came and brought me to her home. The city of Surabaya is overwhelming, the traffic is bad and the pollution is beyond imagination. And here I'm all alone. We had a quick chat and Laura gave me a map of the city, which I decided I would walk around and explore.
See, I would rather walk and explore a place because when you're actually walking , you get to meet people, eat street foods on the way, explore a lot more things that people don't see and it saves you from being scammed. It also keeps you healthy and fit in a way while also saving up your money. The problem is whenever I walk down the narrow alleys which is a complete zig-zag way going towards the city center, everyone stares at you, perhaps because they don't really see a lot of Machas around. It might freak you a little, but I got used to it eventually.
So, I walked a few hours; minutes after arriving in Surabaya to explore the city. To tell you the truth, there was nothing much in Surabaya ,though being the second biggest city in Indonesia. They have this Sampoerna Museum , it's basically a museum for the cigarette brand Sampoerna. They actually show you how the cigarettes are made traditionally, hand rolled to perfection.
Apart from that, they have a submarine ship which no longer sinks, similar like the ones that the Malaysian Government bought over here. The difference is Surabaya actually have put this ship like an exhibition while our Defence Minister claimed that the ship is in perfect battle condition when it' can't even sink.
And then comes Dolly City, the sin area of the town.Dolly City was founded by a Dutch prostitute in the early 1900's . Basically just like prostitution areas all over the world, young girls from all over Indonesia  work here as prostitutes for the sex tourist. It's basically a stretch of narrow shop houses where it's dead during the day and comes alive at night . Prostitution is legal in this part of the town. Basically you pay anywhere in between RM 120 – RM 250 to get yourself infected with sexually transmitted diseases. According to the locals, most of the girls are HIV positive.
I met Yusof , a local CS'er who was planning a trip to the infamous Mount Bromo(derived from the name Brahma) through Laura. We decided to travel using the local bus and two more friends from Poland, Daniel and Carolina also joined us. After a few hours of local transportation from Surabaya to one of the last destination before we could go to Mount Bromo, we could not continue because the local mini bus that was supposed to travel there had stopped operation at 10 pm. We negotiated a price for a private jeep to take us for 200 000 rupiah but they could not come down to our price.
So we decided to hitchhike.
Big mistake. Daniel and I managed to stop a few vehicles and successfully negotiated for them to take us to Mount Bromo, but this local mafias made of local jeep owners, decided to warn all these drivers that anyone who is going to take us is going to be harmed. It was already 12 am in the morning, and more and more thugs started coming in. Every truck that we managed to stop , they would hijack it in the middle of the road , ask them to stop and get us out.
The situation got so tensed that at one time one of the guy actually brought a metal rod to whack the driver of the lorry that decided that he would drop us in Mount Bromo. I've never done hitchhiking before, but since it was part of the experience, though I was scared we decided to brave it through. It was a cat and mouse game for nearly 3 hours , with the local mafias placing their boys all over the street wherever we're walking. Practically we were swarmed by this local mafias wherever we move.
The risk was too huge but we decided to just eat and rest in the street stalls. One of the local tour driver came and we discussed the deal secretly and he brought a fully tinted van which we quickly got into and sped through the roads of Mount Bromo.
From Mount Bromo car park, it was a massive 2 hour grueling walk up through darkness , and the hill side was extremely steep.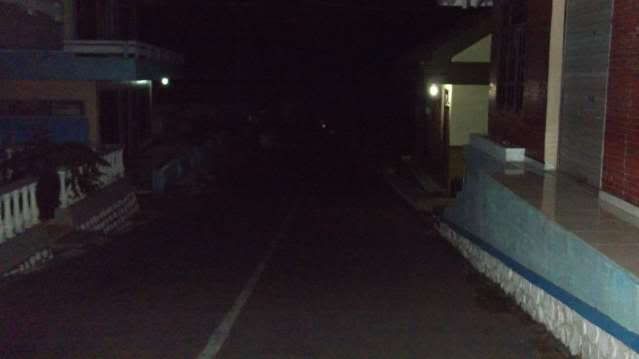 I'm naturally fit, but even I couldn't take it because of different types of terrain that we have to go through. The last trek is through a mini desert, where we would be able to climb up to Mount Bromo to watch the volcano in action. It was extremely cold but worth the experience to watch the sunrise.
An absolutely beautiful scenery.
You won't last long in the volcano because the thick highly toxic volcano smoke would get into your lungs and you would be practically breathing dust.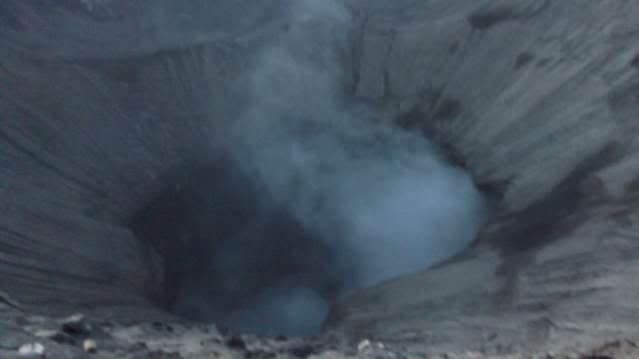 I'm moving to Malang and Yogyakarta next…trust me, travelling alone is tough. And it's only been 3 days…I hope I will get over it…